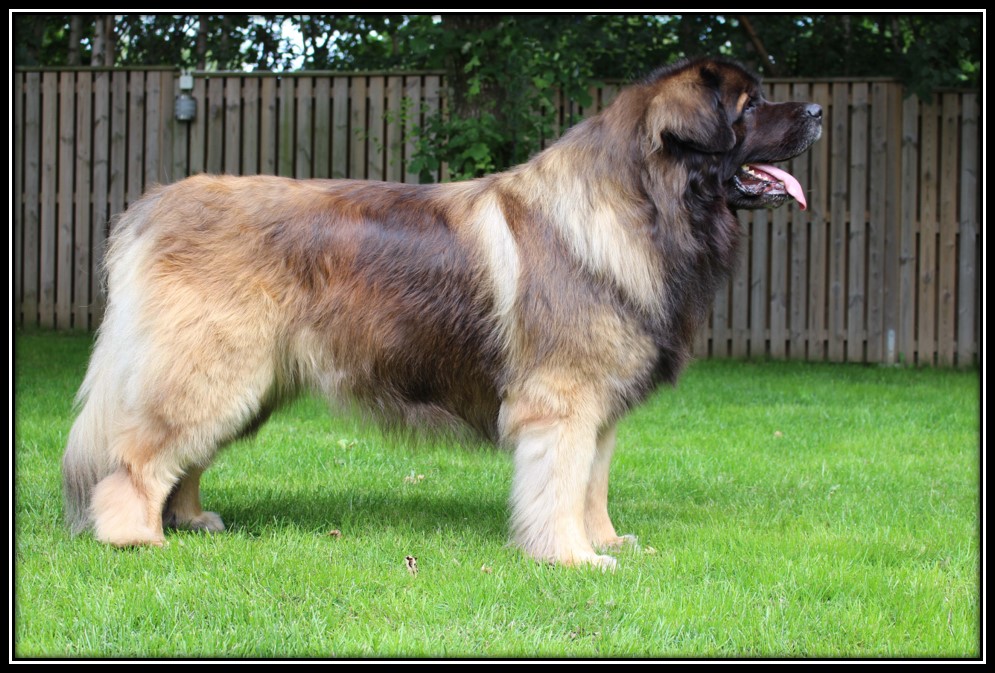 7,5 år gammal/7,5 years old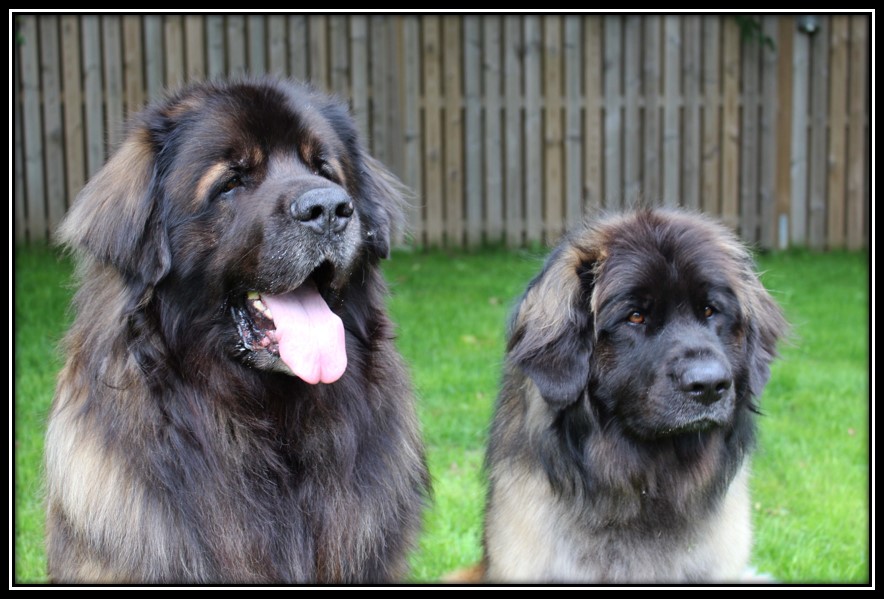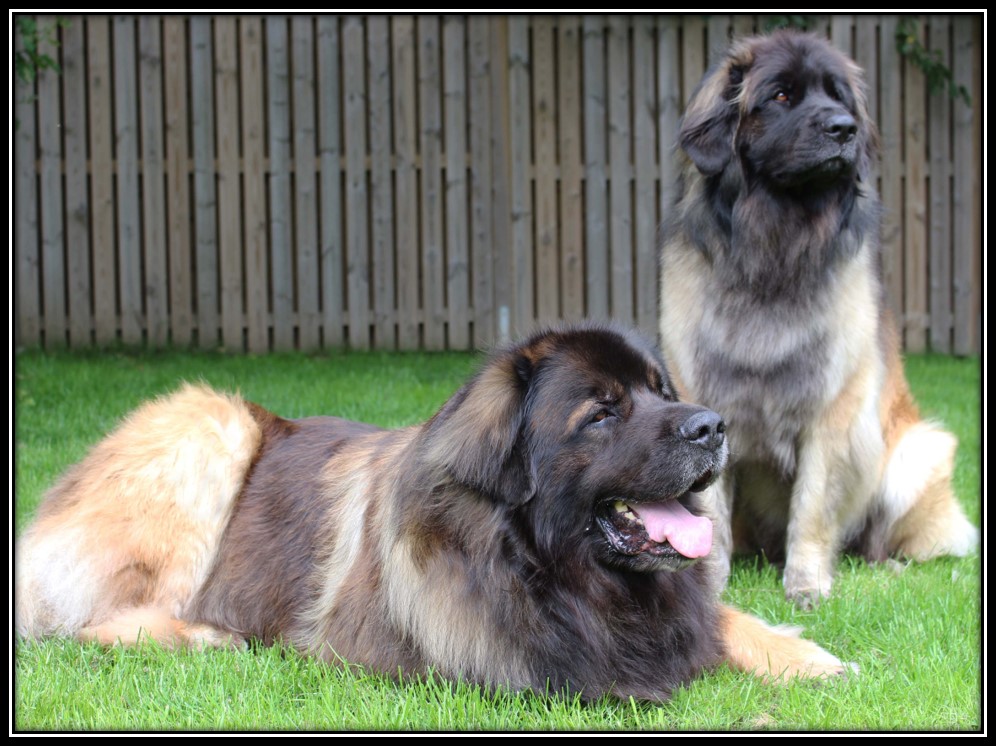 Marwin 7,5 år gammal med barnbarn Kylie 18 månader gammal/Marwin 7,5 years old with grand daughter Kylie 18 months old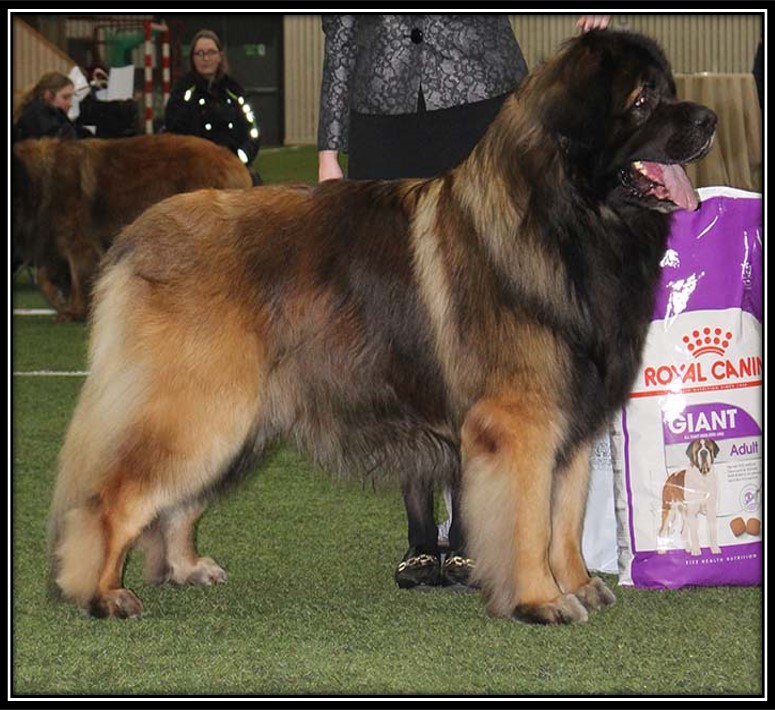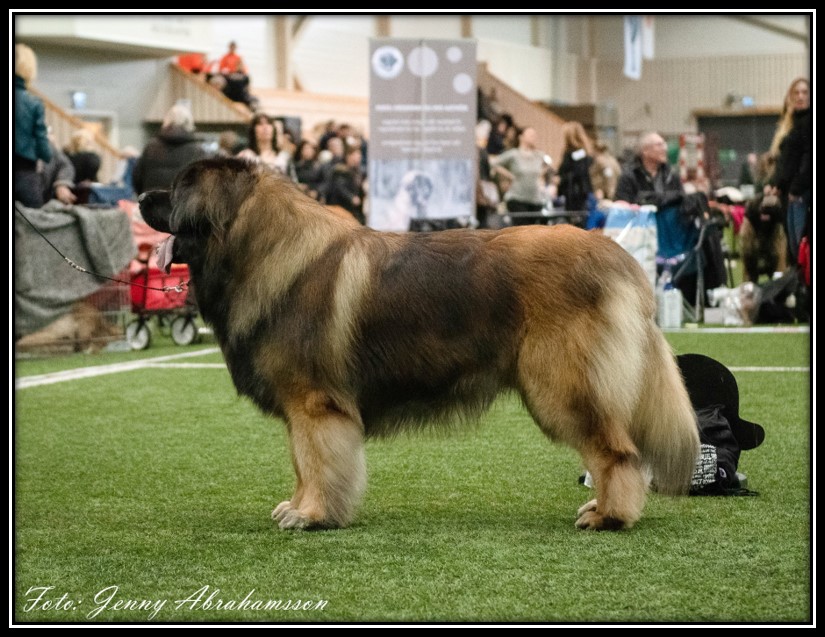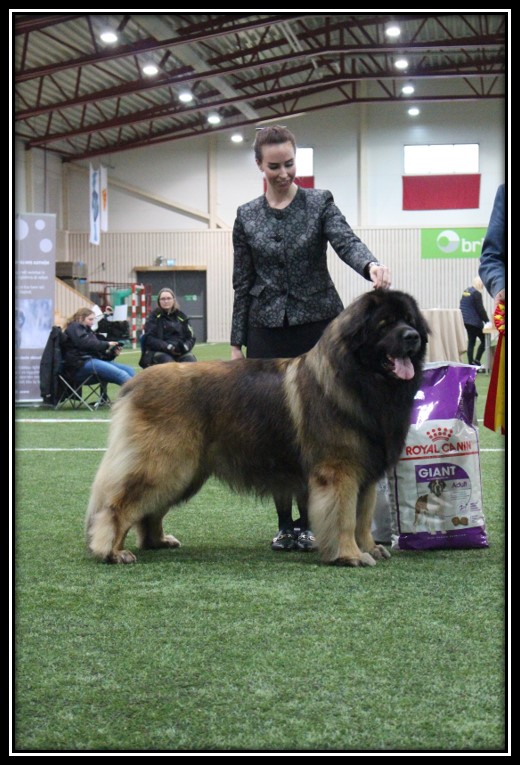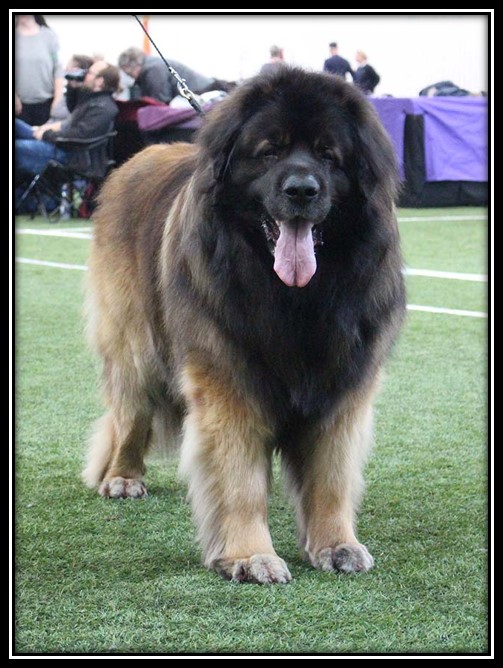 På årets första special gjorde Marwin även sitt sista vänstervarv som champion på en special. Han vann ännu ett BIR över 80 anmälda!
Sedan 2014 när Marwin deltog i sin första special som junior, har han vunnit inte mindre än 14 BIR & 2 BIM utav 18 möjliga specialer! Ett rekord som någon kommer ha svårt att slå.

In February -20 he entered his last club show as a Champion, 7,5 years old, by winning yet another BEST OF BREED in a entry of 80+ Leos.
Since junior class in 2014 he has won not less than 14 BOB & 2 BOS out of 18 club shows in Sweden!!! A record that's almost impossible to beat.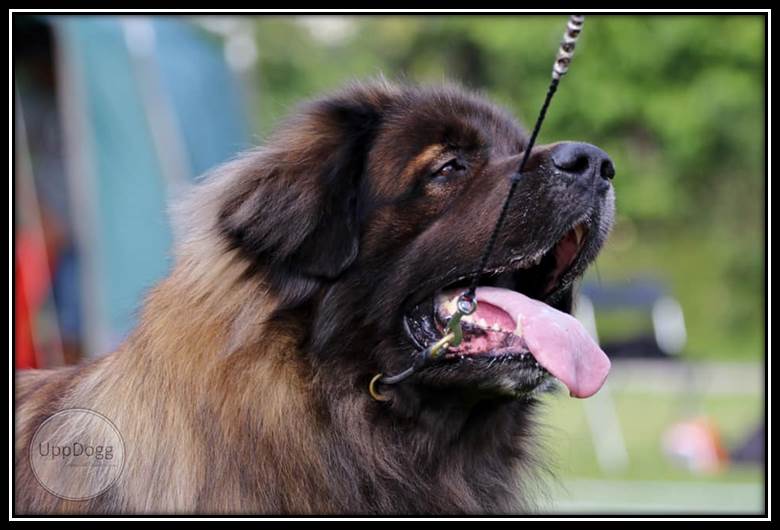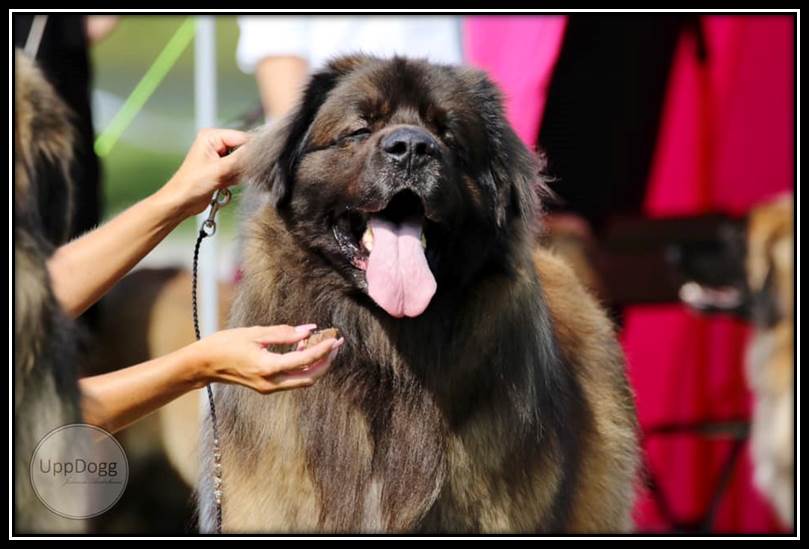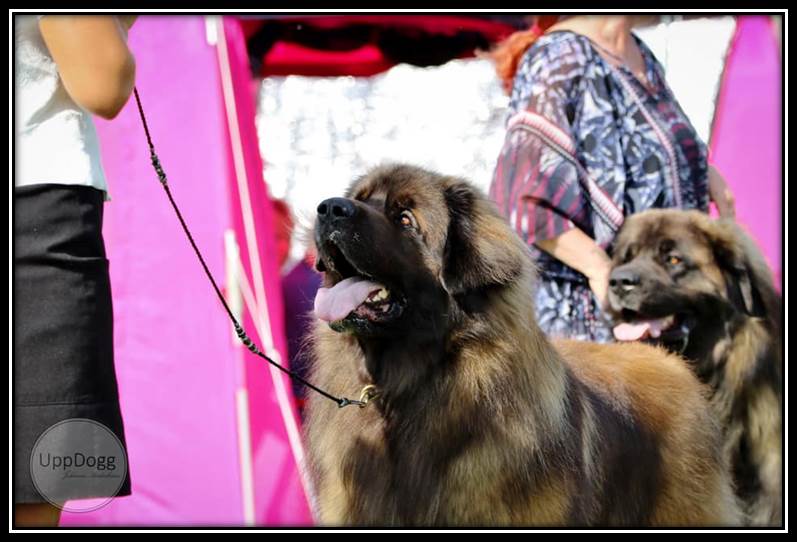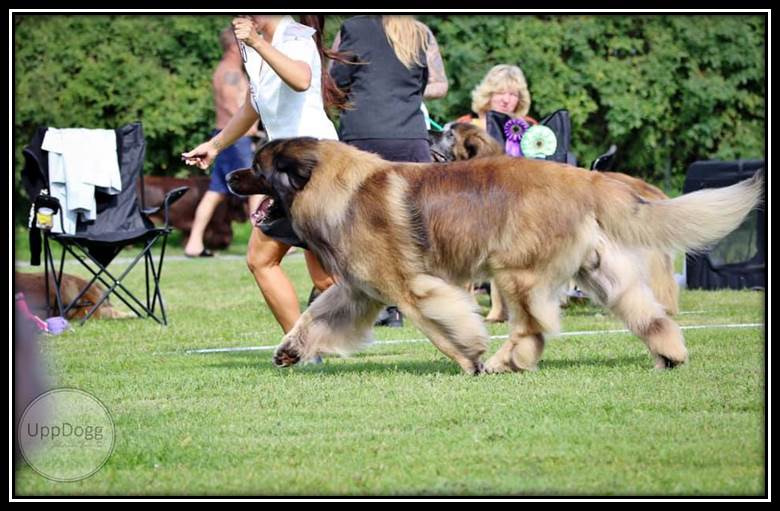 Nästan 7 år gammal/Almost 7 years old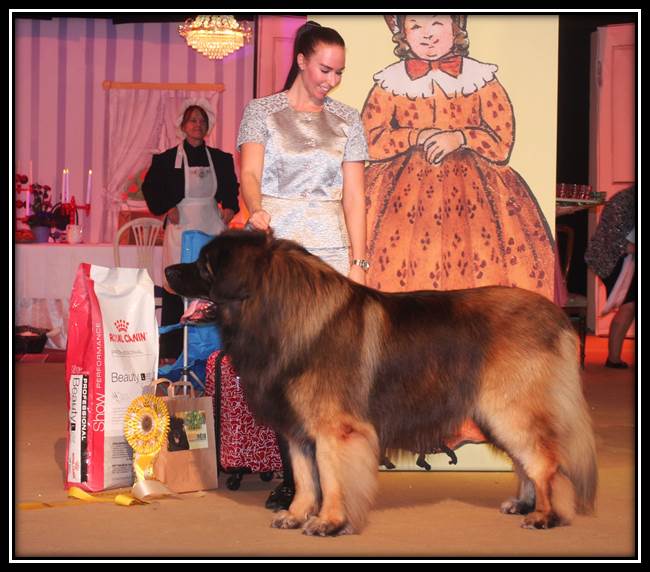 "Marwin" sopade mattan på Stora Stockholm i December, BEST IN SHOW-3! Detta var hans första utställning i Sverige (förutom en) sen denna utställningen i December 17!
"Marwin" made an amazing comeback in the Swedish rings after, except of one, being away since this show December -17. BOB, new Swedish Winner-18, Group'1 & BEST IN SHOW-3, +8000 dogs!!!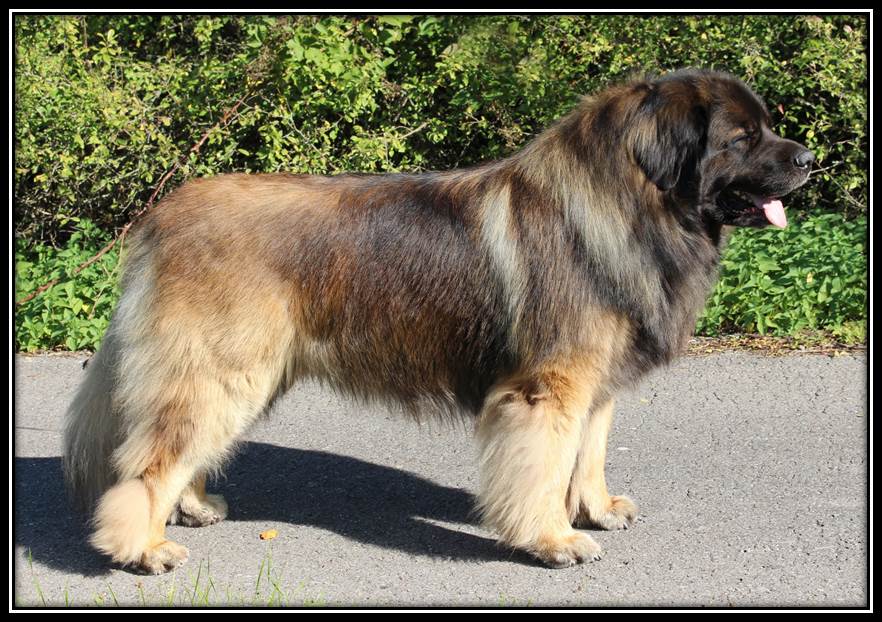 Älskade Marwin snart 6 år gammal - i hans bästa dagar!/Almost 6 years old, in his best years! We love him to bits!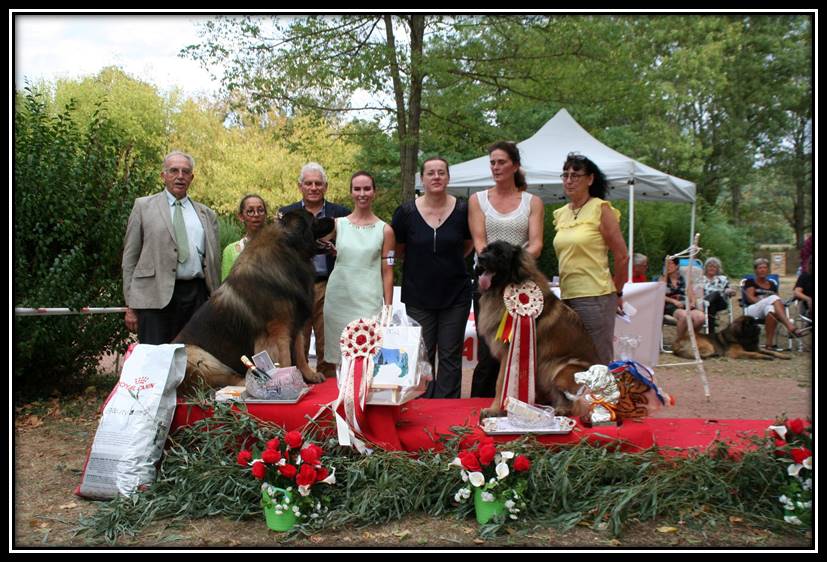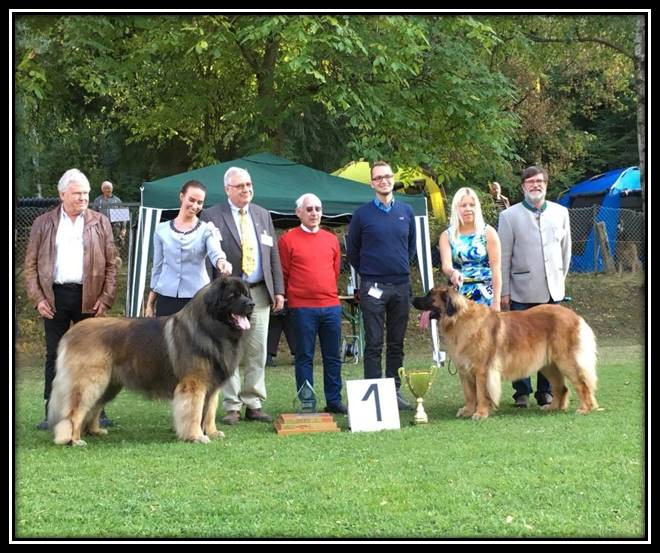 Marwin forsatte i September -18 att skriva historia; som den enda hunden att vinna de största och mest omtalade specialena i världenr; Cluny i Frankrike & Leonberg i Tyskland! Hans dotter blev även BIM i Cluny, även detta var första gången far och dotter blev BIR/BIM på den specialen som klassats, sedan start, som världens största.
Marwin kept writing history in September -18; as the only dog to win the world's largest and worldknown club shows; Cluny in France & Leonberg in Germany! Also his daughter became BOS in Cluny, which was also the first time dad & daughter did the double! WOW!



I juni var vi på den världskända Windsor Castle-utställningen i England. Marwin BIR, tog sitt tredje CERT och blev därmed Engelsk Champion! Hans dotter från Holland blev BIM med CERT!
Marwin är vår andra engelska champion (Grizzly var första svenska Leo 2003).
In June we went to the famous Windsor Championship Show in England. Marwin won the breed and took his third crowning CC for the UK CH! BOS & CC went to his Duch daugher!
Marwin is our second UK CH (Grizzly was the first Swedish Leo to become a English Champion in 2003).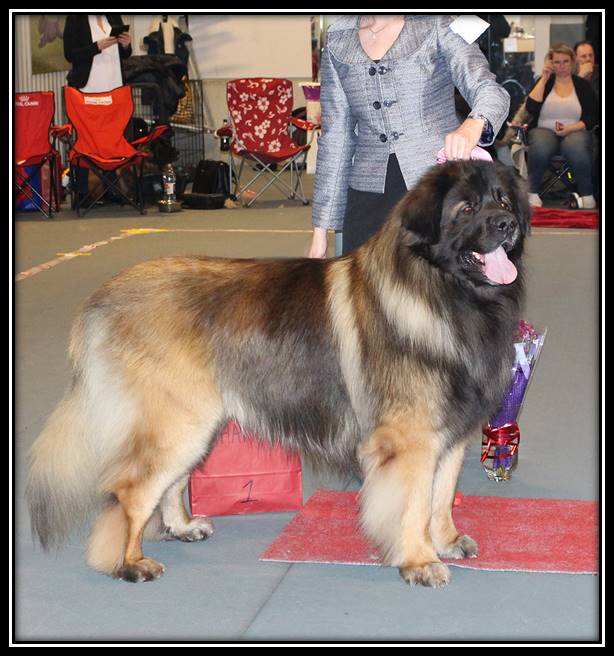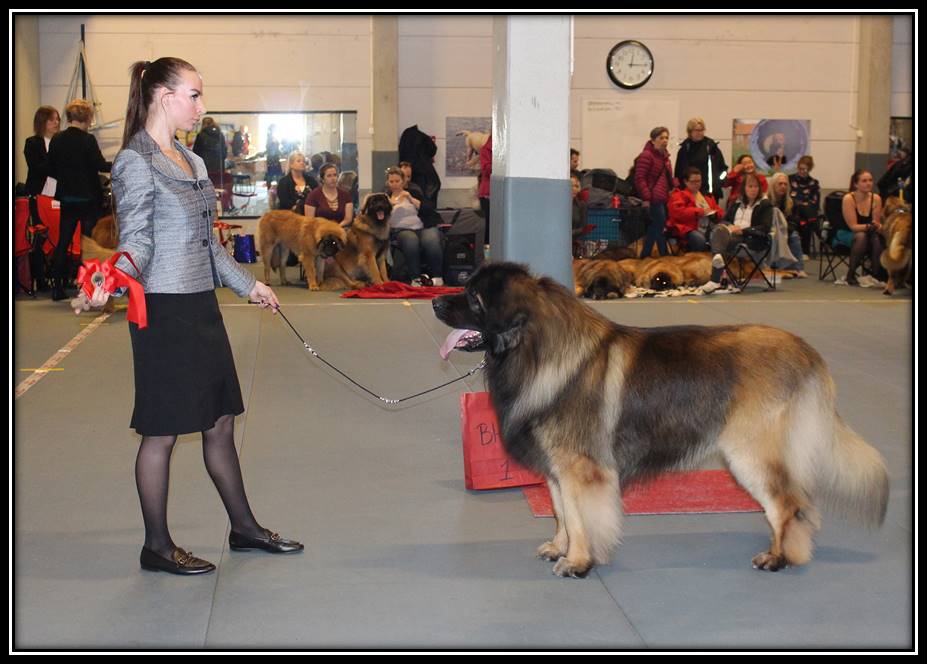 Folk kan snacka hur mycket dom vill om att våra hundar är "för mycket iordninggjorda", vi vet att detta är resultatet av högkvalitativa produkter och daglig pälsvård.
För oss kallas det avundsjuka! Det här är vad år av underhåll och hur en välbefinnande hund ser ut!
Tack till våra sponsorer för enstående produkter! Gisslén DogCare (Plush Puppy/YuMEGA/Botaniqa) & Eukanuba.

People can talk how much they want about our dogs are beeing "overgroomed". Well we know it's just the results of top quality products & regular dog care.
For us it spells jealousy. This is what years of maintenance and how a well being dog looks like!
Thanks to our sponsors for absolutely outstanding products! Gisslén DogCare (Plush Puppy/YuMEGA/Botaniqa) & Eukanuba.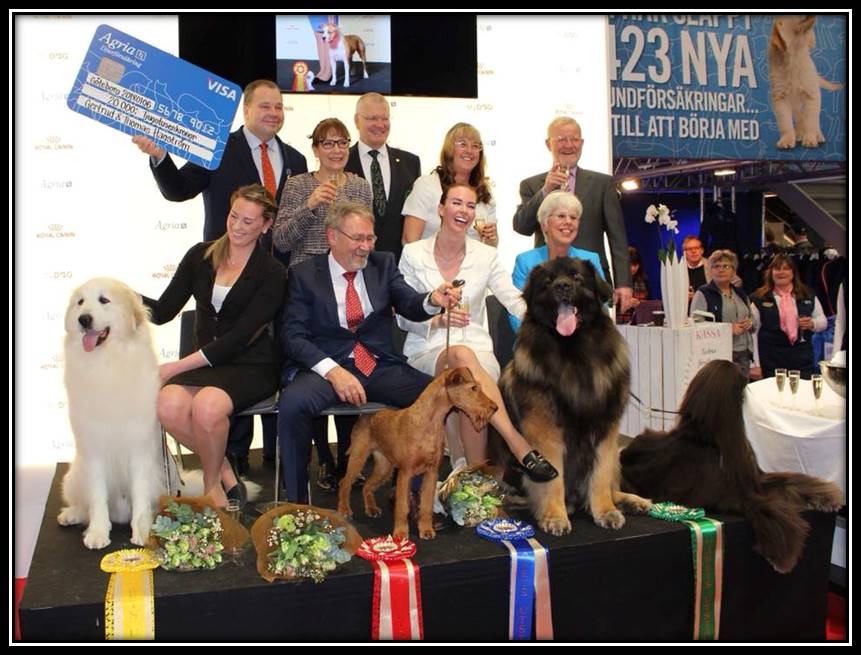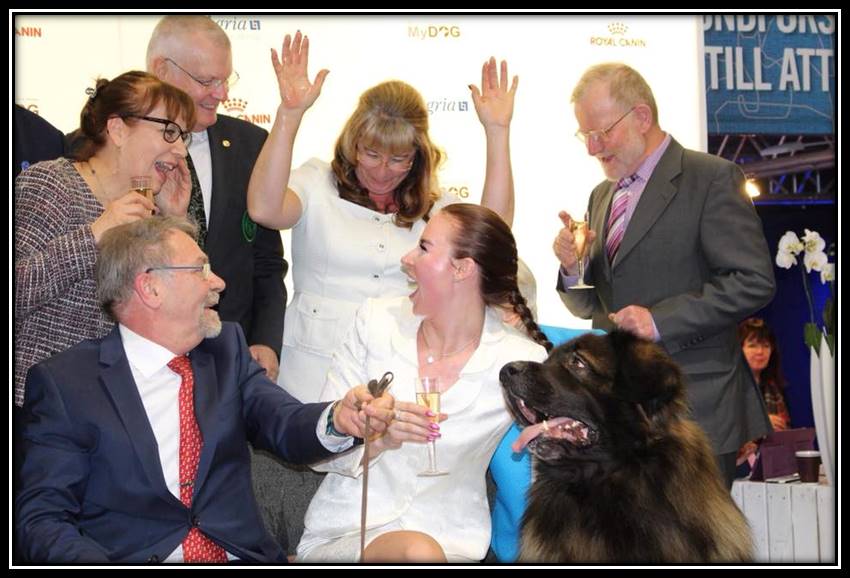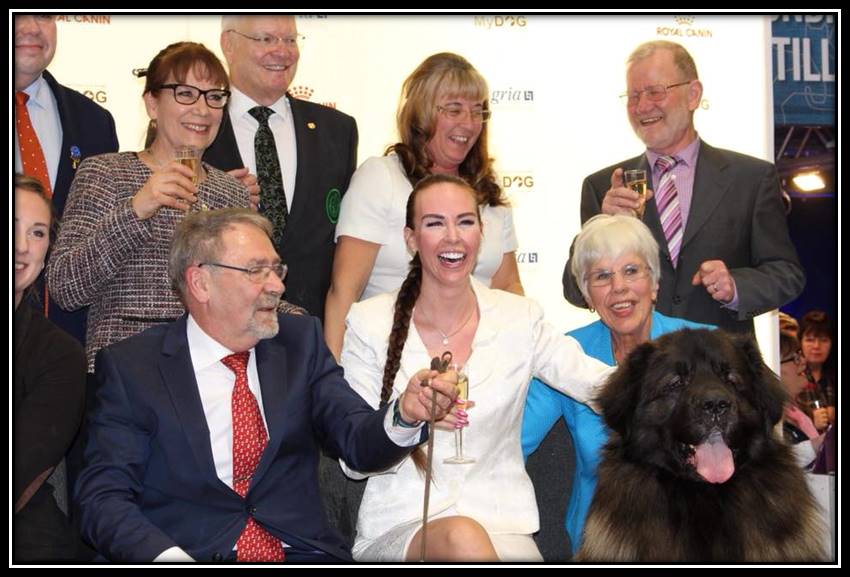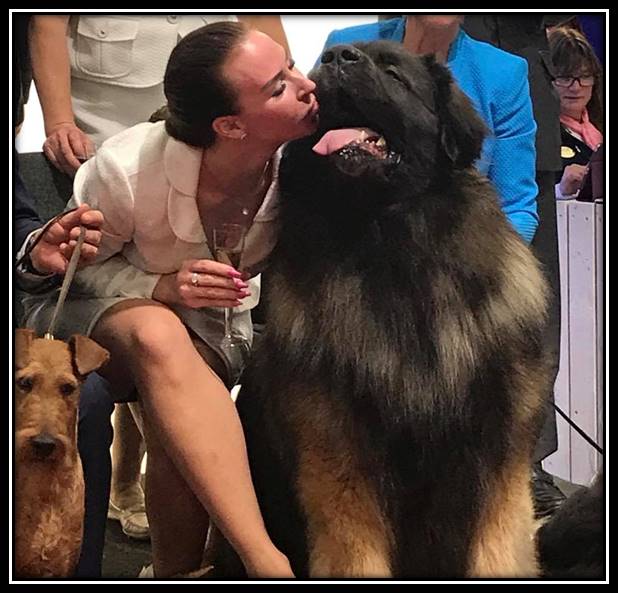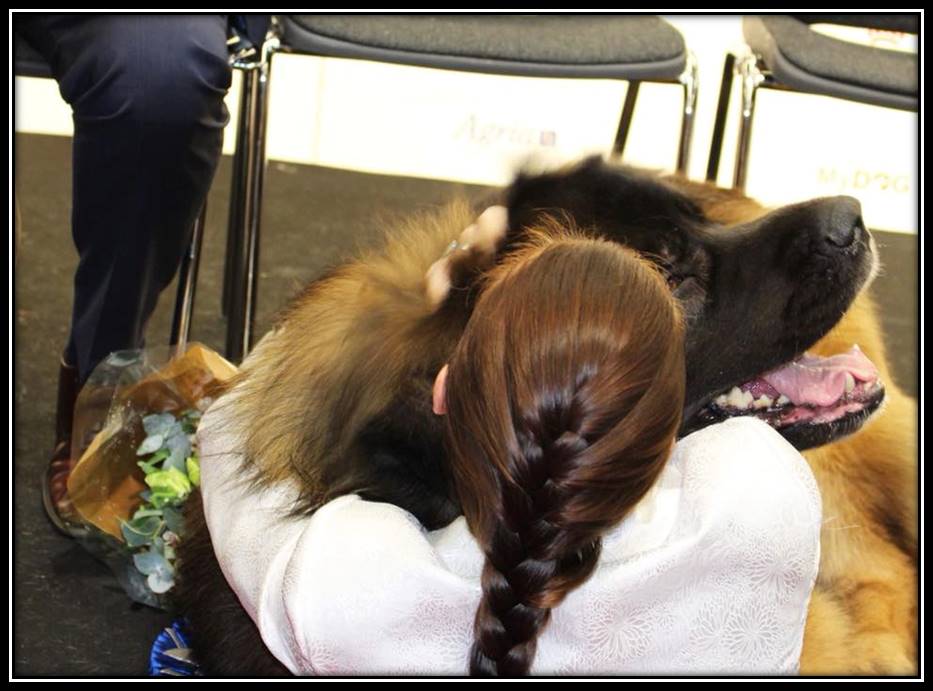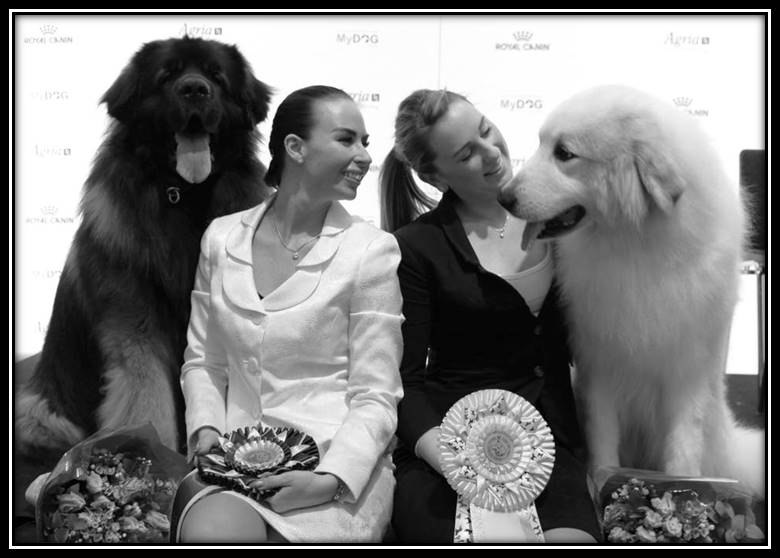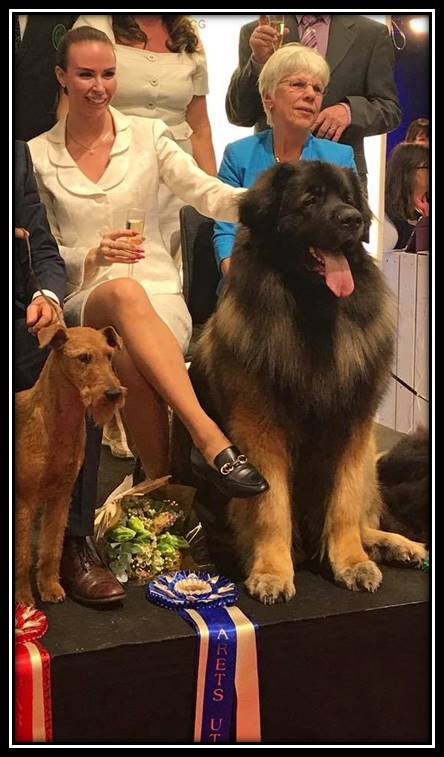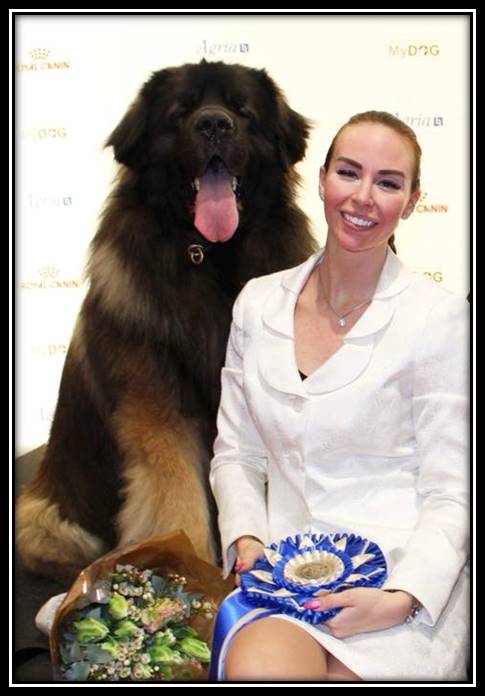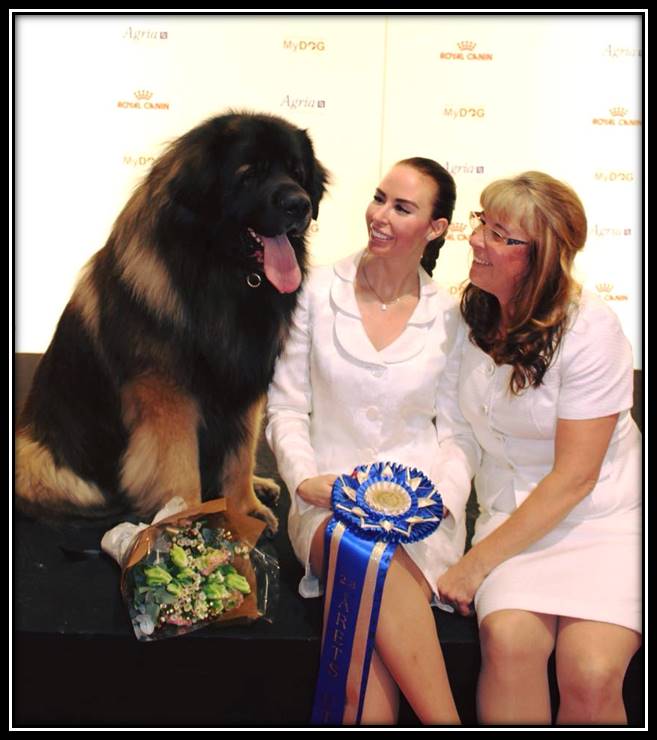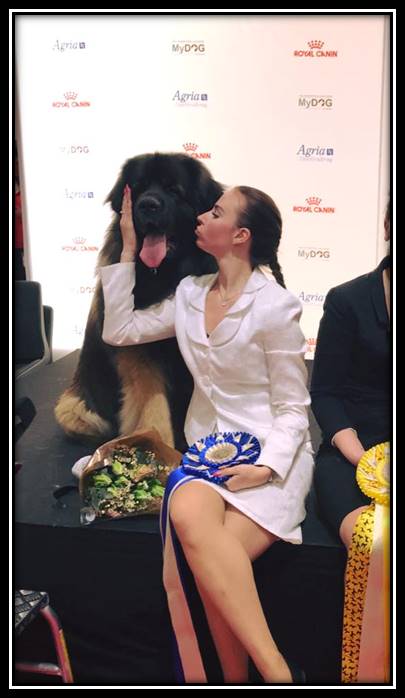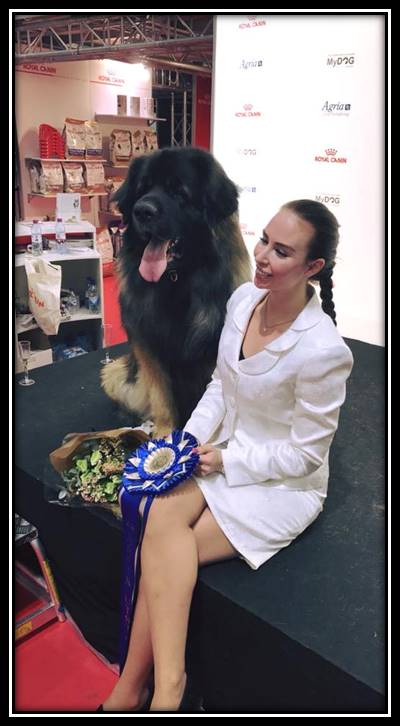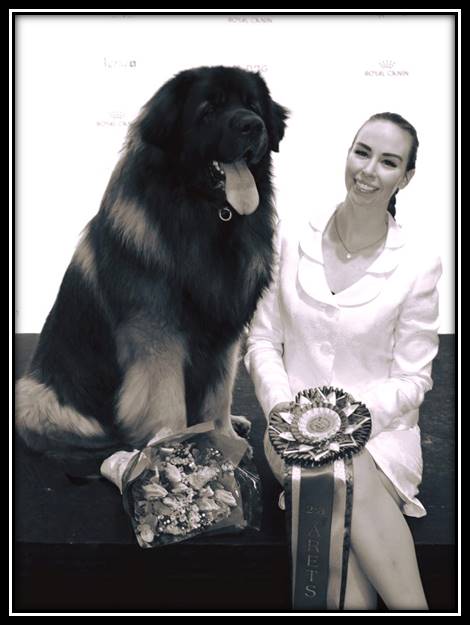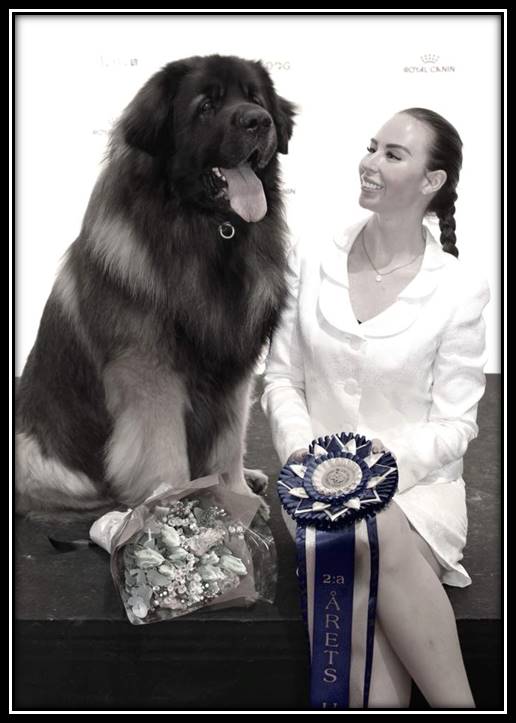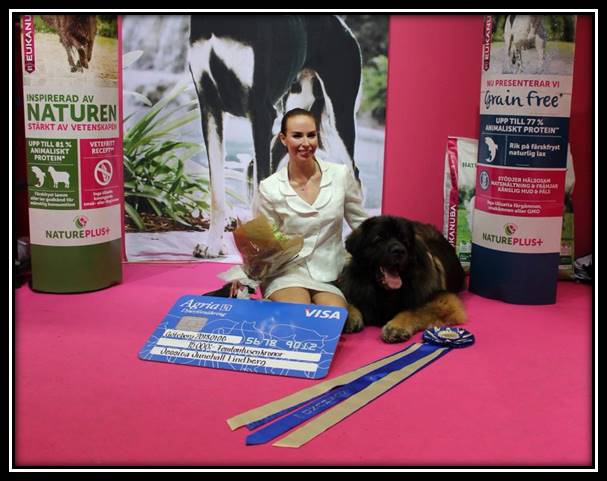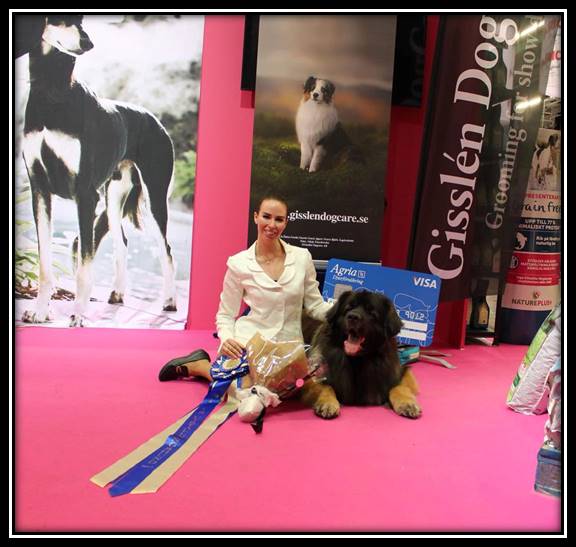 Such a great way to welcome 2018 - when Marwin received his prize for #2 All Breeds in Sweden 2017! It's been a tough year, and we're over the moon what Marwin has done for the history - since he entered the rings as a baby, now the world's most winning Leonberger through all times! #4 All Breeds, #3 and now #2 at the age of 5 y/o. In four years in a row he has also was #1 Leonberger and #1 Working Dog (Group-2) as the first dog to be in top for that long.
Thanks to all judges for your words, Marwin's breeder Satu Korkeakallio and to our amazing sponsors Eukanuba & Gisslén DogCare (Plush Puppy/YuMEGA/Botaniqa) for exclusive products.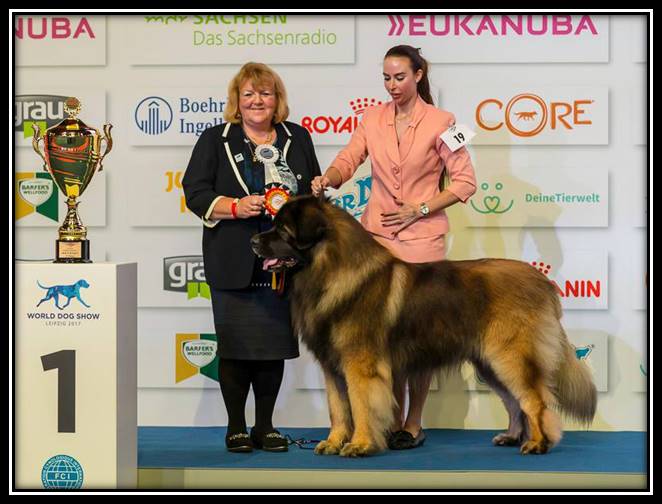 Helgen efter Växjö åkte Jessika och Marwin ner till Leipzig där Världsutställningen hölls. Dagen innan denna började annordnades Tysk Vinnare, där Marwin inte bara vann BIR utan även gruppen!!! +6500 hundar. Hans 39:e gruppvinst, varav 9:e i rad!
The weekend after Växjö, Jessika and Marwin drove down to Leipzig and the World Dog Show. The day before it began the German Winne-show was held, where Marwin not only won BOB but also the group!!! +6500 dogs. His 39th group win, of which 9th in row!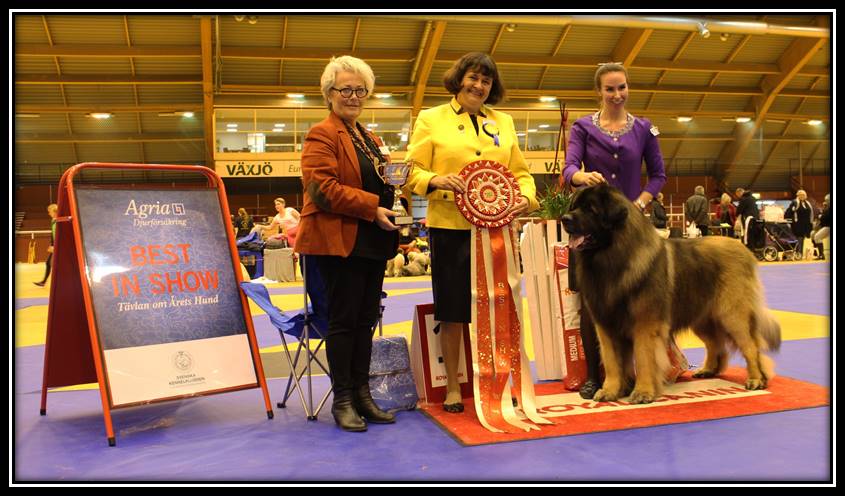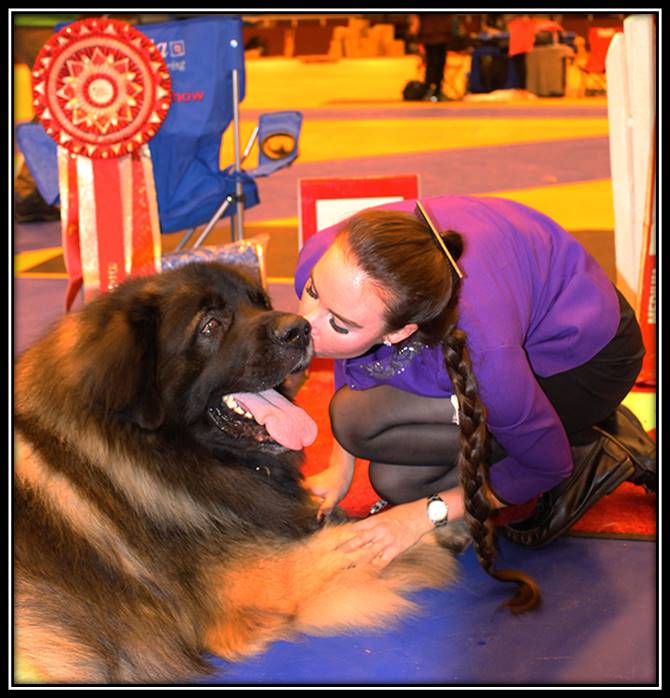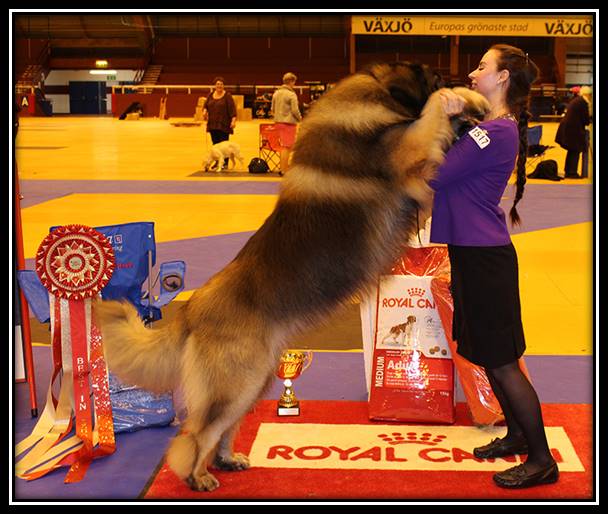 BIS #9 för Marwin i Växjö i november, +3500 hundar!/BEST IN SHOW #9 for Marwin at the International show in Växjö in November, +3500 dogs!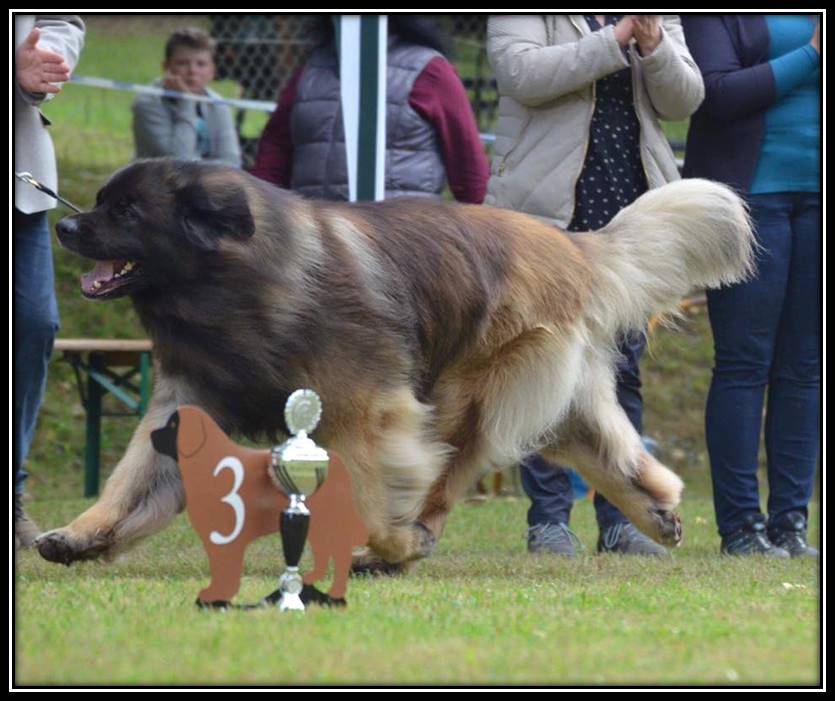 September -17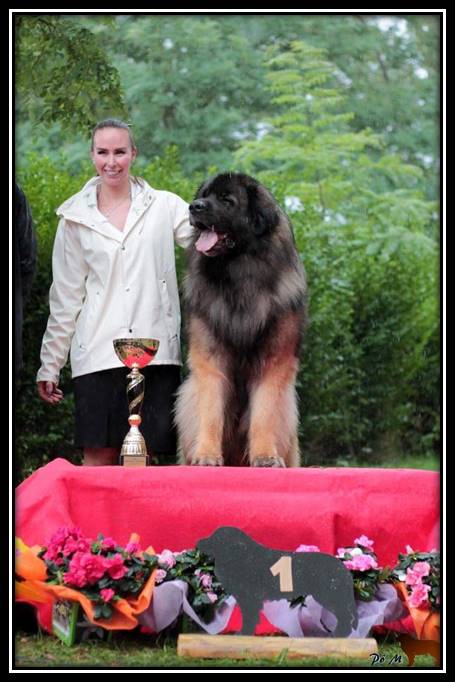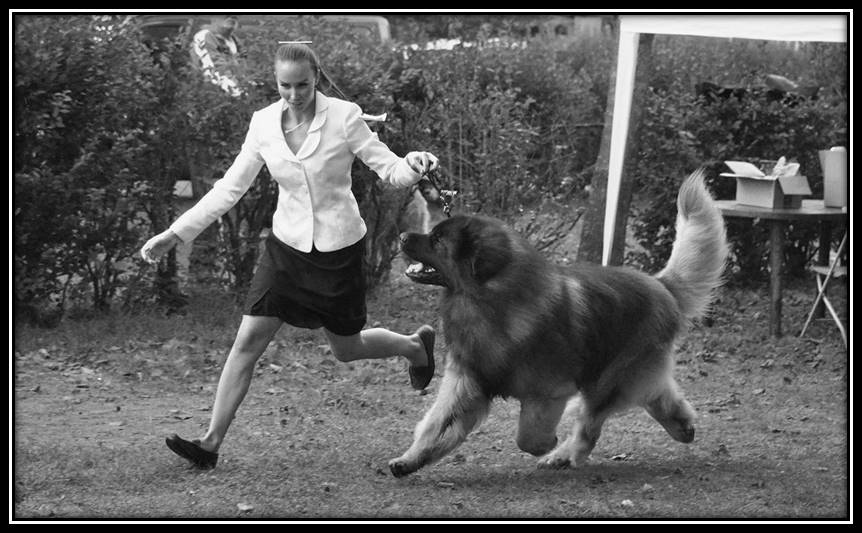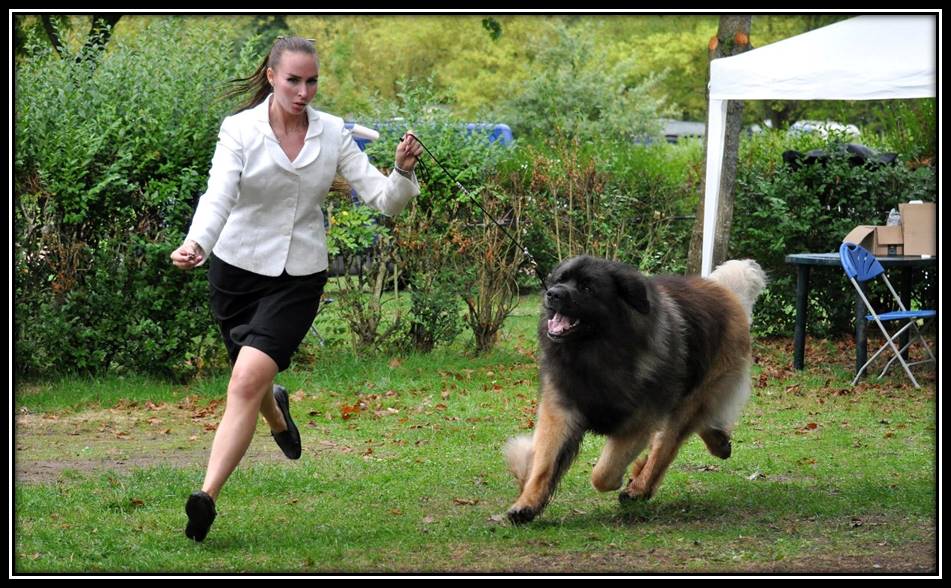 Världens största special i Cluny, Frankrike -17. Marwin vinnare utav öppen klass (utav 57 hanar), andra bästa hane, CERT och Bästa Rörelser Alla Hundar!!
The world's biggest club show in Cluny, France -17. Marwin winner of Open class out of 57 males, second best male, CAC and Best Movements All Dogs!!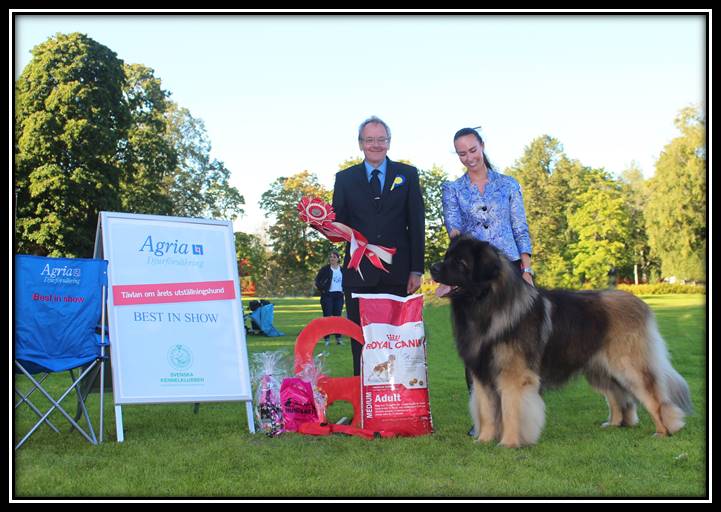 BEST IN SHOW på den internationella utställningen i Högbo, september -17. +2300 hundar! Hans fjärde BIS under 2017!
BEST IN SHOW at the International show in Högbo, Sep -17, +2300 dogs! This was his 4th BIS in 2017!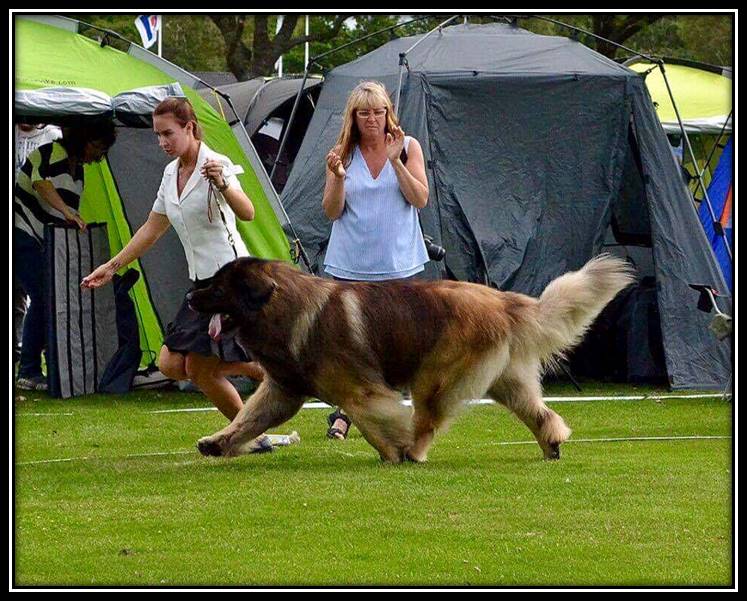 Att denna hund kan röra sig har det aldrig varit någon tvekan om!/Boy, this man can move!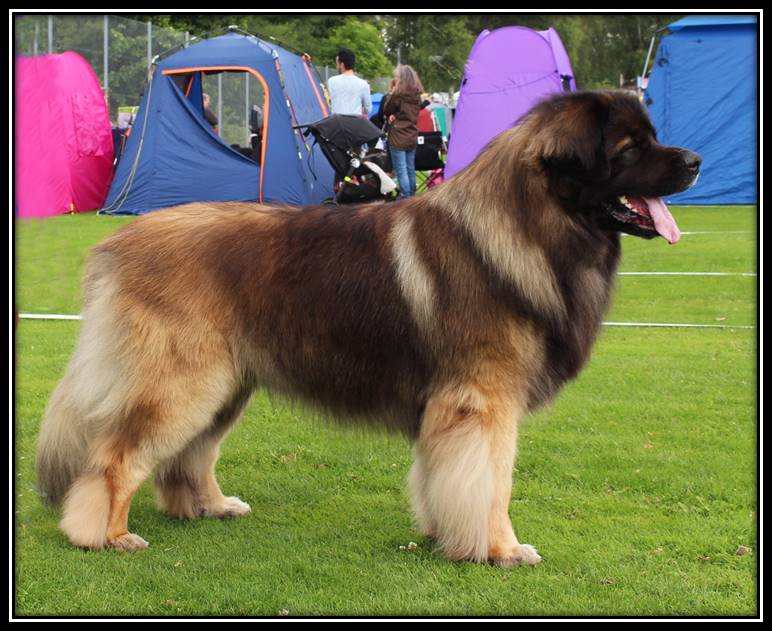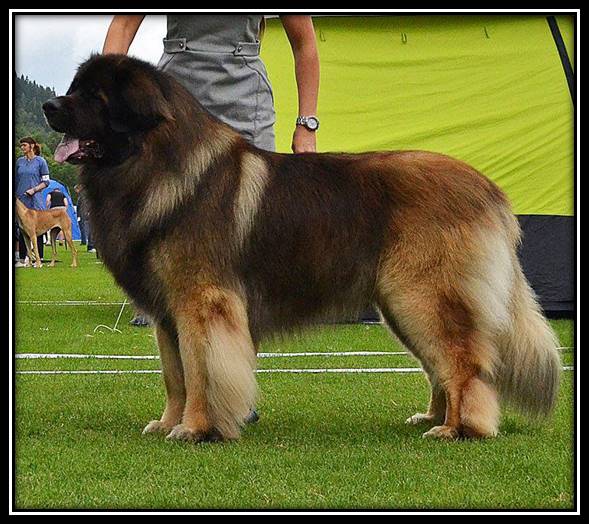 Juli/July -17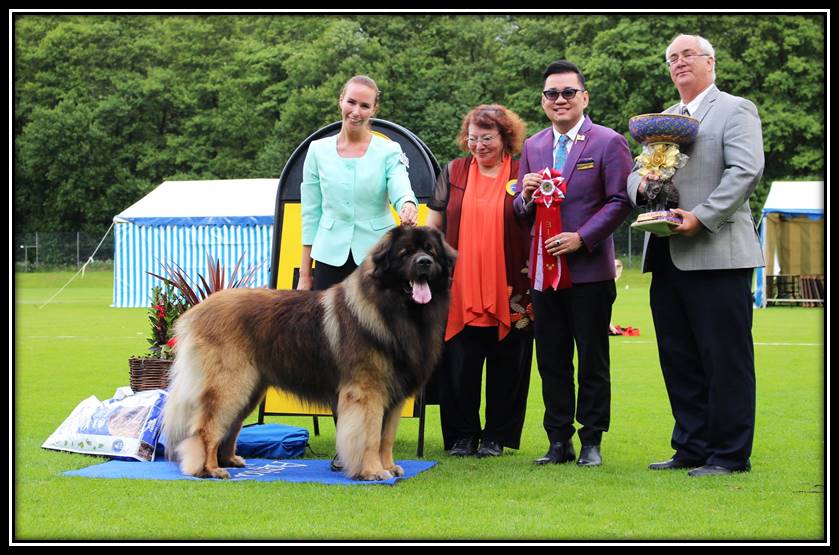 BEST IN SHOW yet again in Borås in July, +2500 dogs!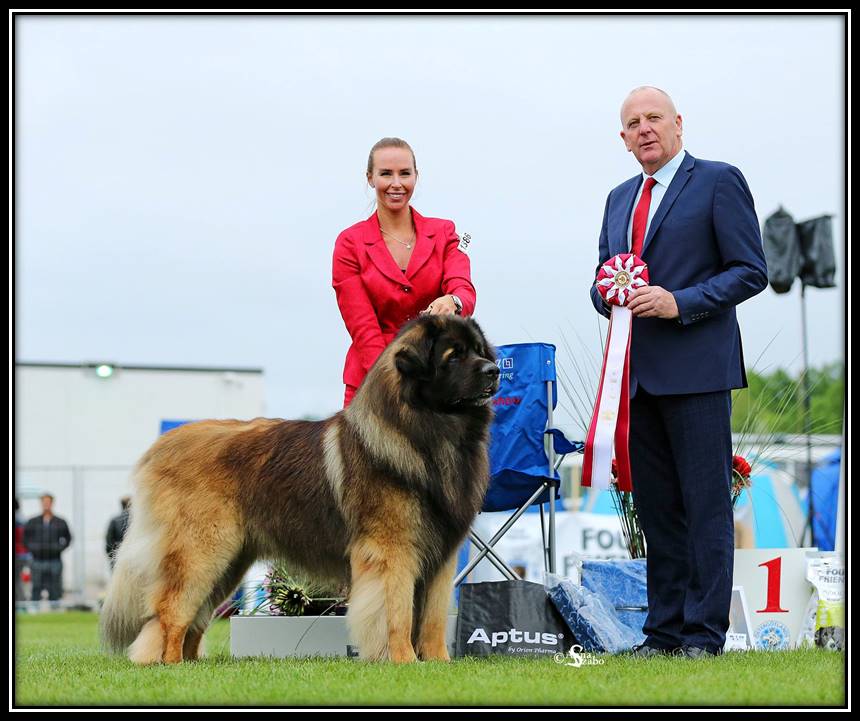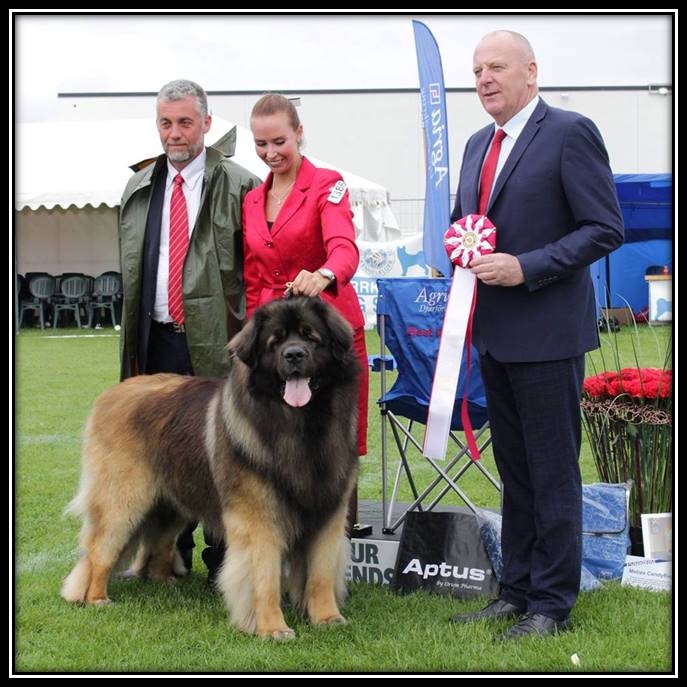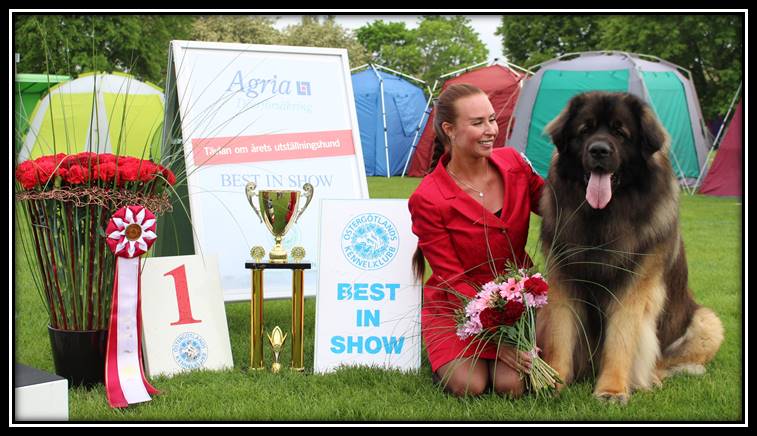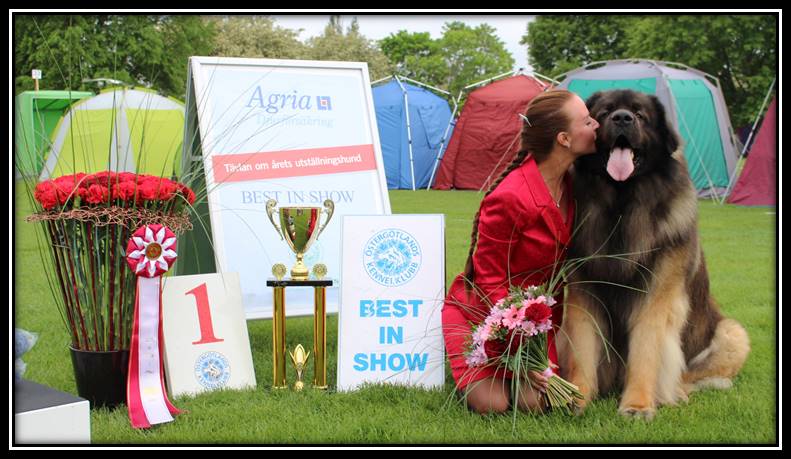 BEST IN SHOW in Norrköping in June, +3800 dogs!

4,5 år/years old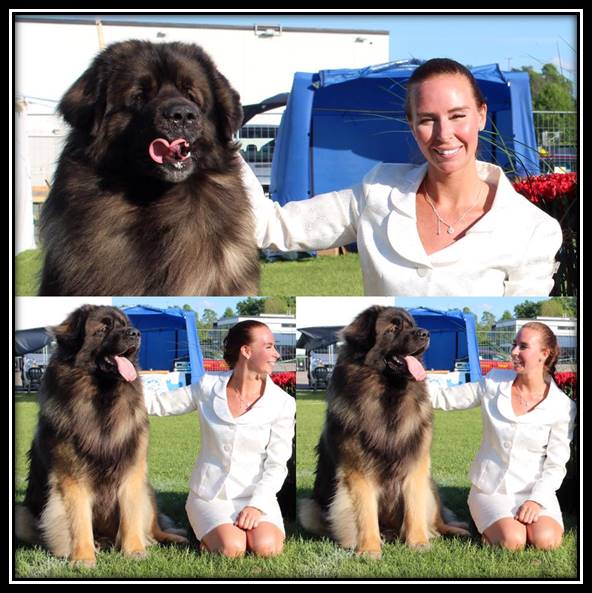 Juni/June -17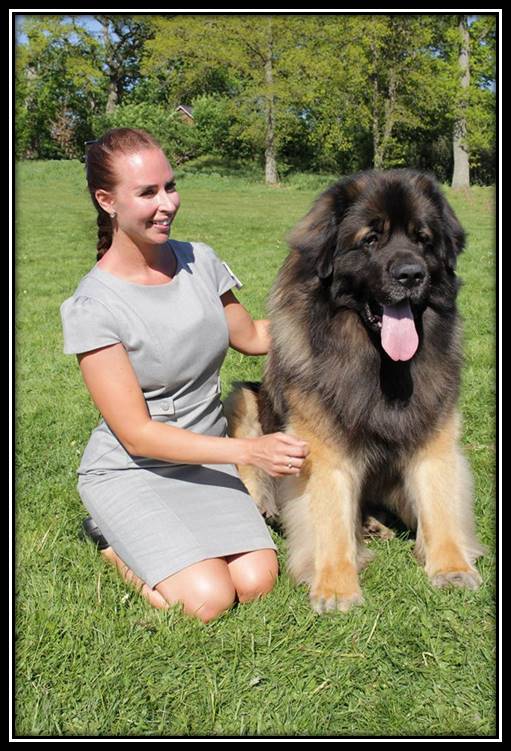 Jessika & Marwin i maj -17/May -17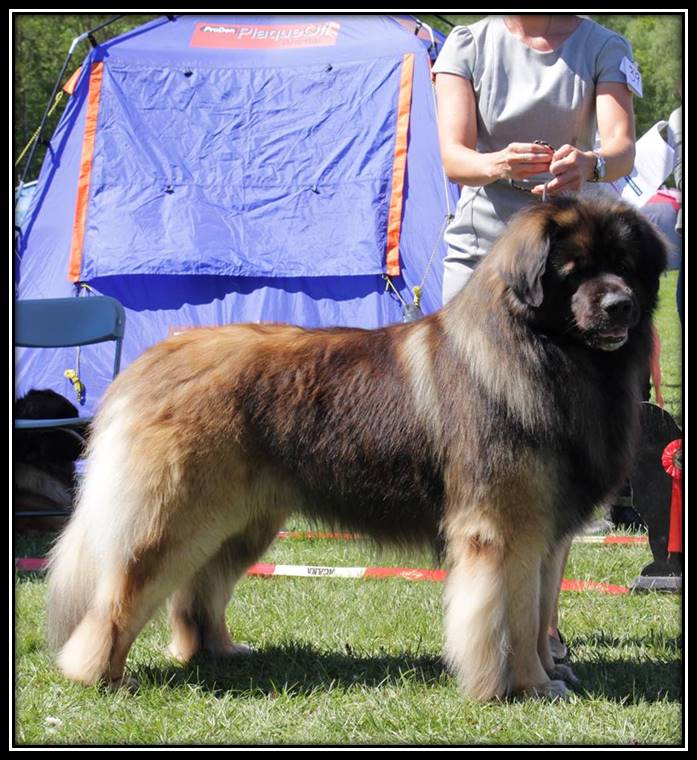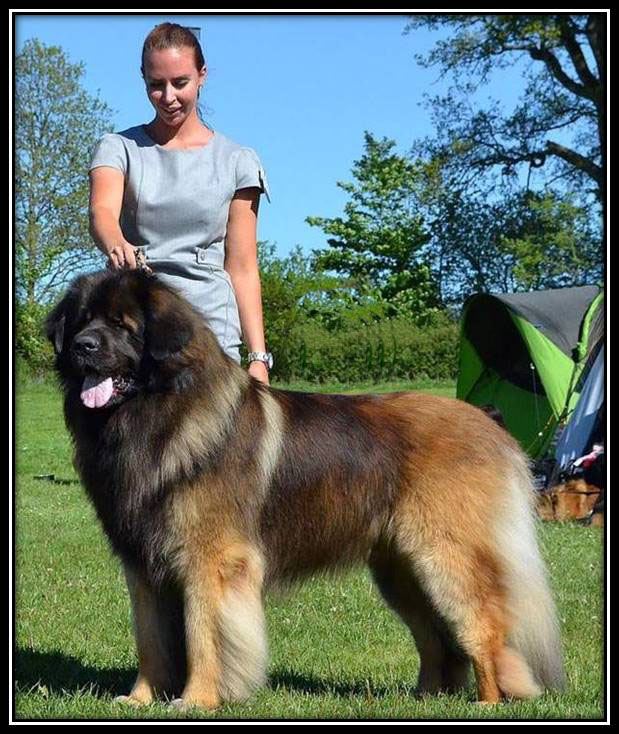 Marwin i sommarpäls, maj -17/Summer coat in May -17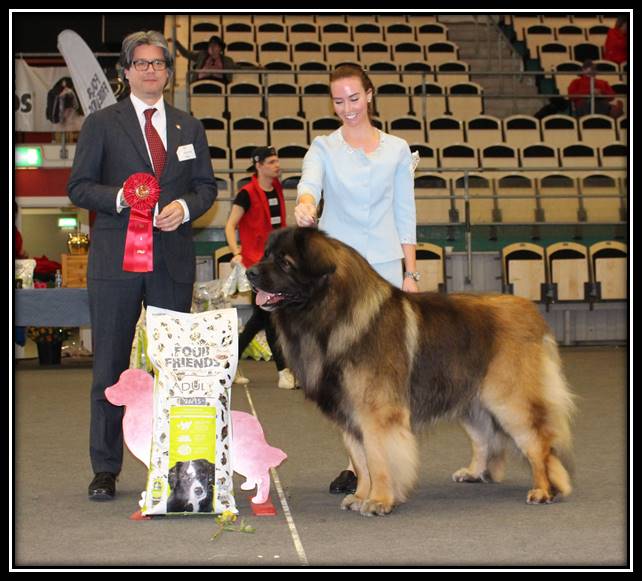 Marwins 23:e BIG, i Västerås i april. Hans andra, utav tre möjliga, BIG i Sverige i år!/Marwin's 23rd Group'1. His second, out of three possible, group win in Sweden this year!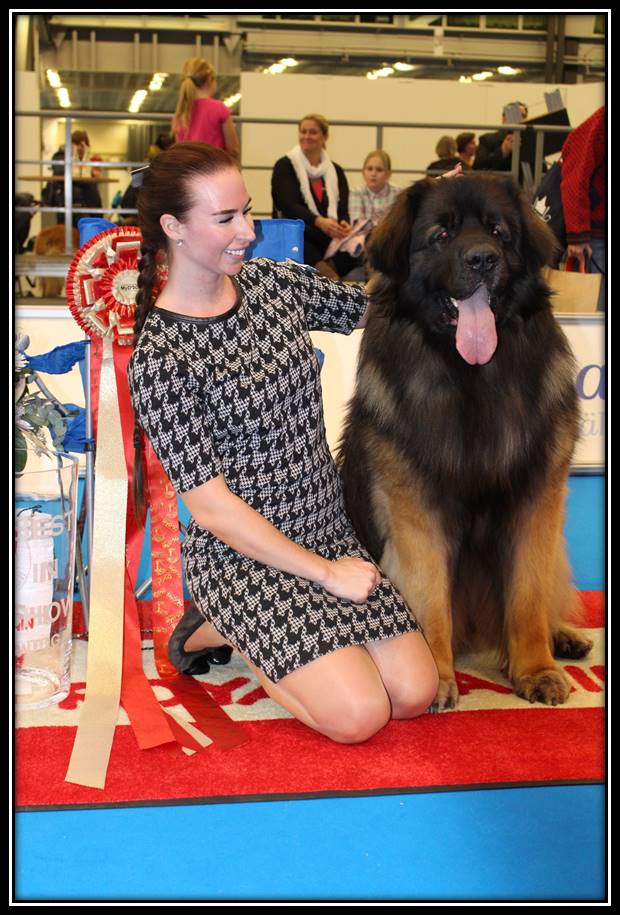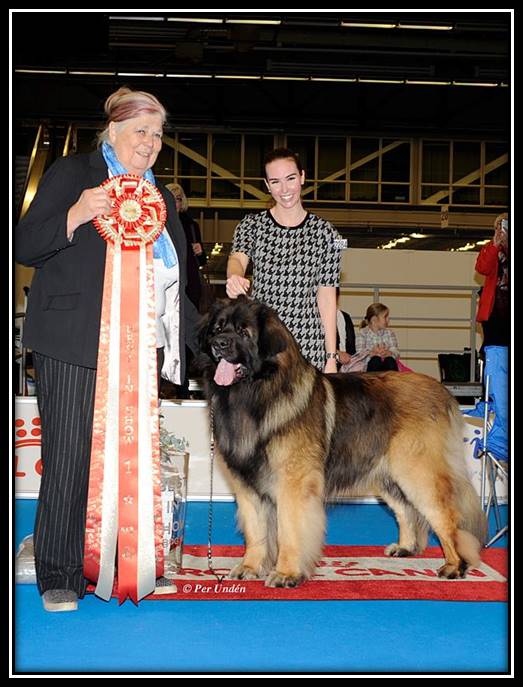 Marwin började 2017 med att vinna BEST IN SHOW i Göteborg, +4300 hundar anmälda!/Marwin started 2017 by winning BEST IN SHOW at Gothenburg in a entry of +4300 dogs!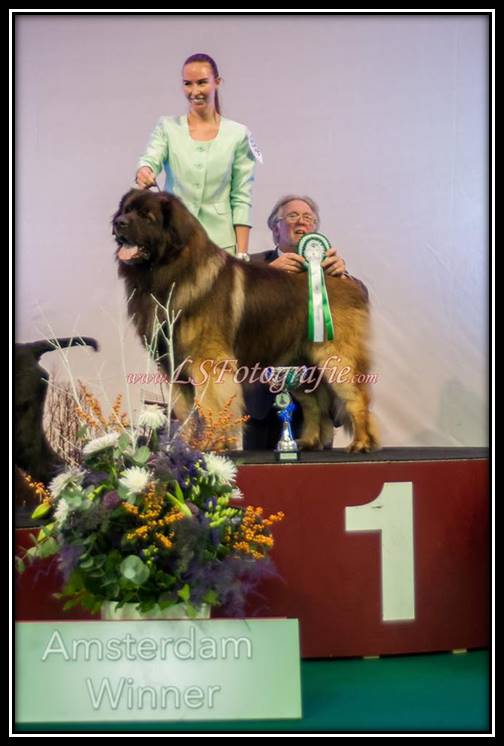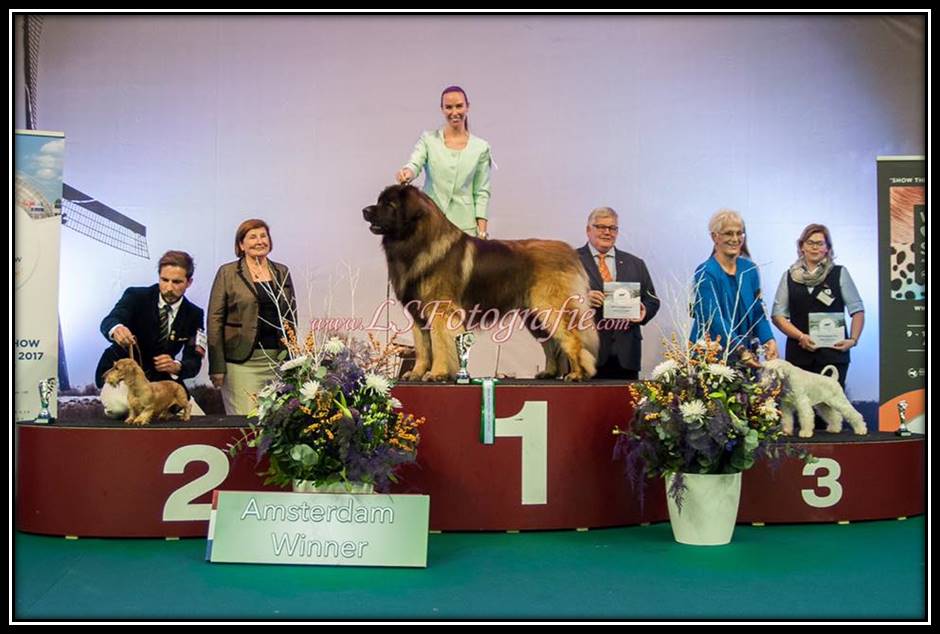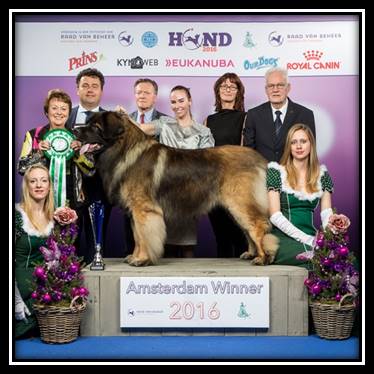 Vilket avslut på 2016! Marwin & Jessika var i Amsterdam strax innan jul och vann BIG-2 första dagen. BIS Tyska Raser, BIG & BIS-2, +6000 hundar anmälda!!!/What a FAB end f 2016! Marwin & Jessika was in Amsterdam just before christmas and won a Group 2nd day 1. BEST IN SHOW German Breeds, Group 1st & Res.BEST IN SHOW in a entry of +6000 dogs day 2!!!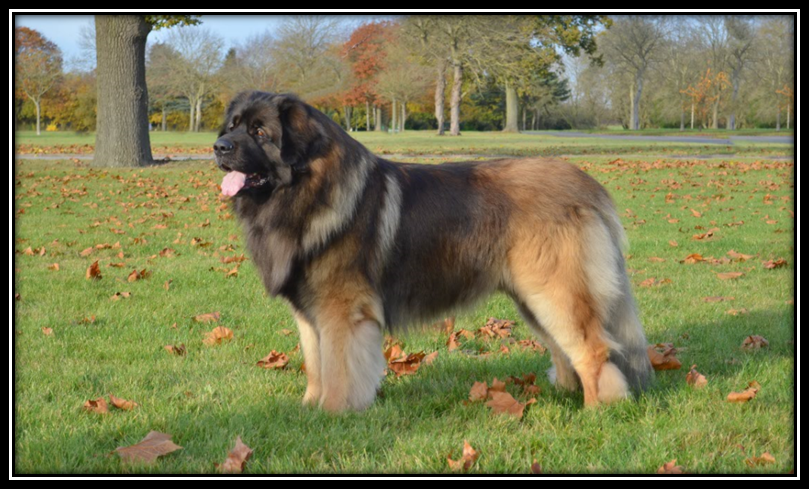 4 år gammal/4 yrs old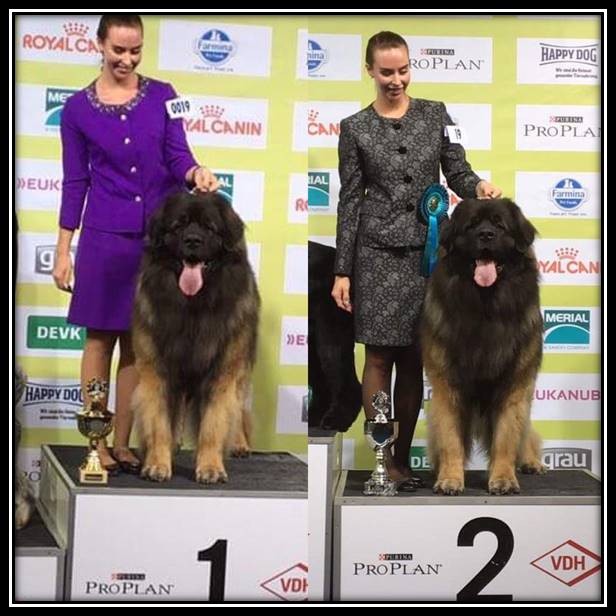 Marwin Marwin Marwin... På 2-dagars utställningen i Dortmund, Tyskland, i oktober med +9000 hundar anmälda, blev Marwin dag 1; BIR, CERT, BUNDESSIEGER-16 och BIG!!!
Dag 2; BIR, CERT, ny TYSK- & TYSK KLUBB CHAMPION, HERBSTSEIGER-16 och BIG-2!!!
Marwin Marwin Marwin ... At the 2 days Int.shows in Dortmund, Germany, in October with +9000 dogs entered, Marwin won day 1; BOB, CAC, Bundessieger-16 and BEST IN GROUP!!!
Day 2; BOB, CAC, new GERMAN-& GERMAN CLUB CHAMPION, Herbsteiger-16 & BIG-2!!!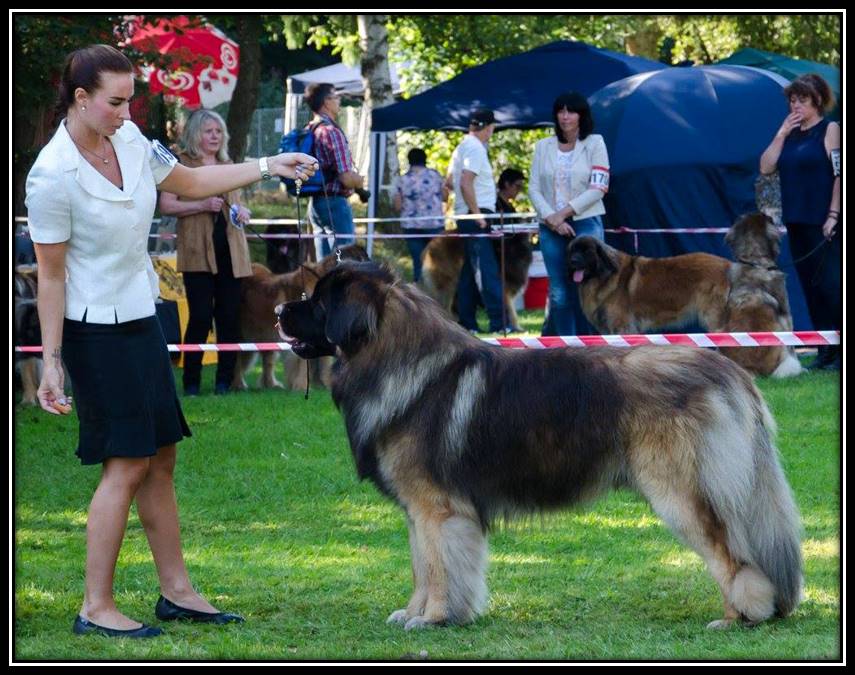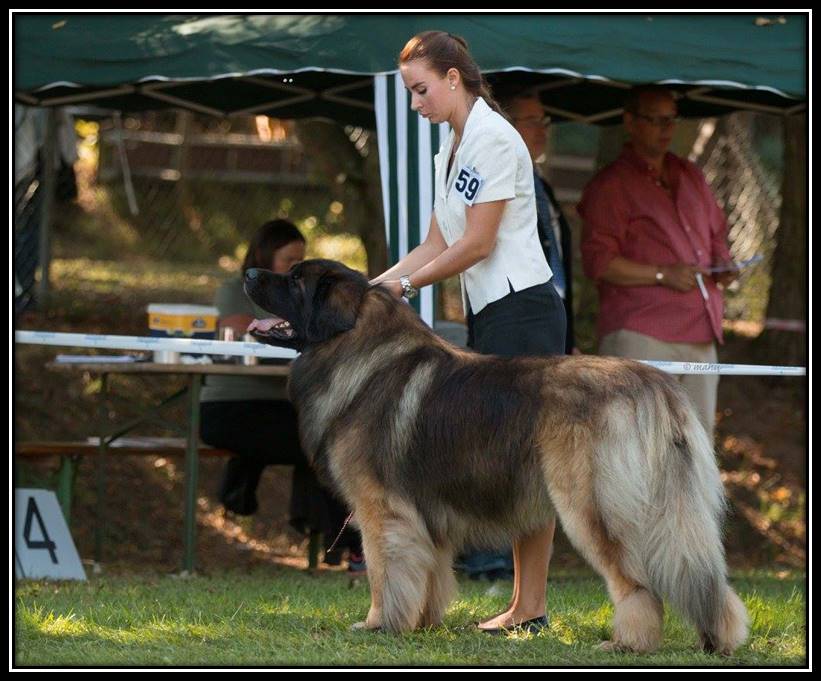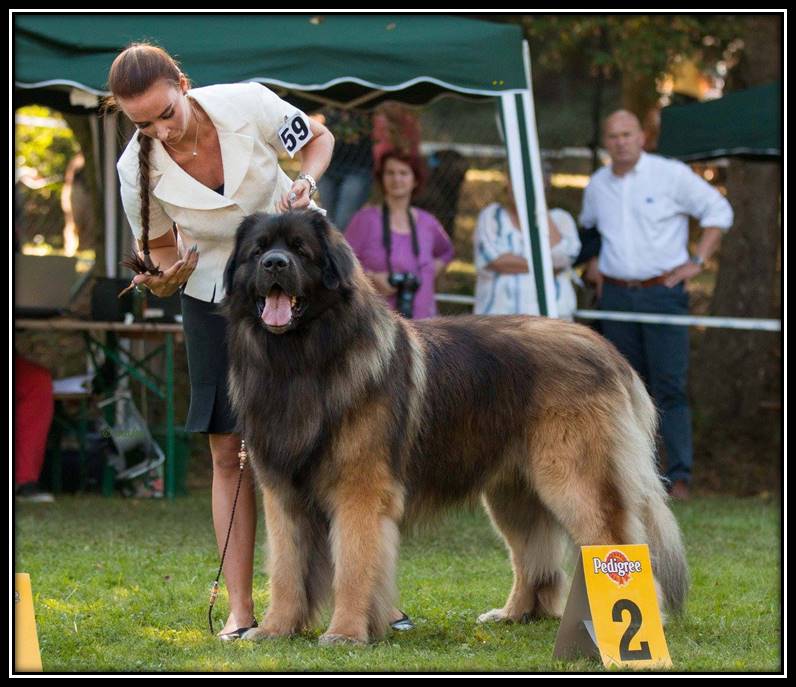 Marwin på världens mest kända special i Leonberg, Tyskland, september -16/Marwin at the world's most prestigious club show in Leonberg, Germany, September -16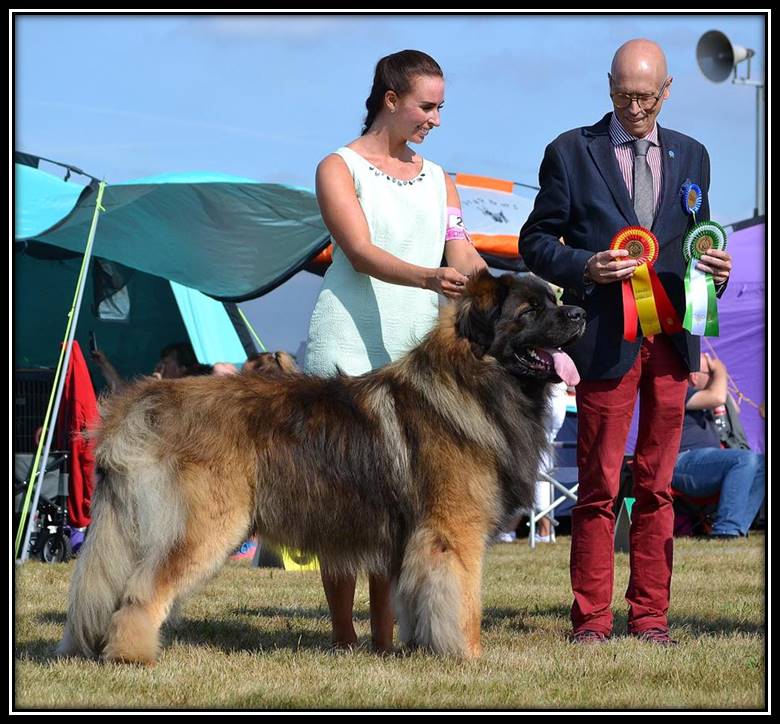 September -16, en varm och blåsig sensommar dag!/September -16, a boiling hot and windy late summer day!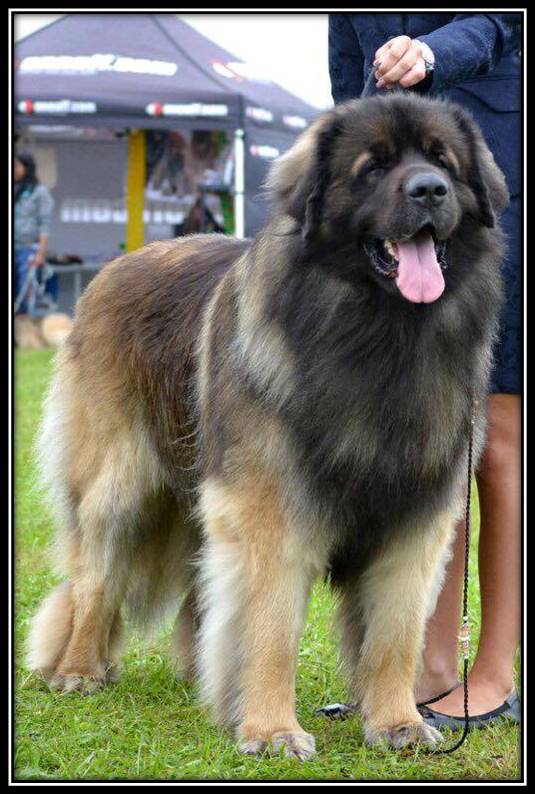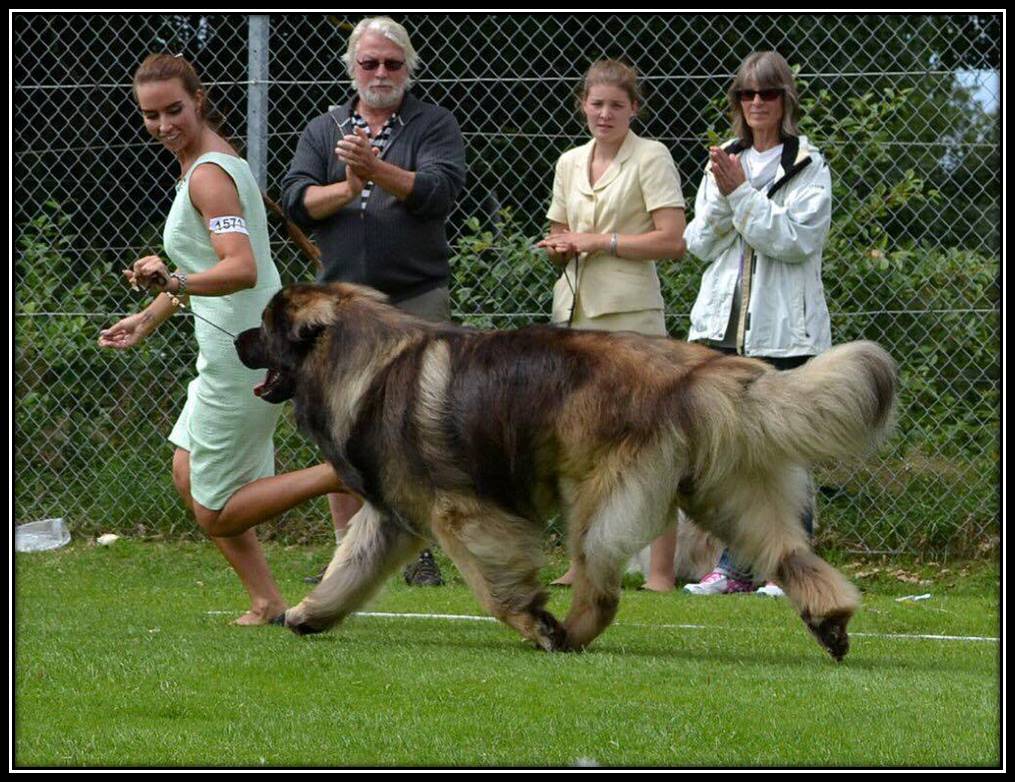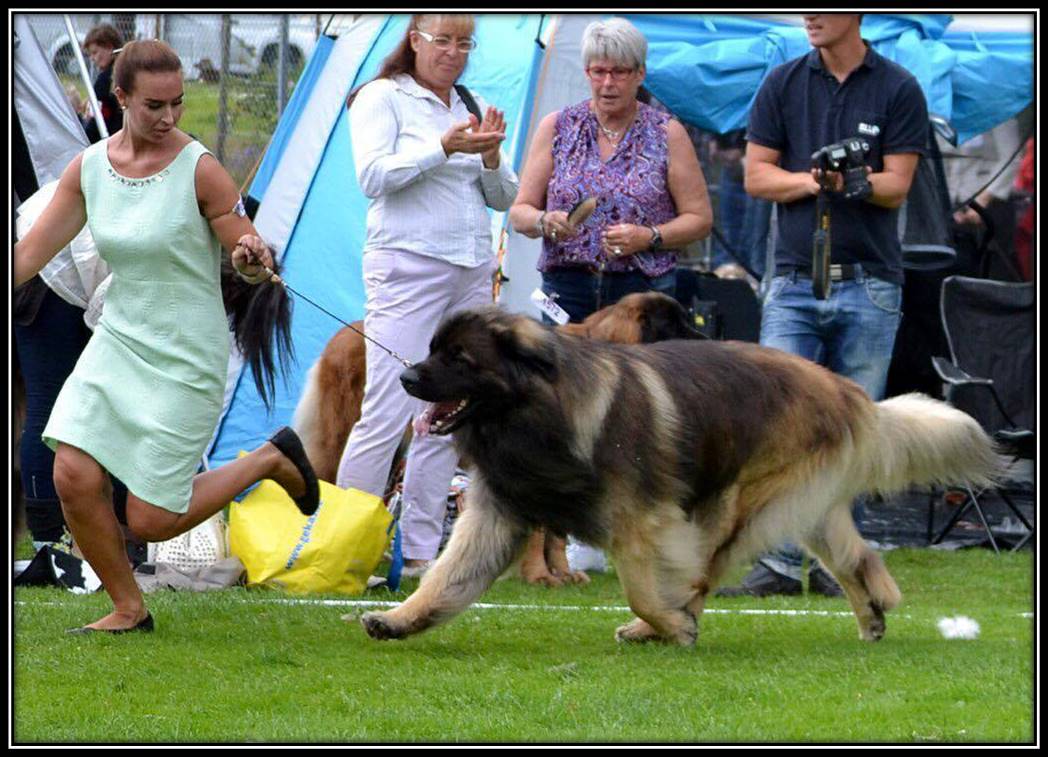 Juli-16, totalt urfälld/July-16, in his summer coat

Familjebild med Rejsa och dotter Kelly/Family photo with Rejsa and daughter Kelly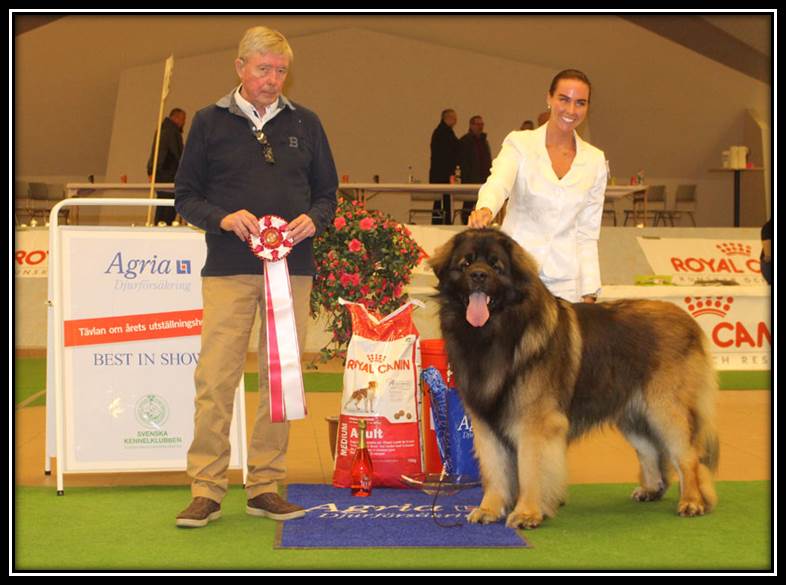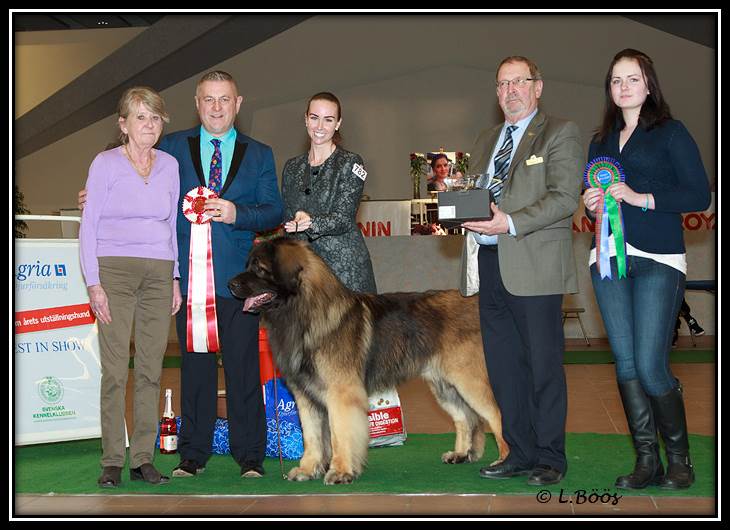 Helt otroligt - Marwin BIS för andra året i rad i Strängnäs i mars, +3100 hundar!!! Han har utvecklats "en del" sen förra året. 2015's vinst till höger.
Unbelievable - Marwin BEST IN SHOW for the second year in a row at Strängnäs KC in March, +3100 dogs!!! He has developed "quit a bit" since late last year. 2015's win to the right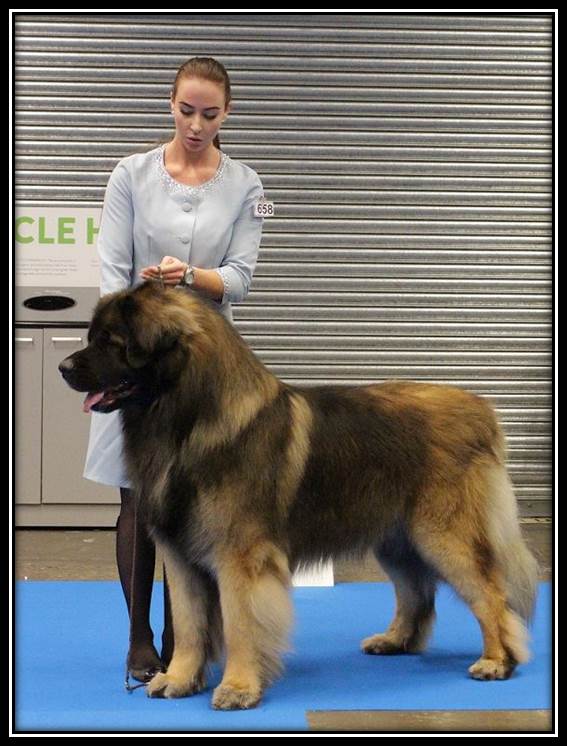 Marwin 3 år gammal/Marwin 3 y/o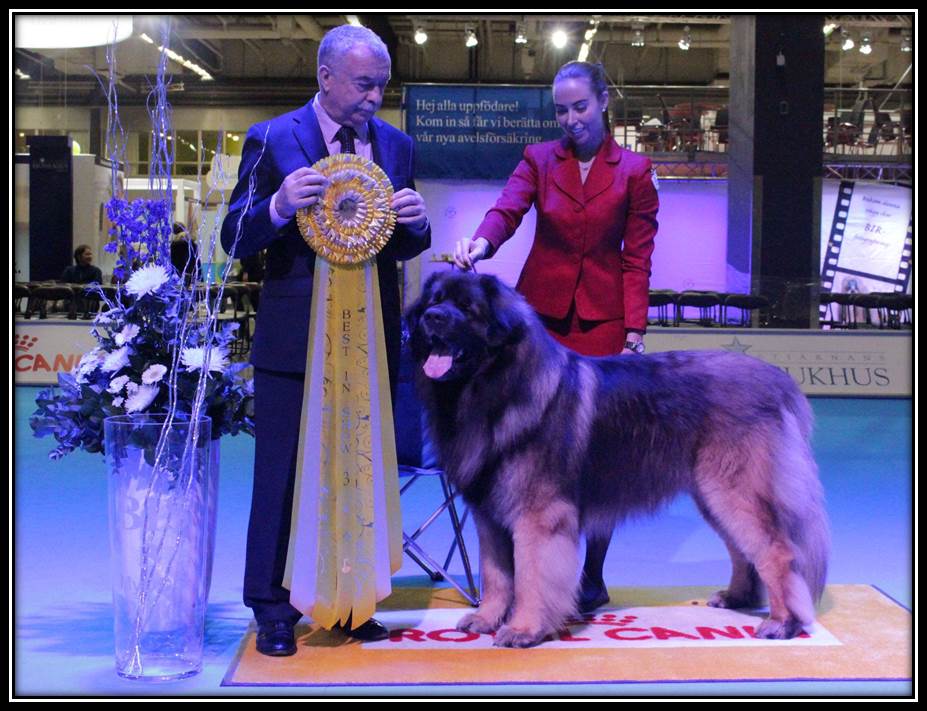 Första utställningen 2016 - BEST IN SHOW-3, 3900 hundar!!!/First show in 2016, winning BEST IN SHOW 3rd in a entry of +3900 dogs!!!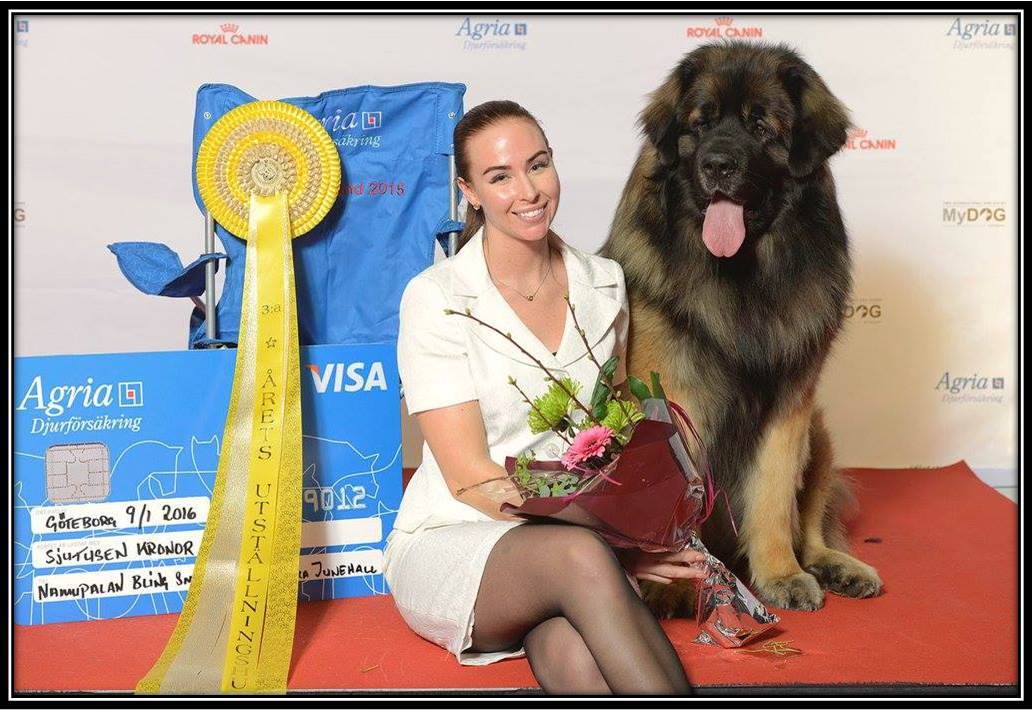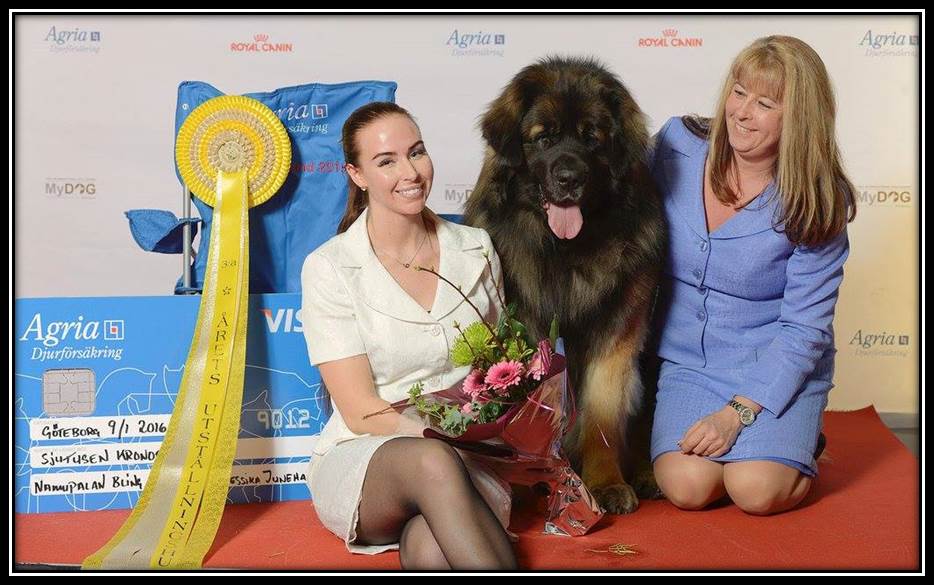 #3 ÅRETS HUND ALLA RASER i Sverige 2015!!!/#3 ALL BREEDS in Sweden 2015!!!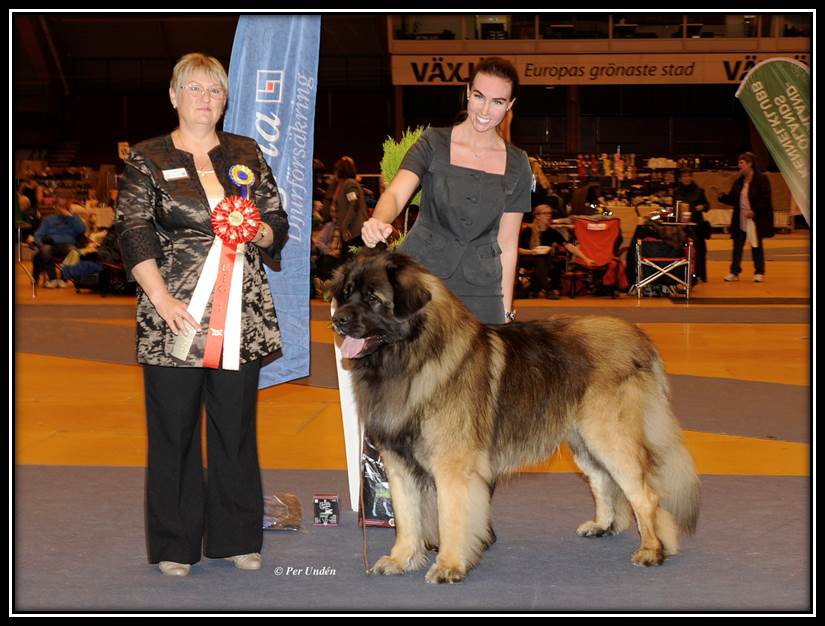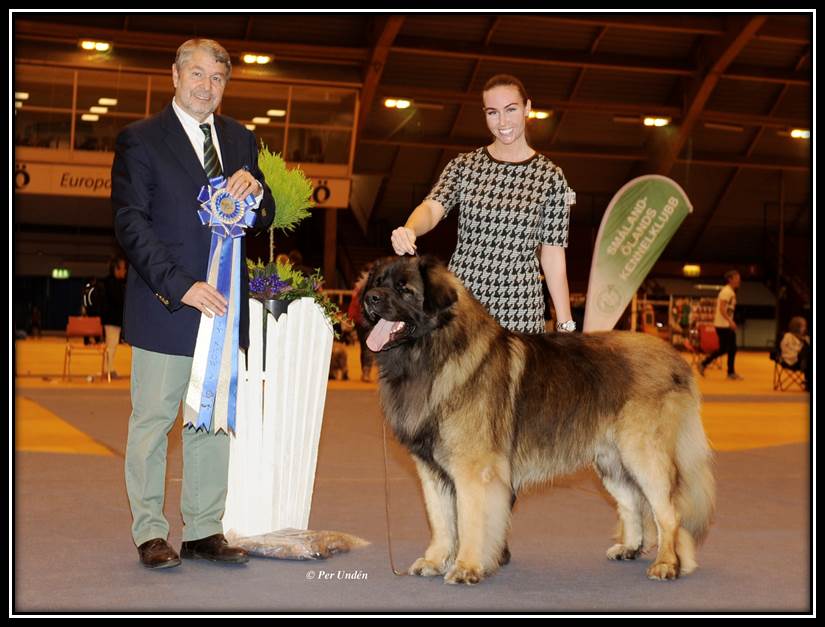 Helgen efter vann han BEST IN SHOW-2 i Växjö med +3900 hundar anmälda!/The next show he did it again - RunnerUp BEST IN SHOW, +3900 dogs!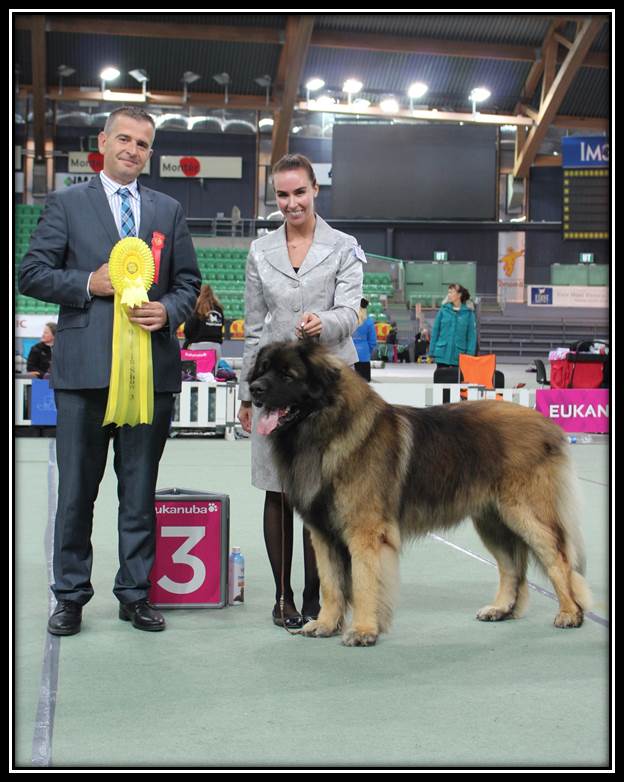 Marwin BIS-3 på den Norsk Vinnare-15 utav +5400 hundar anmälda!/Marwin winning BEST IN SHOW-3 at the prestigious Norweigian Winner-15 in a entry of +5400 dogs!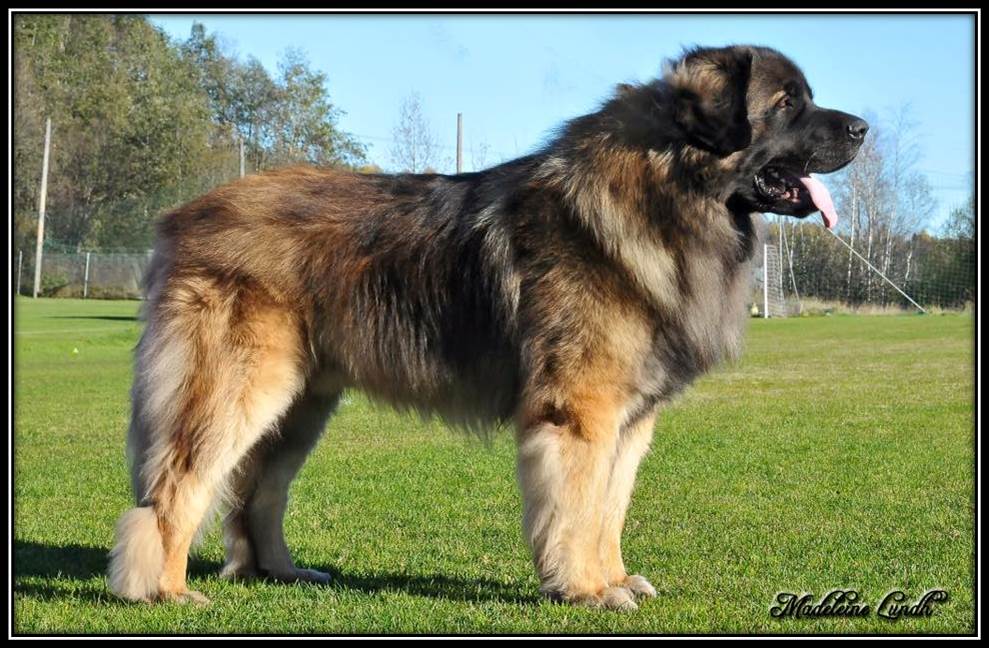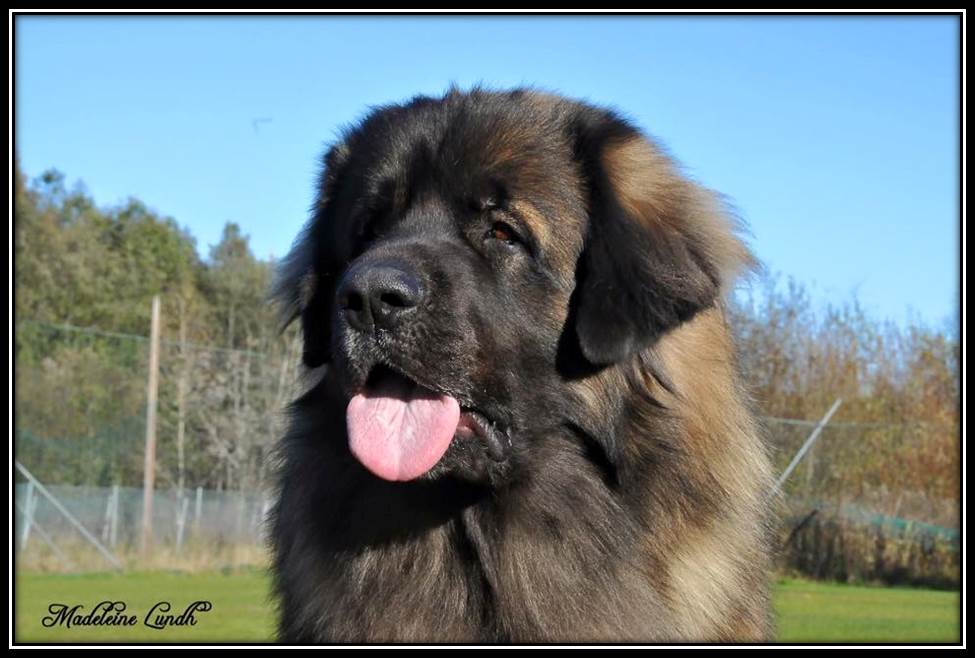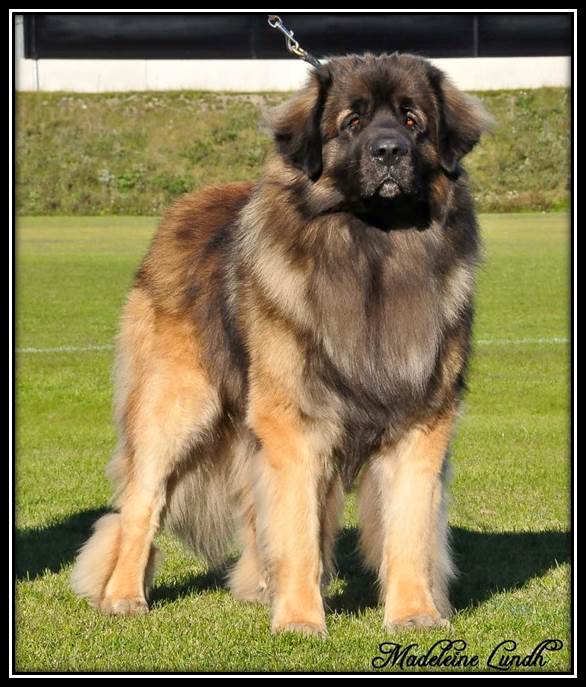 Snart 3 år gammal/Almost 3 years old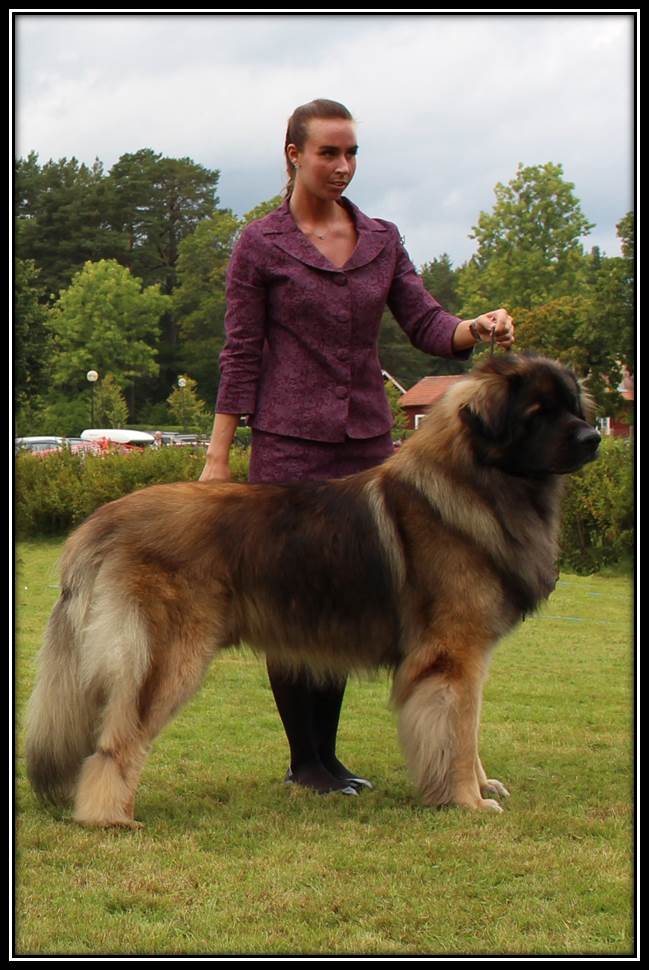 Urfälld September-15/September-15 without any coat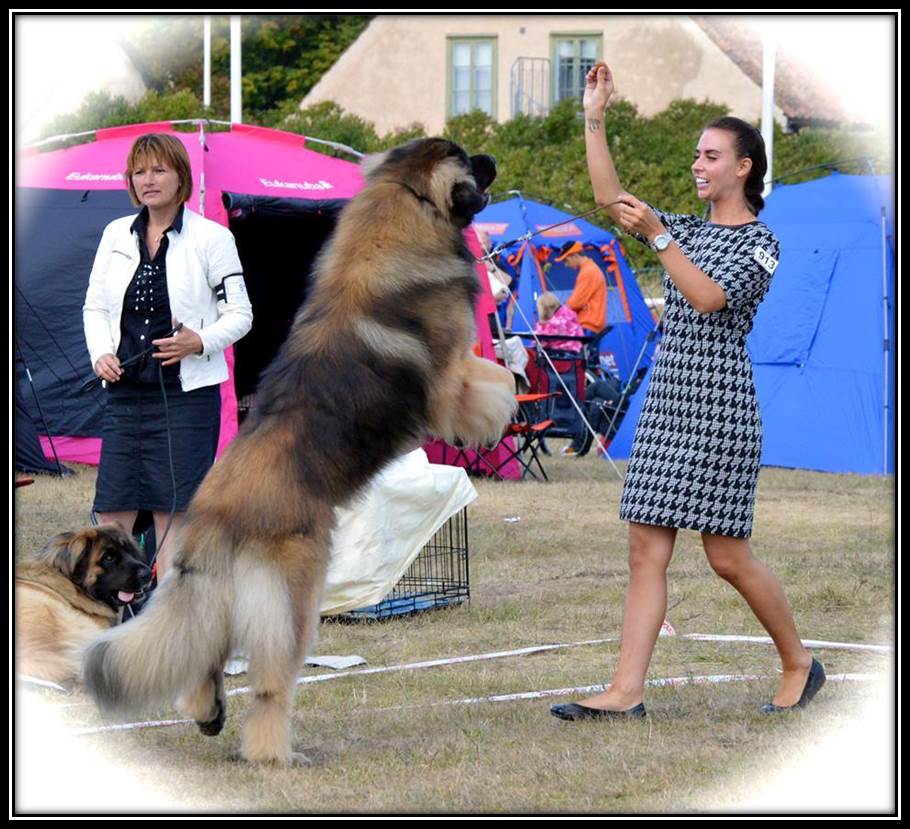 Kungen, cirkushunden Marwin!/Marwin the king, the circus dog!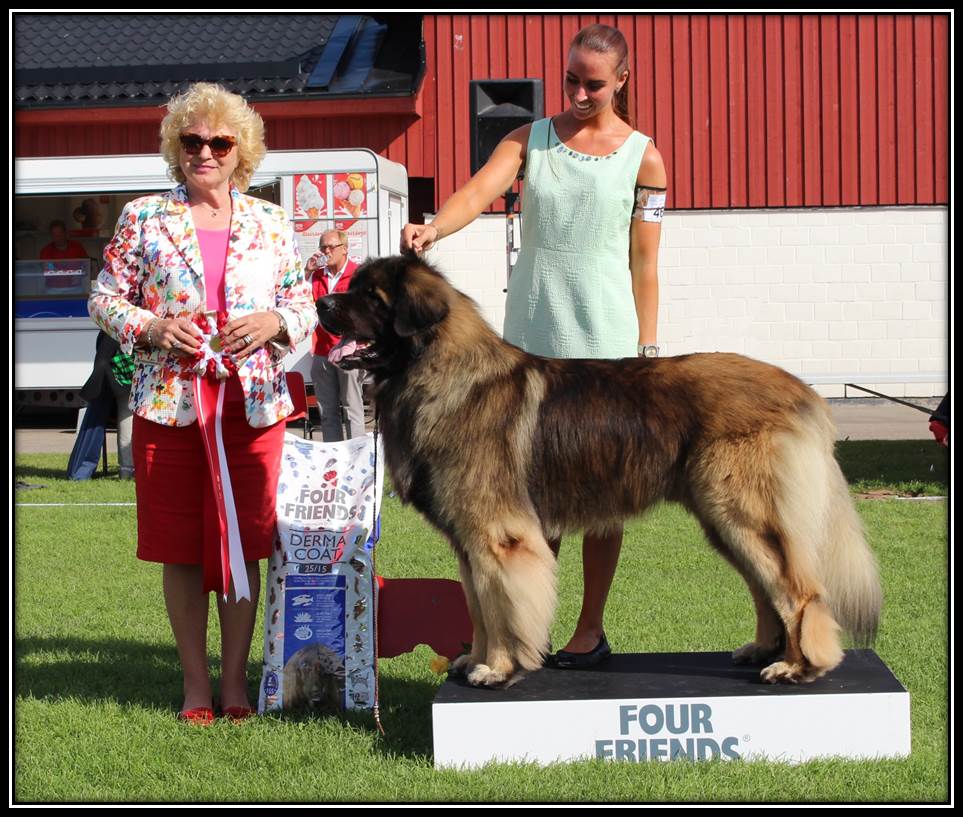 Marwin BIS i Köping i juli, +2900 hundar anmälda. Hans andra BIS i år!/Marwin BEST IN SHOW at the International All Breed show in Köping in July, +2900 dogs. This was his second BIS this year.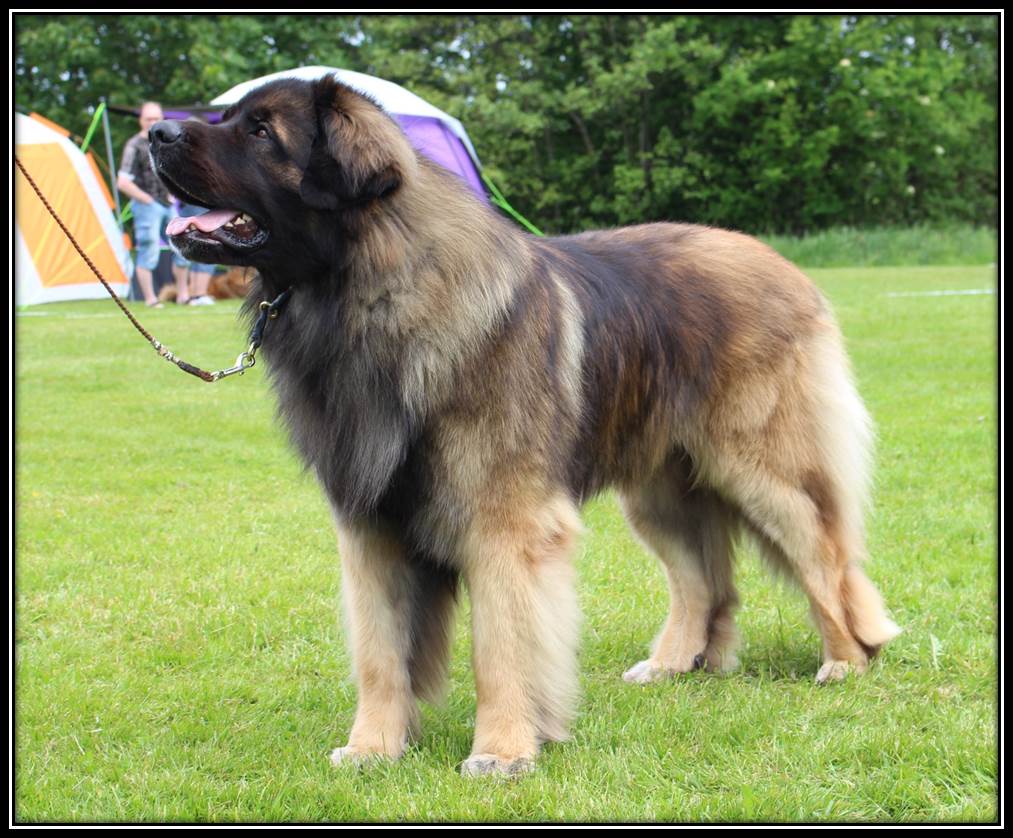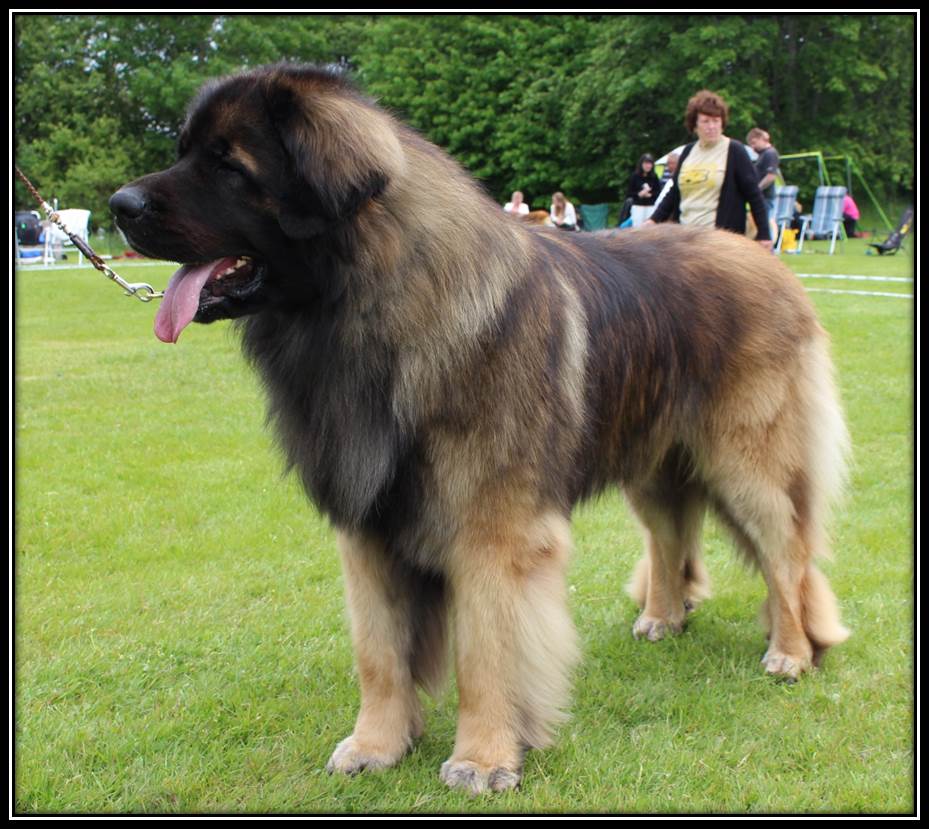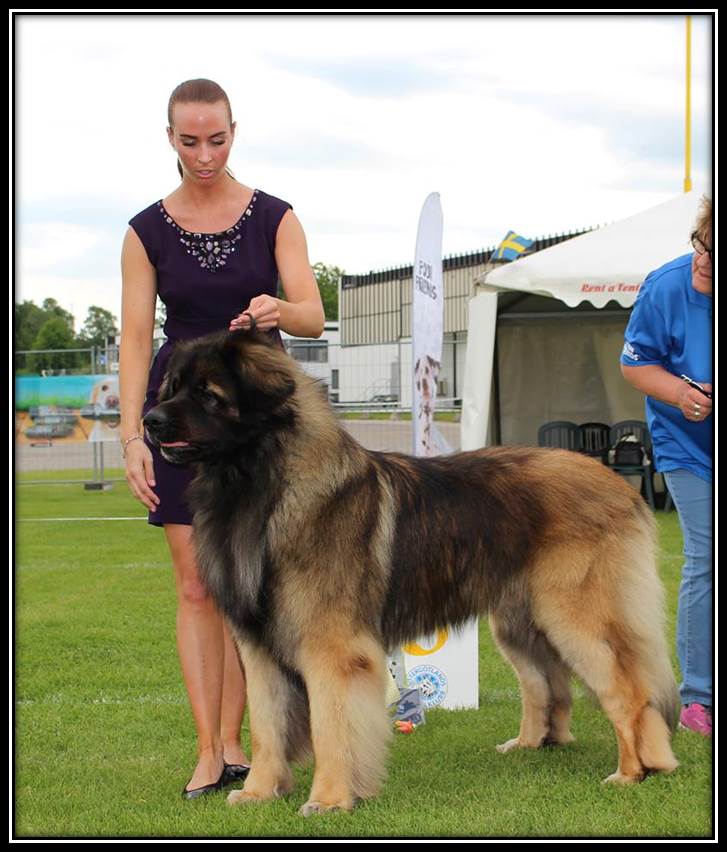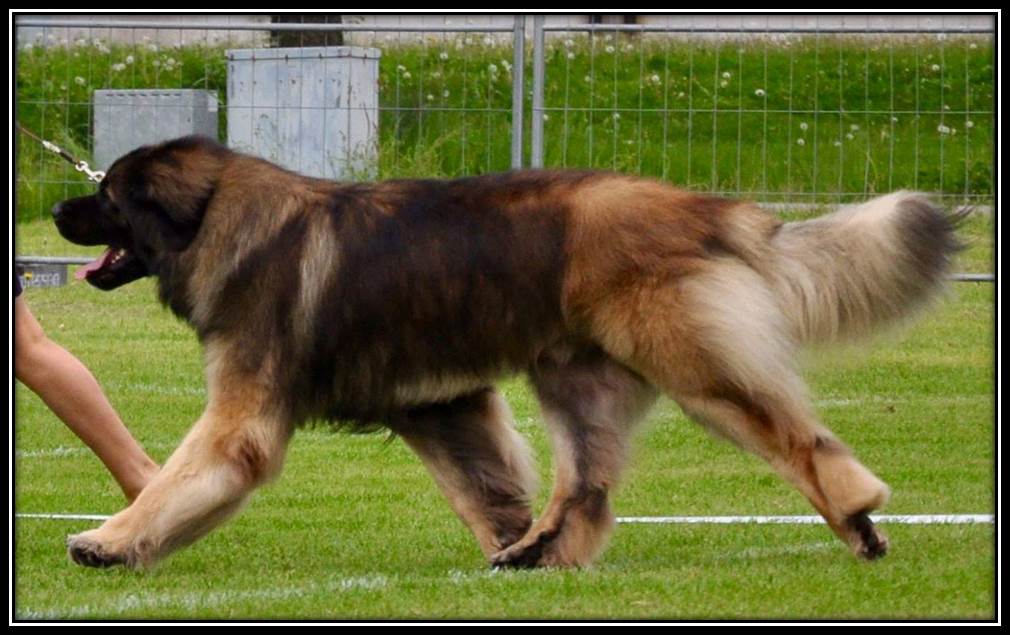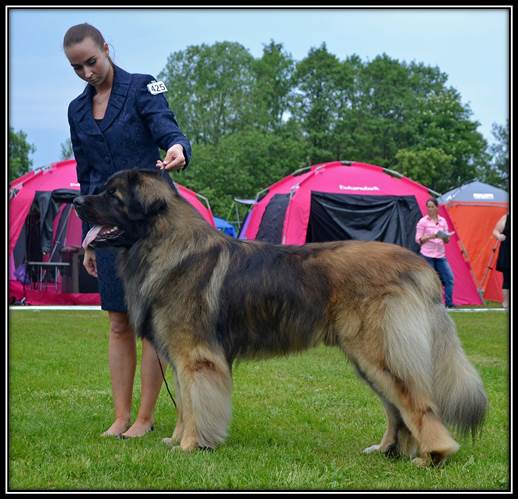 Juni/June 2015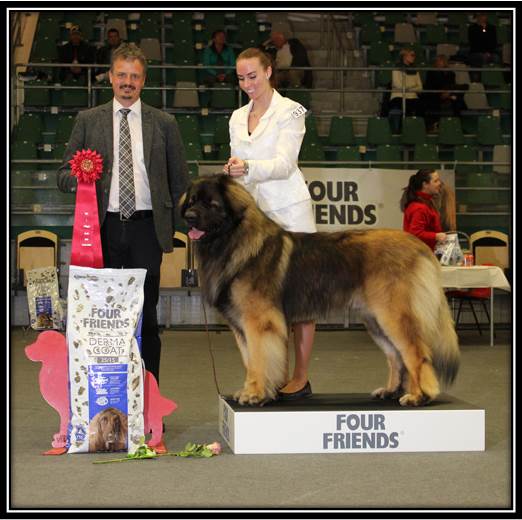 Till vänster: Mars -14, Marwin s första gruppvinst, vid ung ålder utav 9 månader gammal (Senare även BIS-2!), för domare Carsten Birk ~ 1 år och 10 gruppvinser senare gör han det igen för Carsten. Vilken speciell vinst!!
To the left: March -14, "Marwin's" first group win, at the tender age of 9 months old (later also Res.BIS!), under judge Carsten Birk ~ 1 year and 10 groupwins later he does it again for Carsten. What a special win, thank You!!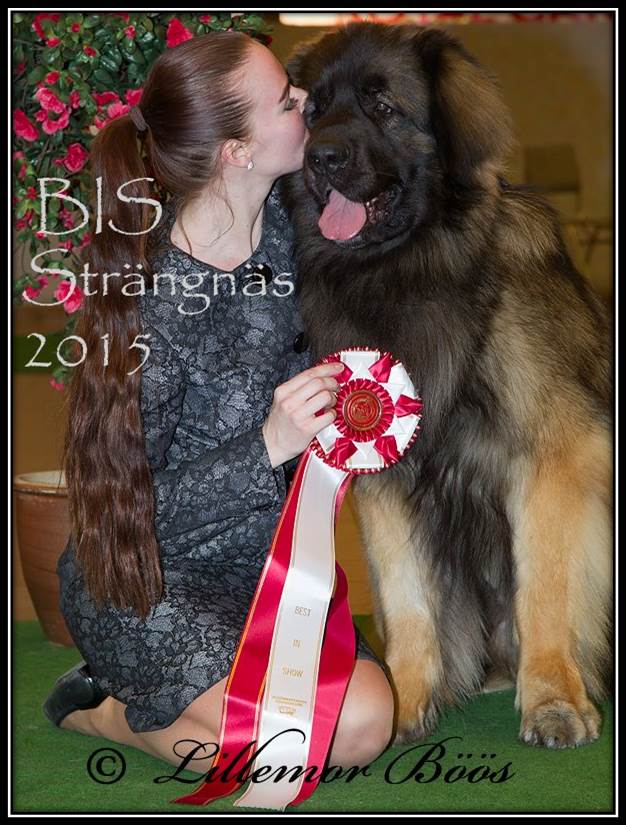 Helgen efter Crufts slog han till igen - BEST IN SHOW i Strängnäs med över 3200 hundar anmälda!!!/The weekend after Crufts Marwin did it again - BEST IN SHOW at Strängnäs KC Int., +3200 dogs entered!!!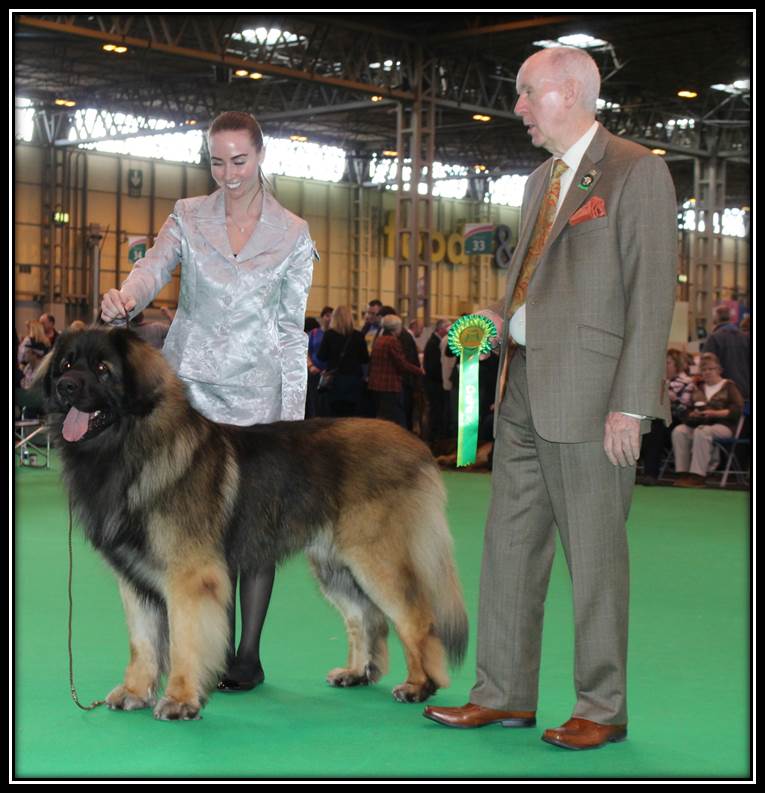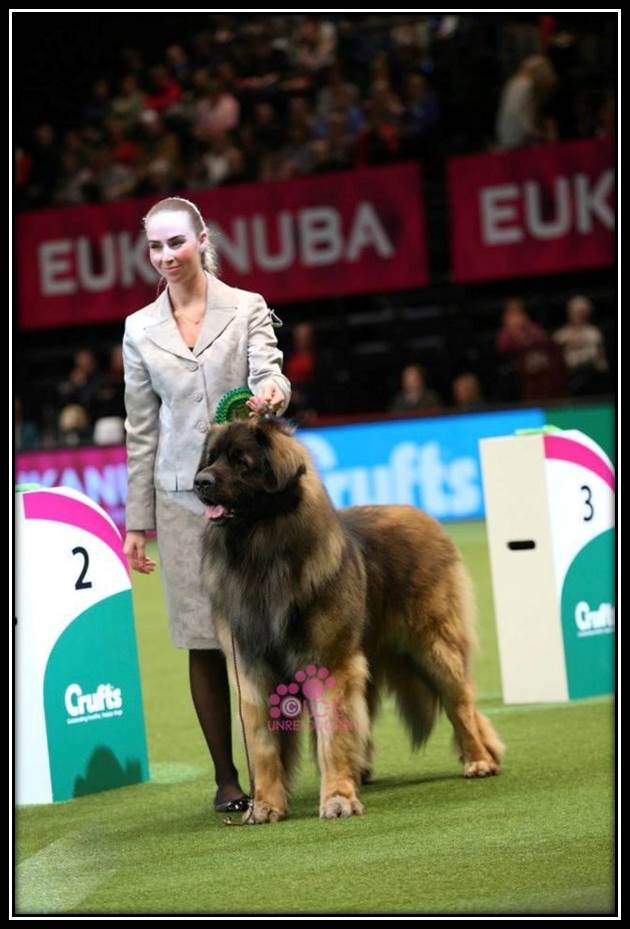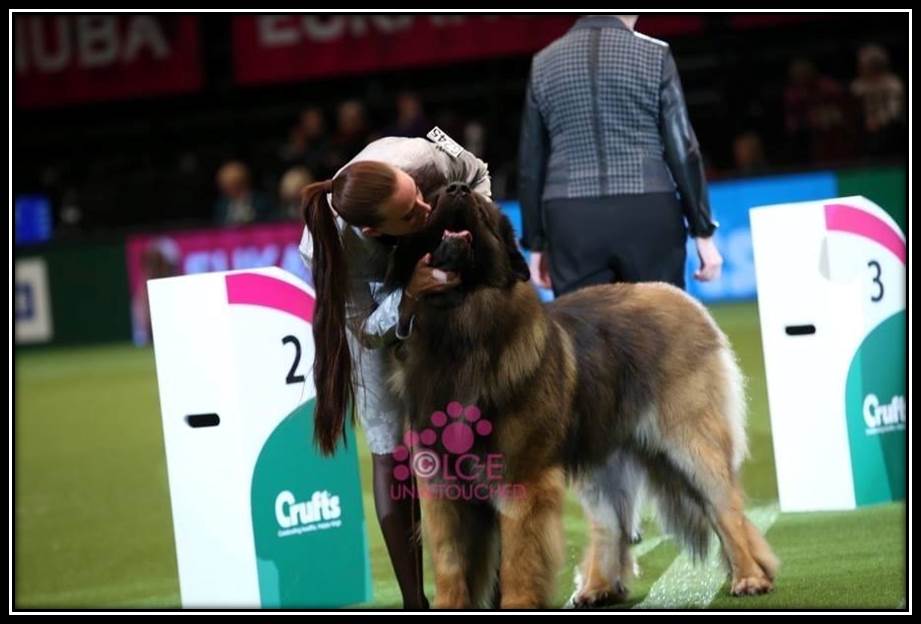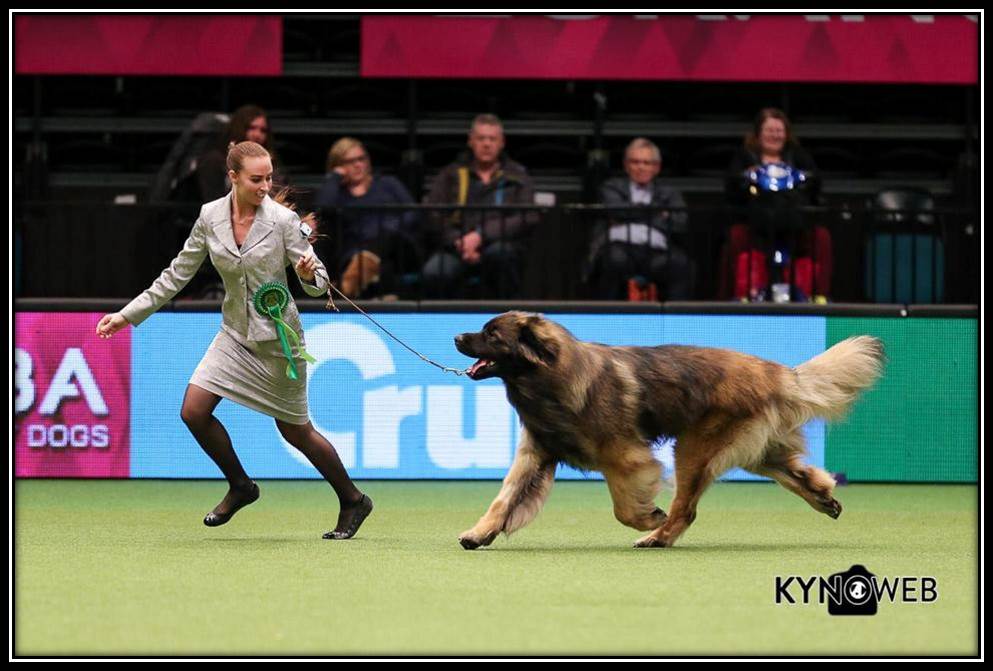 BIR & BIG-2 på världens största utställning - Crufts 2015, med över 22.000 hundar varav 160 Leonbergers!!!
BOB & Group'2 at the world's biggest dog show - Crufts 2015, in a entry of more than 22.000 dogs with 160 Leonbergers!!!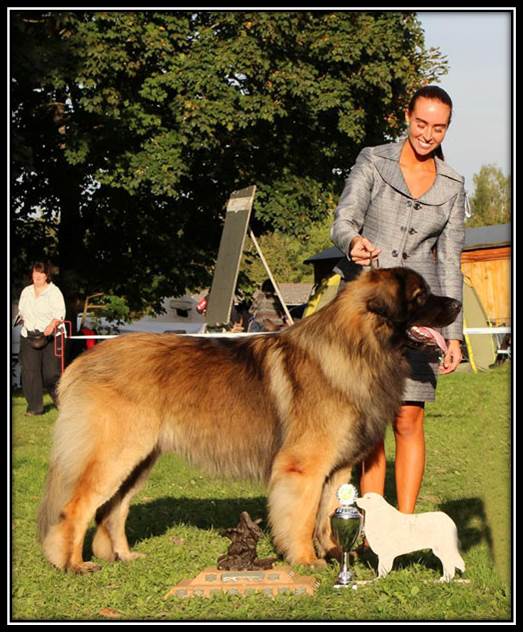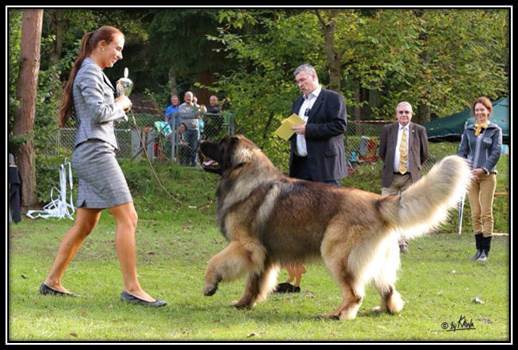 BEST MALE & CLUBSEIGER från Unghundsklass på en av de mest prestigefyllda utställningar, Specialen i Leonberg, Tyskland i September-14 utav 218 Leonberger!!!/BEST MALE & CLUBSEIGER from Intermediate class at one of the most prestigious show in the world, The Clubshow in Leonberg, Germany in September-14!!!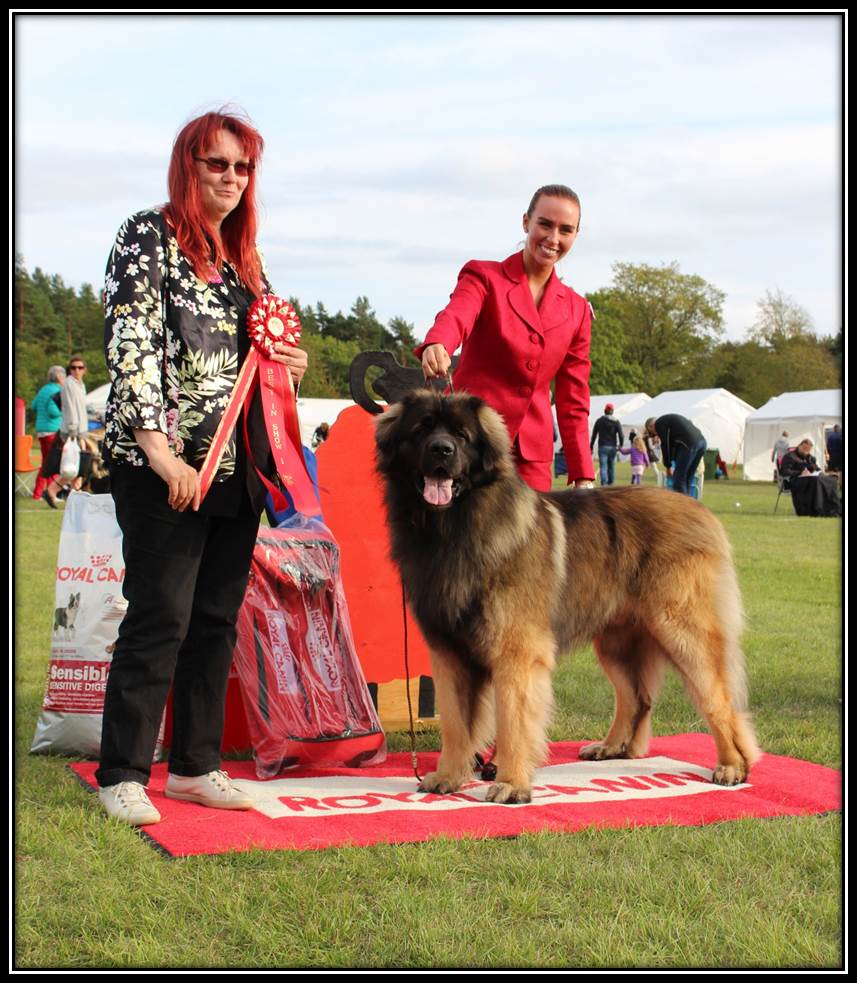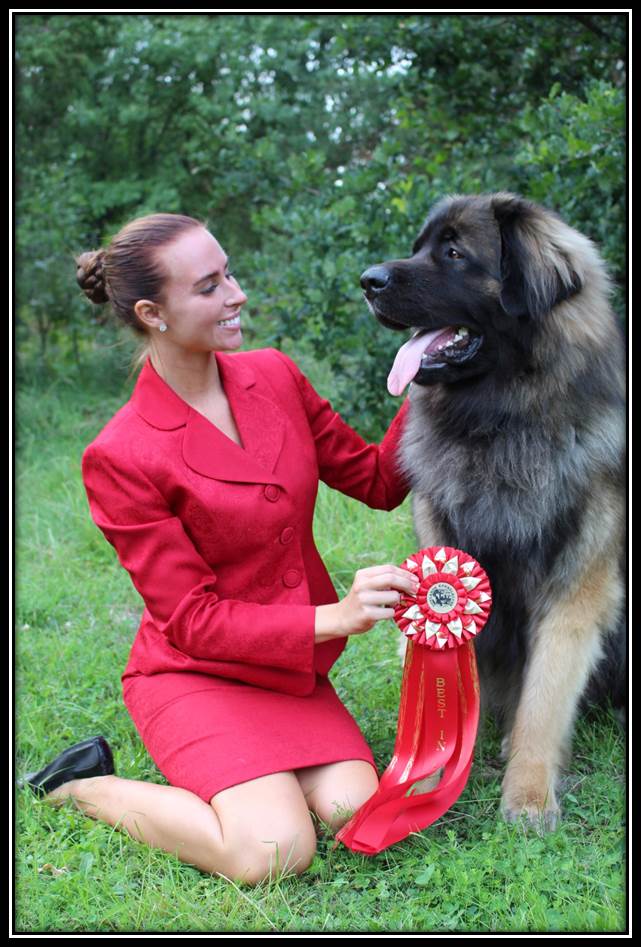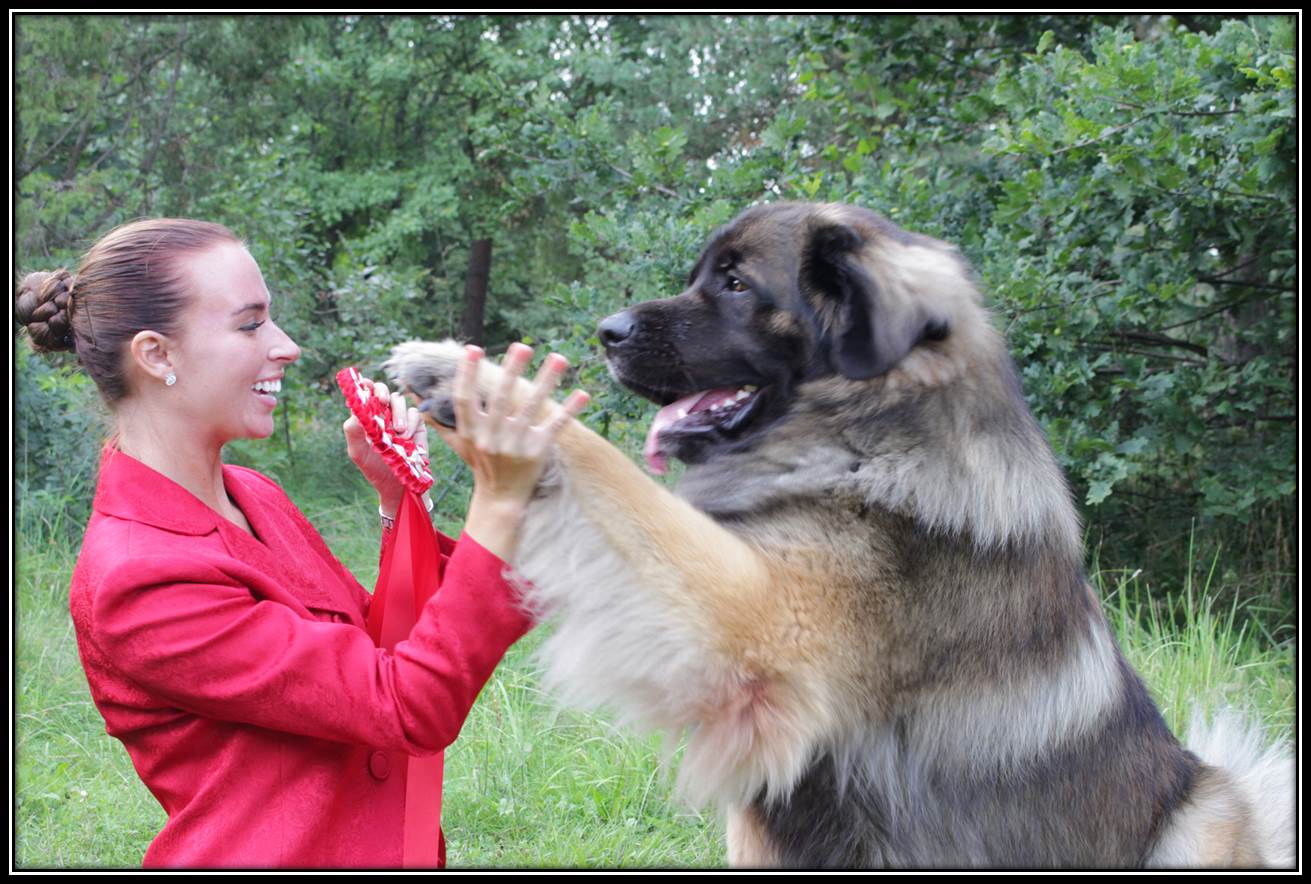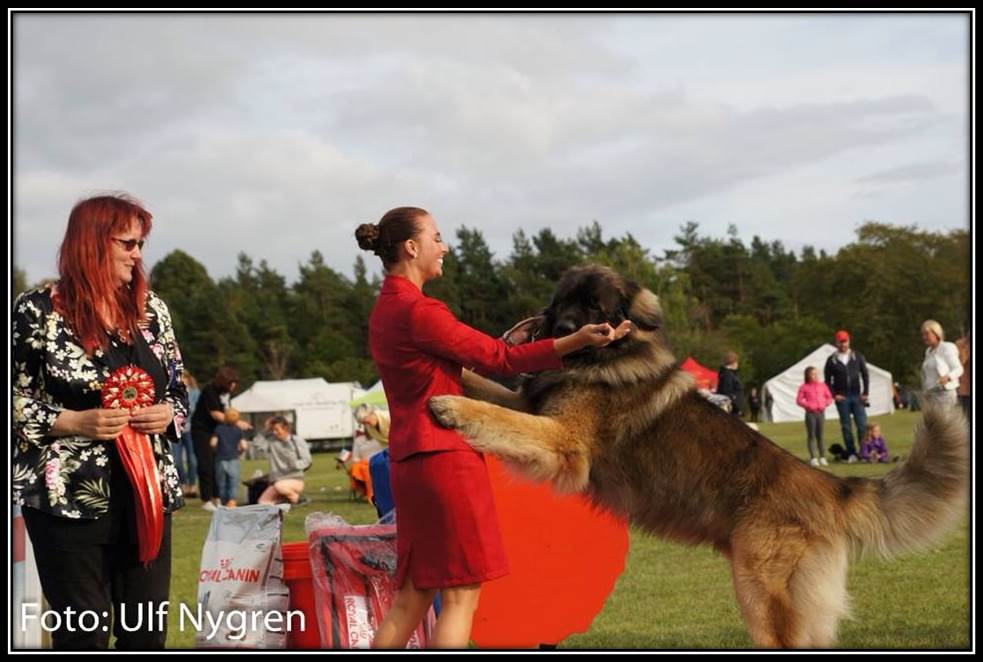 BEST IN SHOW på Gotland i Augusti!!!/BEST IN SHOW at Gotland KC All Breed Show!!!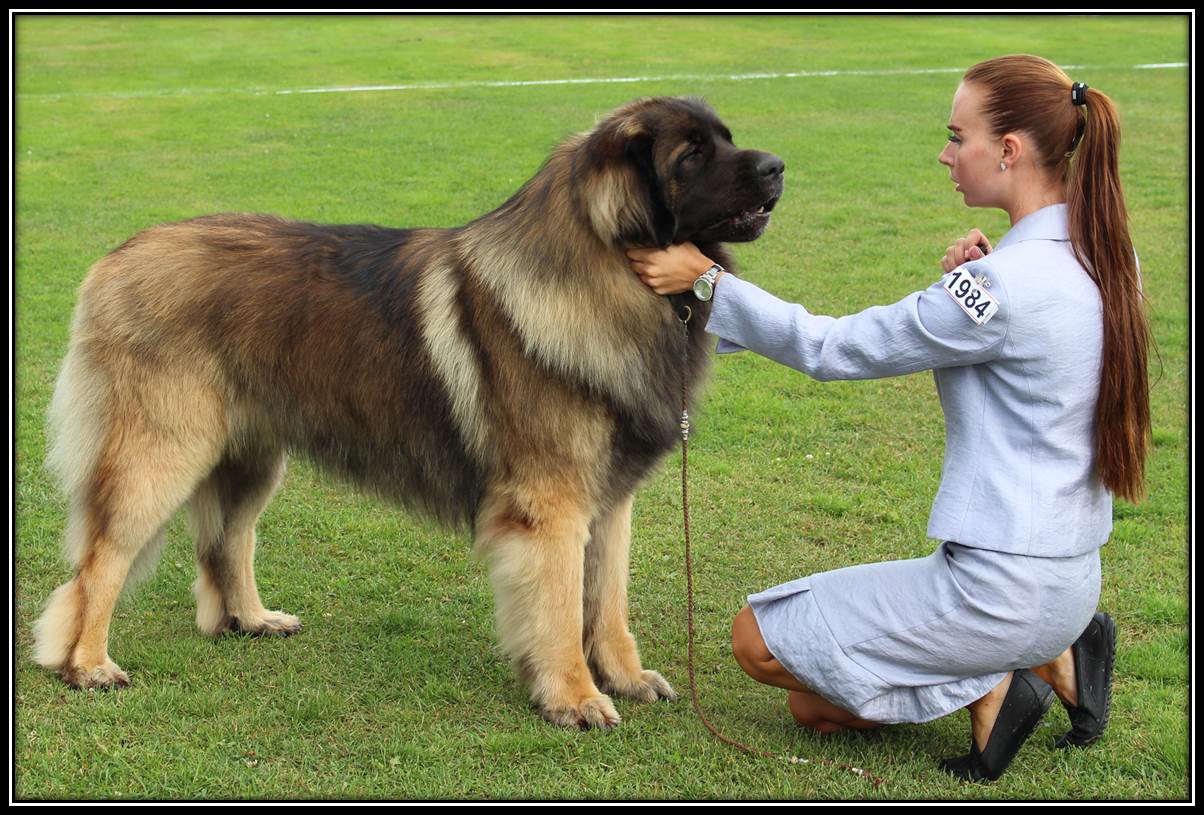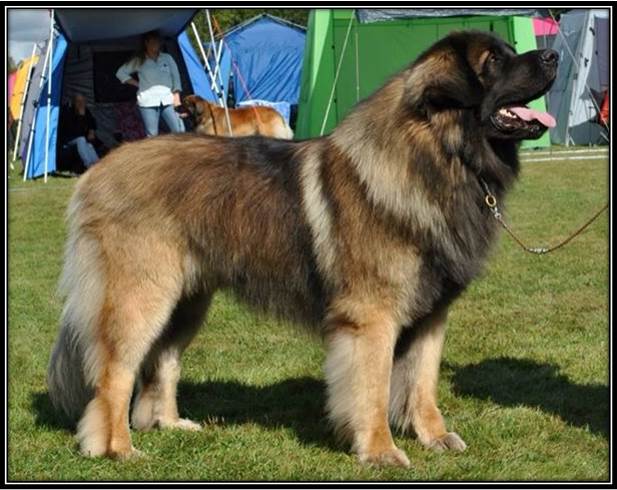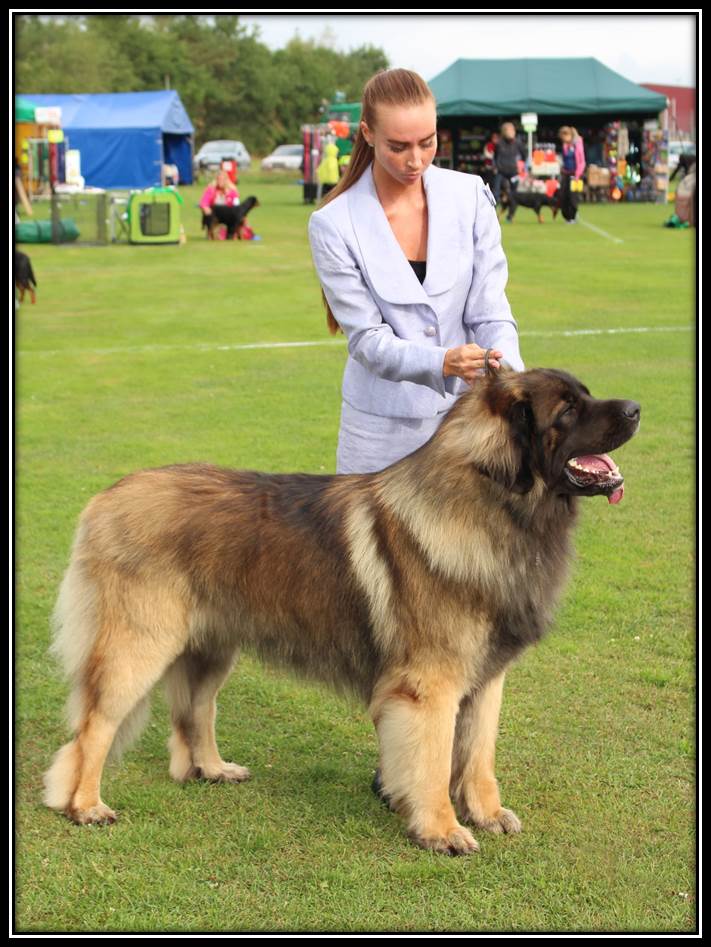 21 månader gammal/21 months old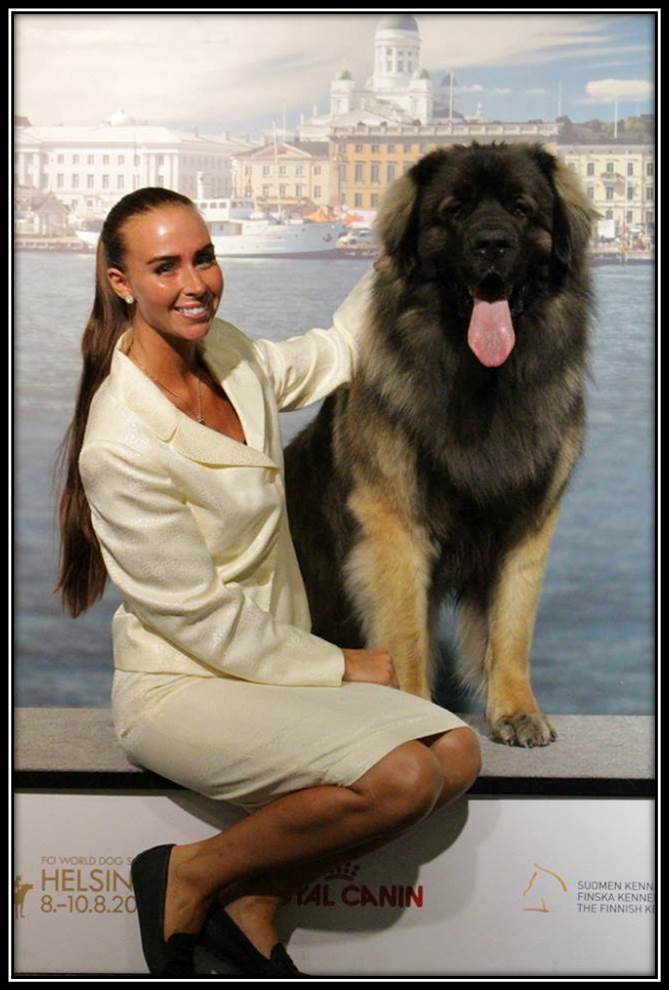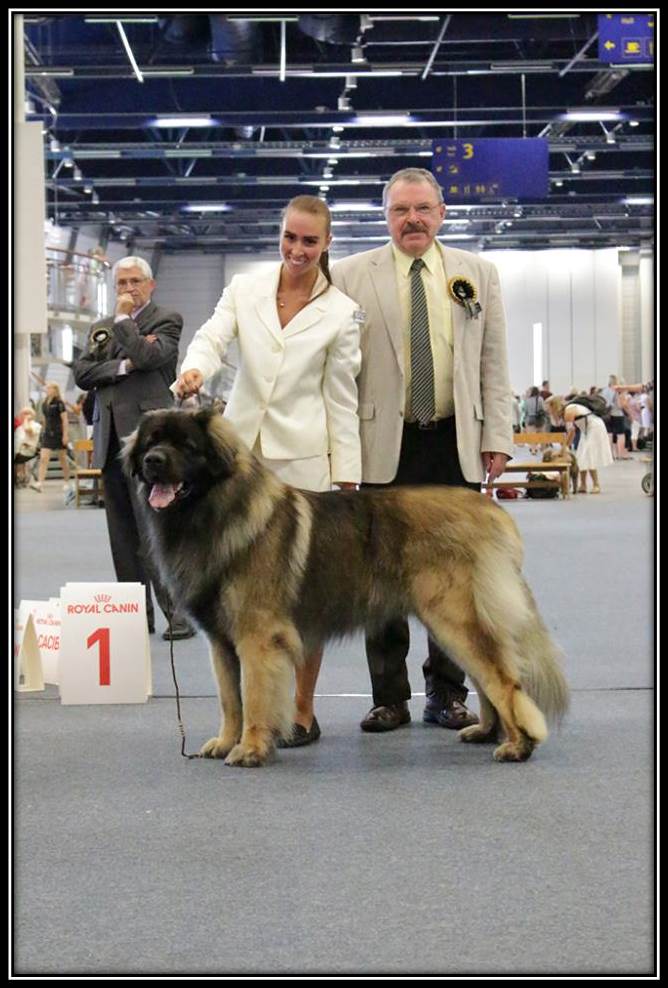 Marwins WW-debut slutade med klassvinnare och andra bästa hane med CERT & CACIB!!/Marwin's WW-debute ended as classwinner, 2nd best dog with CAC & CACIB!!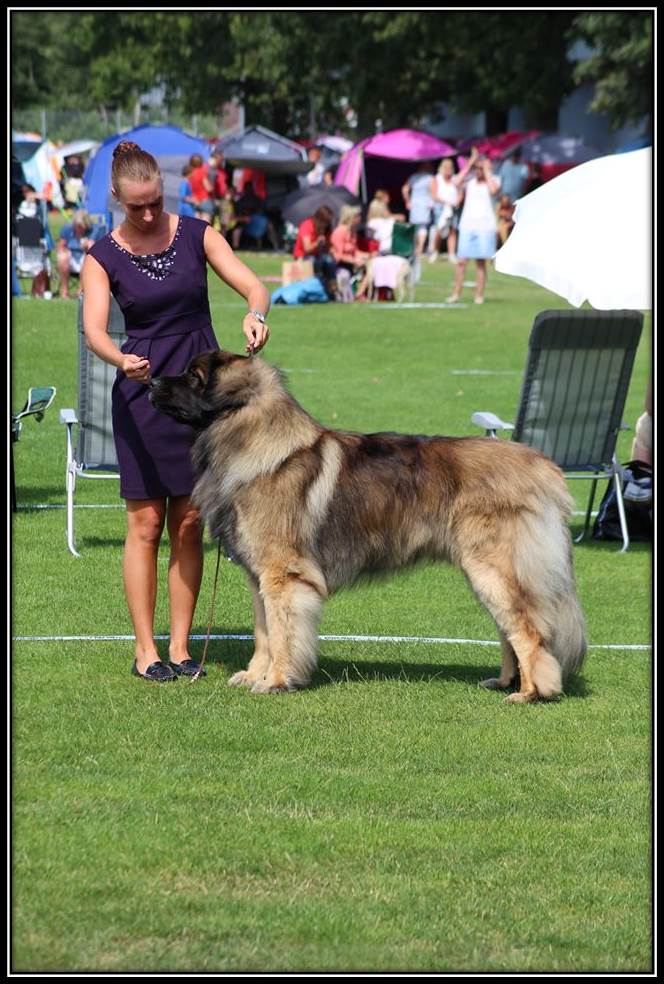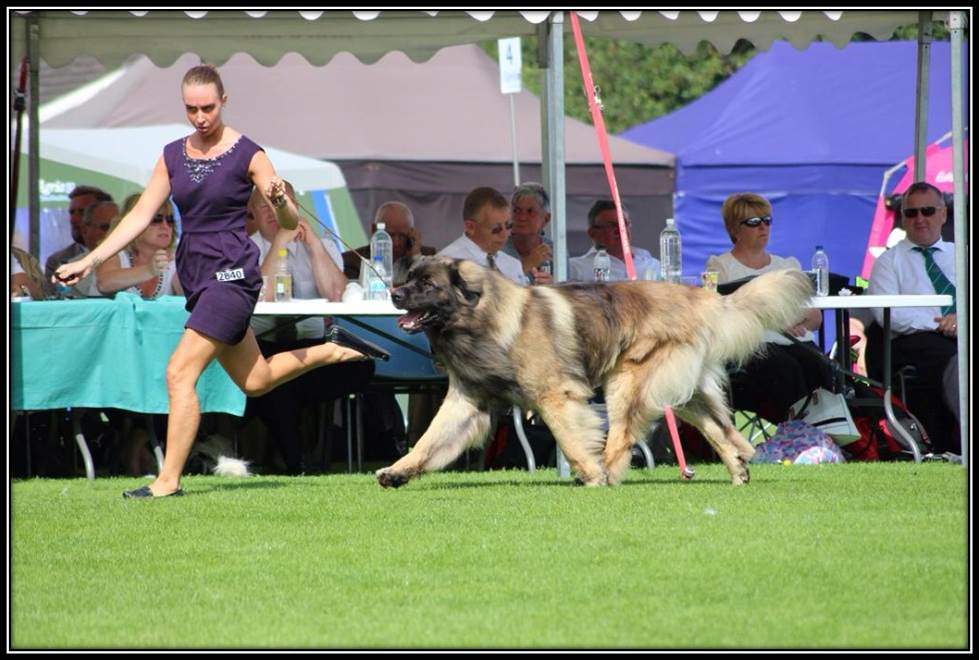 21 månader gammal/21 months old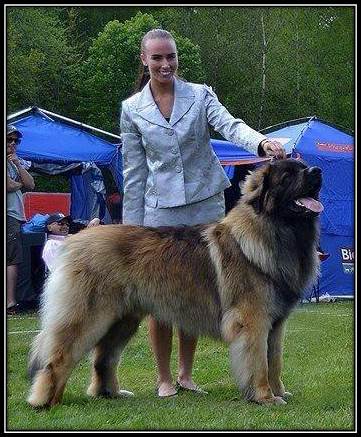 18 månader gammal/18 months old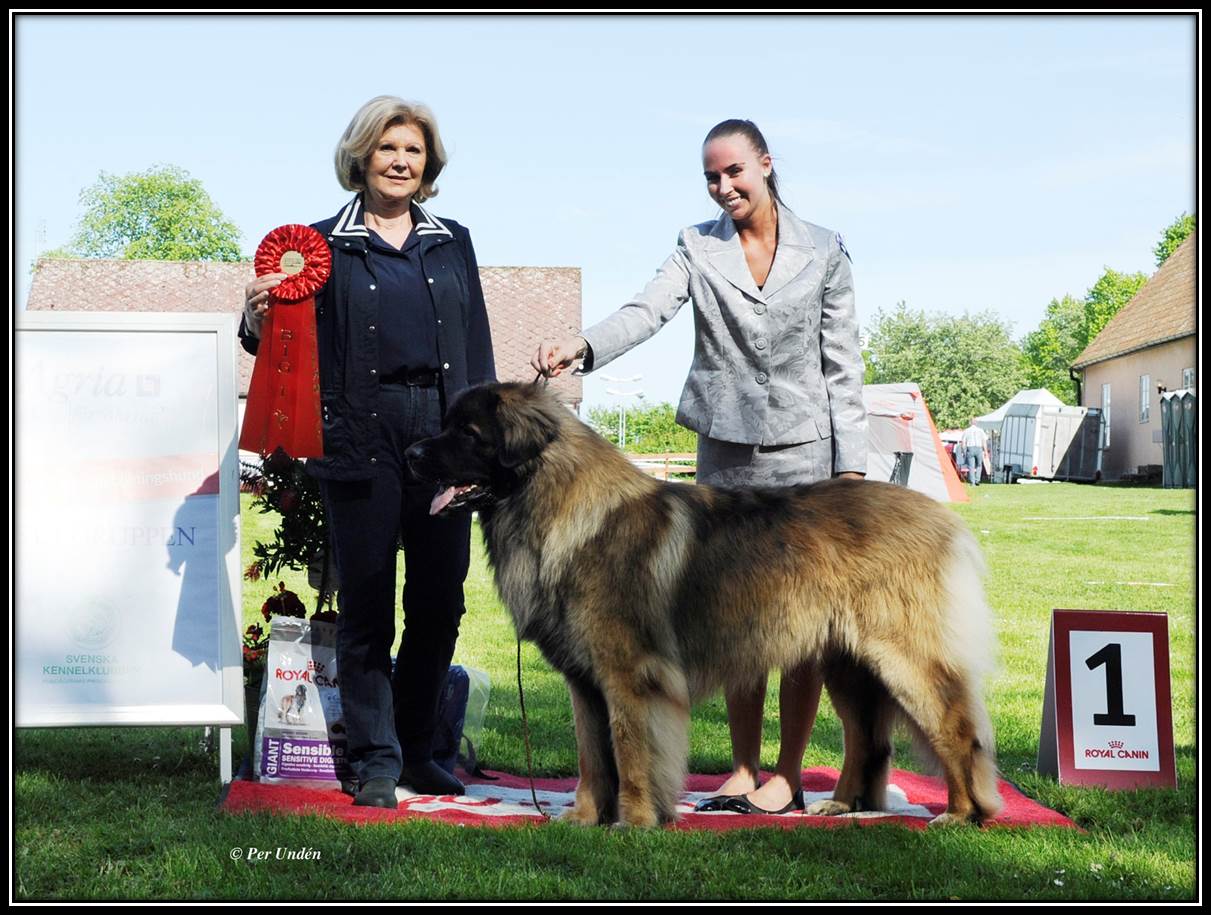 Någon månad var det dags igen. CERT, CACIB, BIR, BIG & BIS-2 över 3200 hundar!!!/A month later it was time again; CAC, CACIB, BOB, Group'1 and RunnerUp Best In Show over 3200 dogs!!!



Helgen efter det gjorde det han det igen; CERT, CACIB, BIR, BIG & BIS-2 över 3900 hundar!!!/Third weekend in a row he did it once again; CAC, CACIB, BOB, Group'1 and RunnerUp Best In Show over 3900 dogs!!!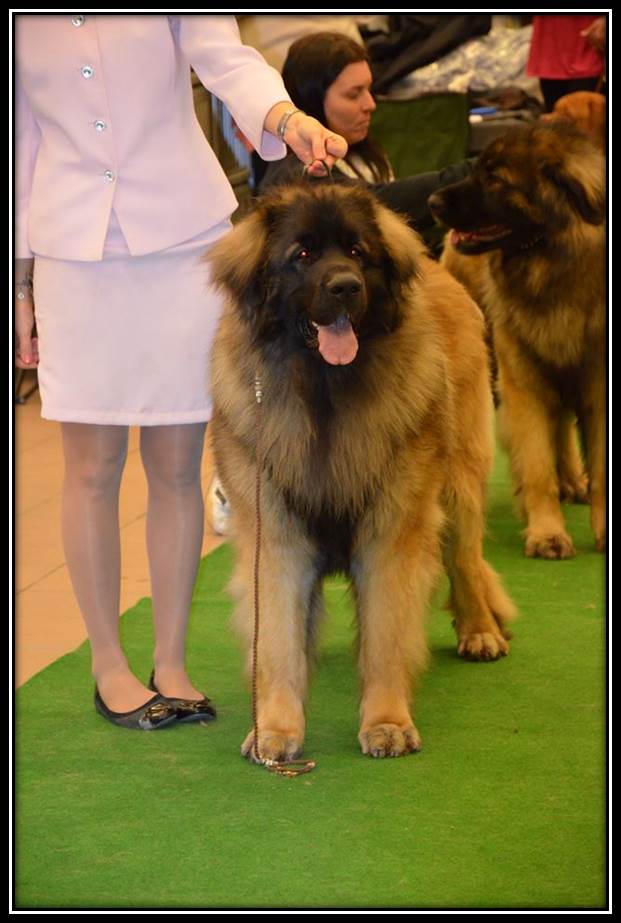 16 månader gammal/16 months old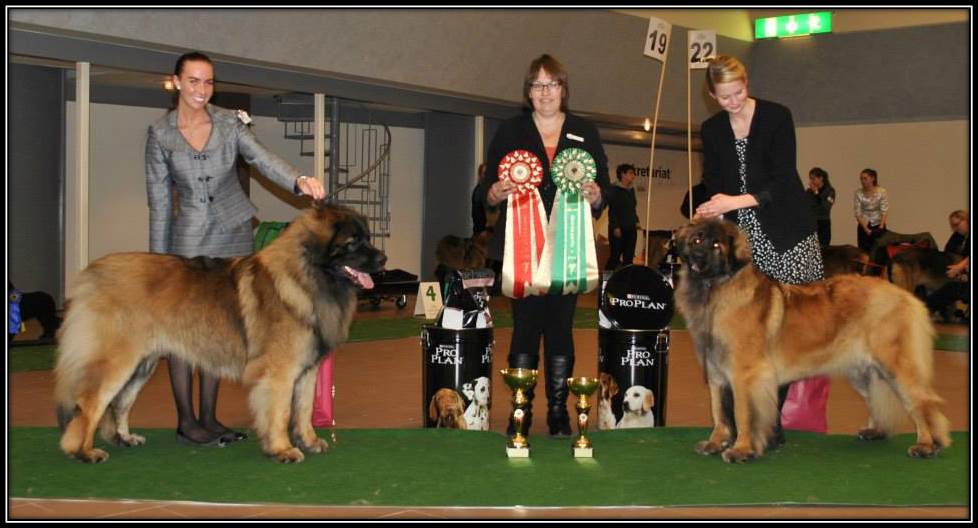 Helgen efter vann han sin första special, från Juniorklass utav nästan 100 Leonberger!
The next weekend he won his first clubshow, from Juniorclass in a entry of almost 100 Leos!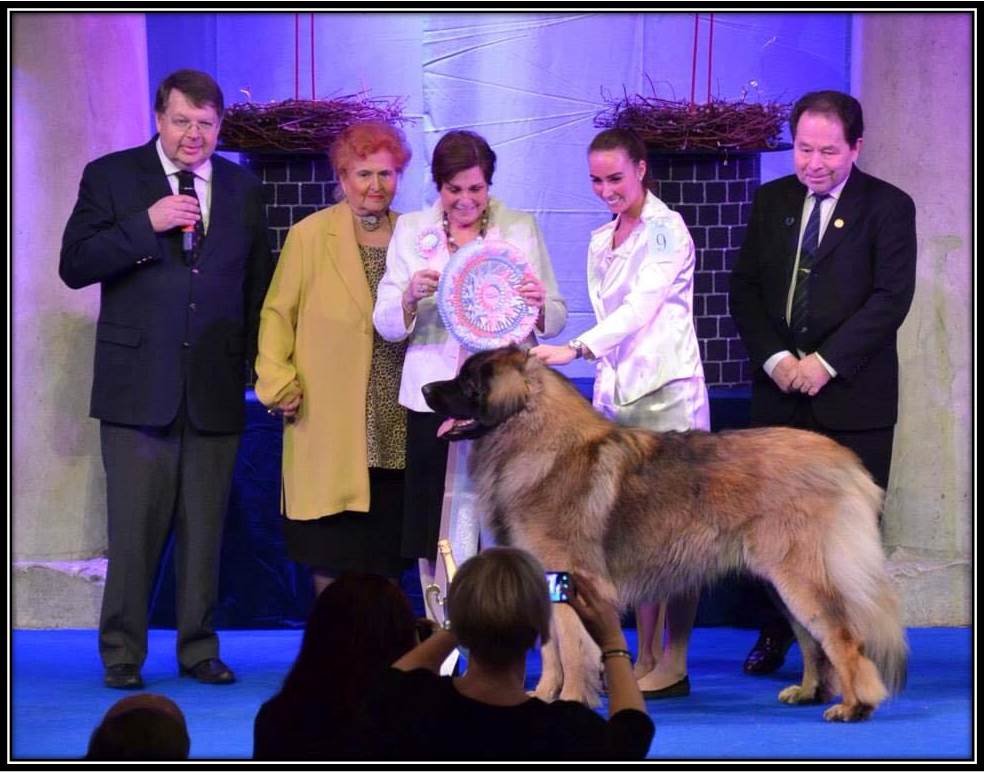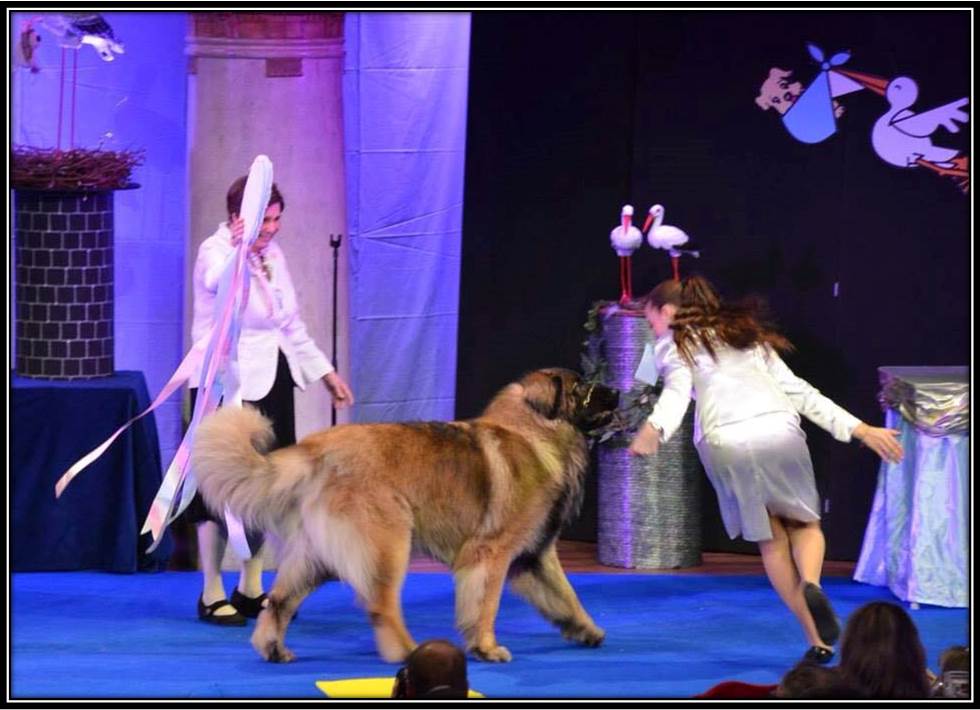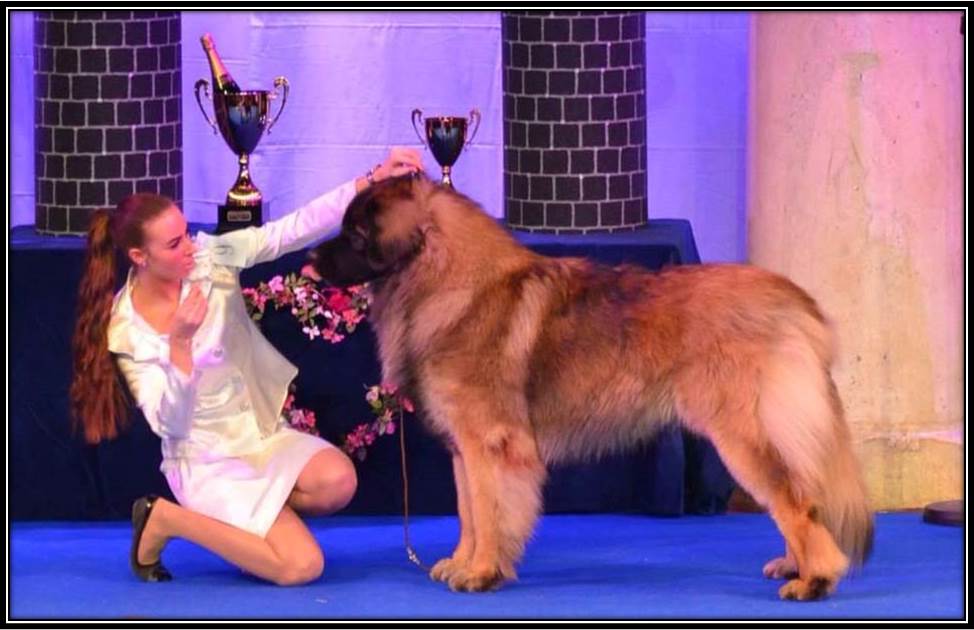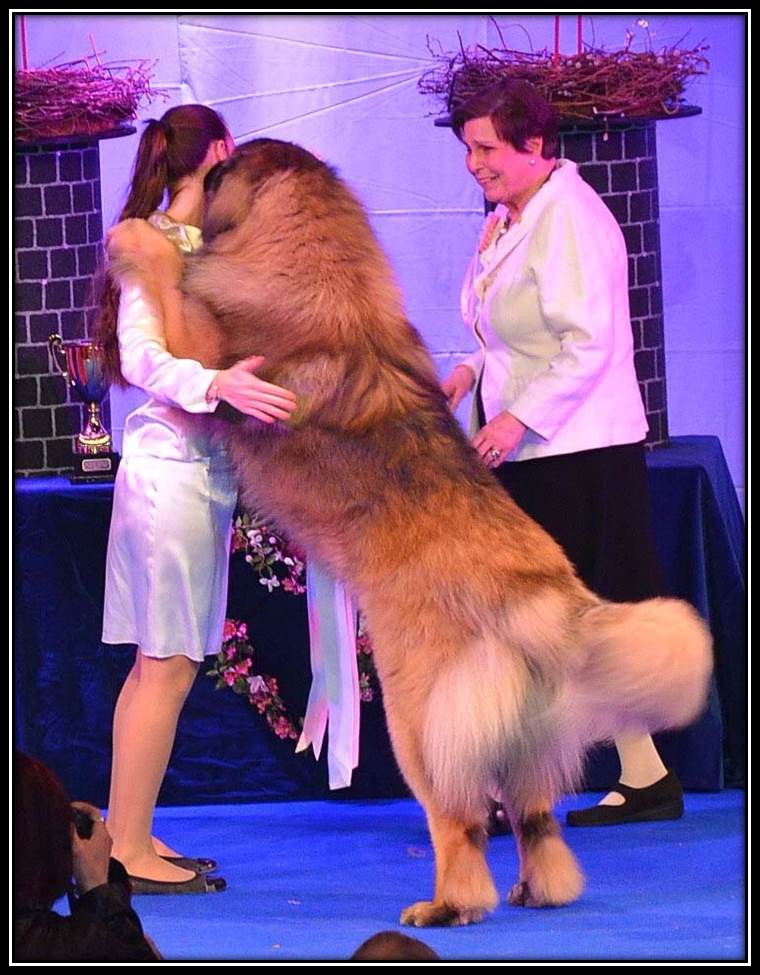 I mars 2014 deltog han i "Puppy Of The Year 2013" som han kvalade till förra år - en tävling som går ut på att de 56 bästa valparna från föregående år tävlar om att bli Årets Valp - och han vann hela tävlingen!!! En Leonberger har aldrig blivit bättre än top-10 i denna tävling. Fler bilder finner du under utställningsresultat.
In March 2014 he participated in the "Puppy Of The Year 2013" which he qualified for last year - a contest that involves the 56 best puppies from last year competing to become Best Puppy Of The Year - and he won the whole competition!!! A Leonberger has never been better than the top-10 in this contest. You can find many more pictures under show results.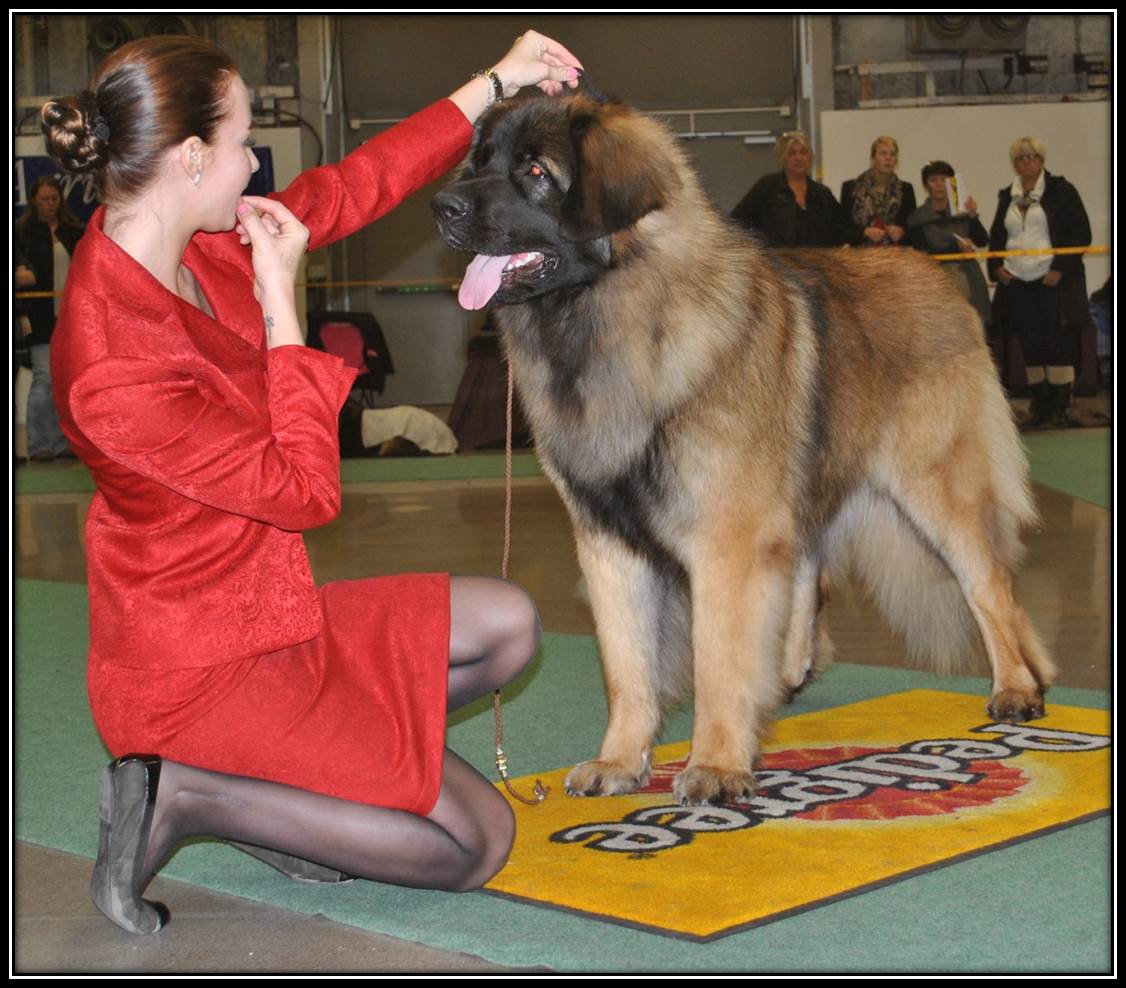 Marwin 13 månader gammal, vinnare av Juniorklass, ny Svensk Juniorvinnare-13 samt kvalificerad till Crufts!
Marwin 13 months old, winner of Juniorclass, new Swedish Juniorwinner-13 and qualified for Crufts!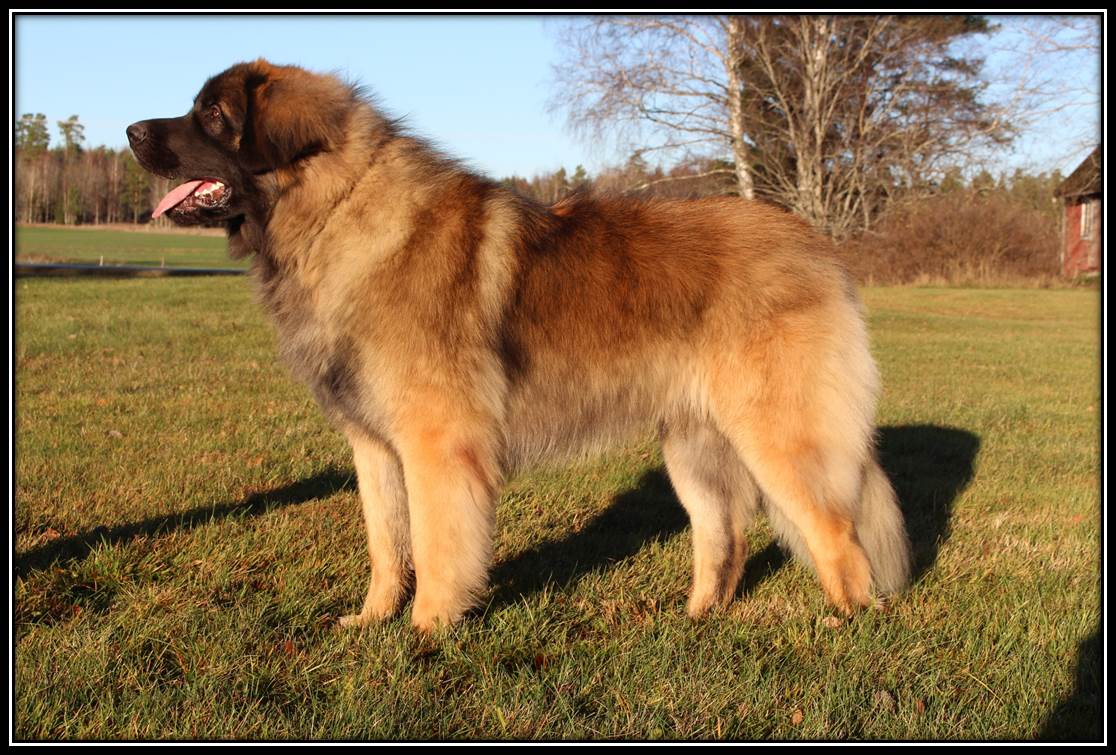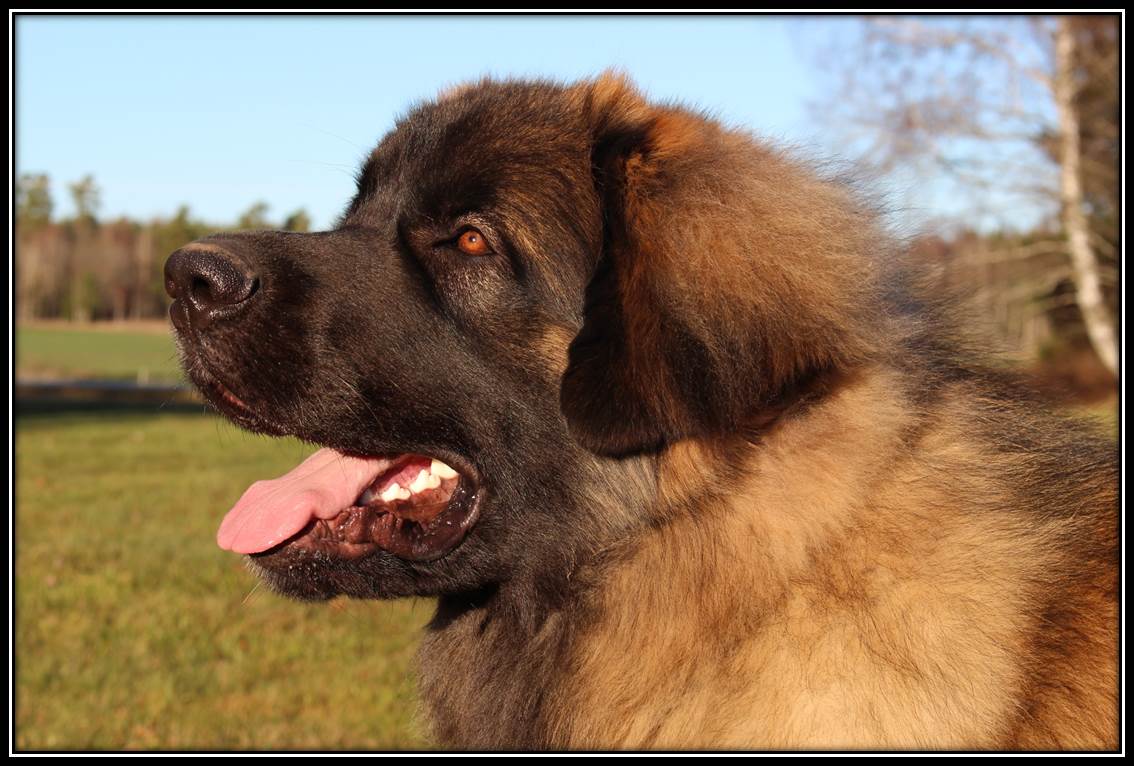 12 månader gammal/12 months old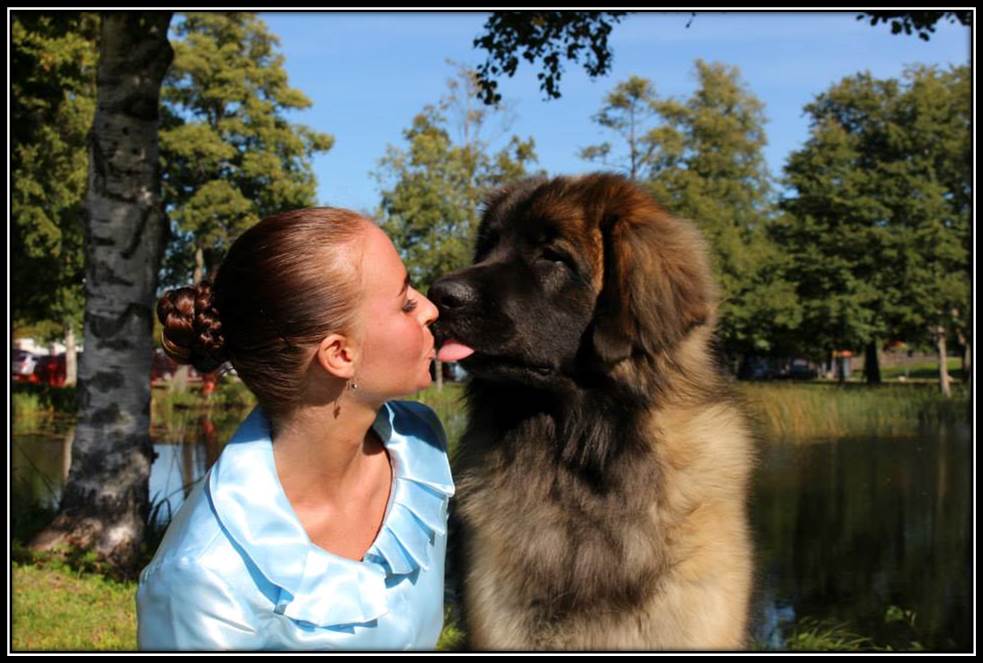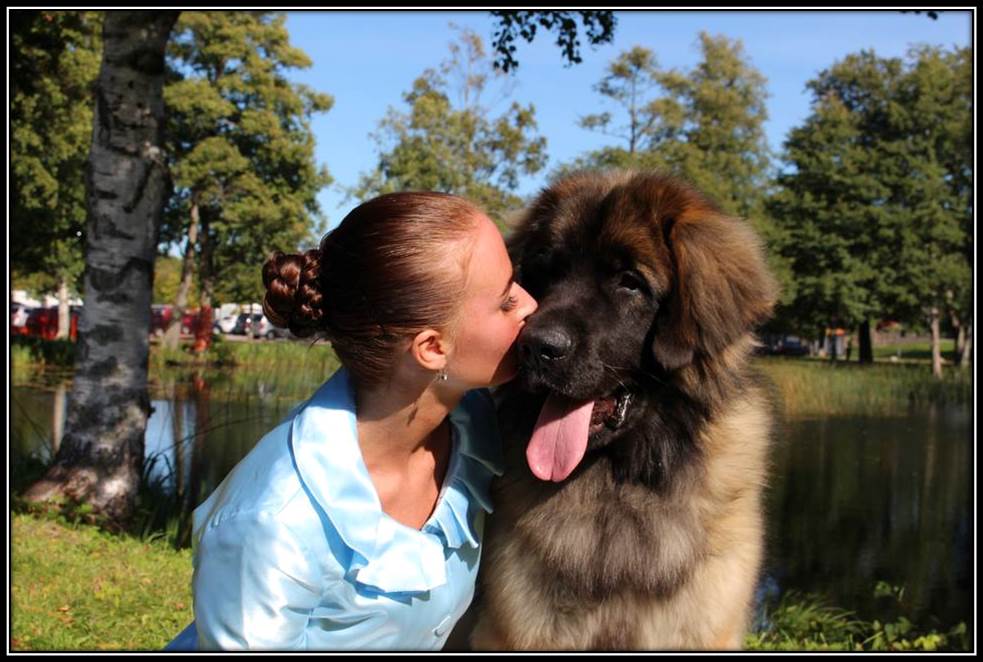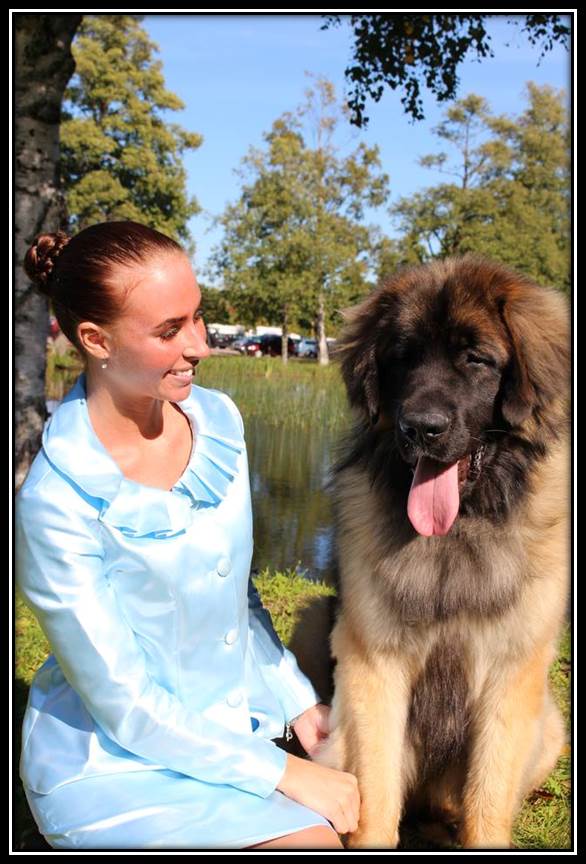 September -13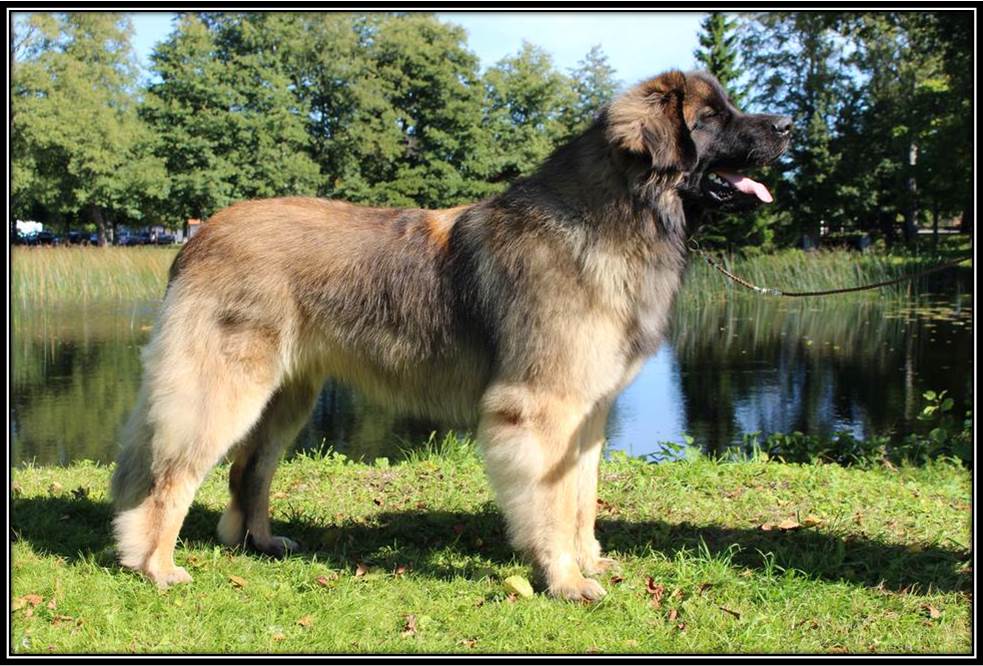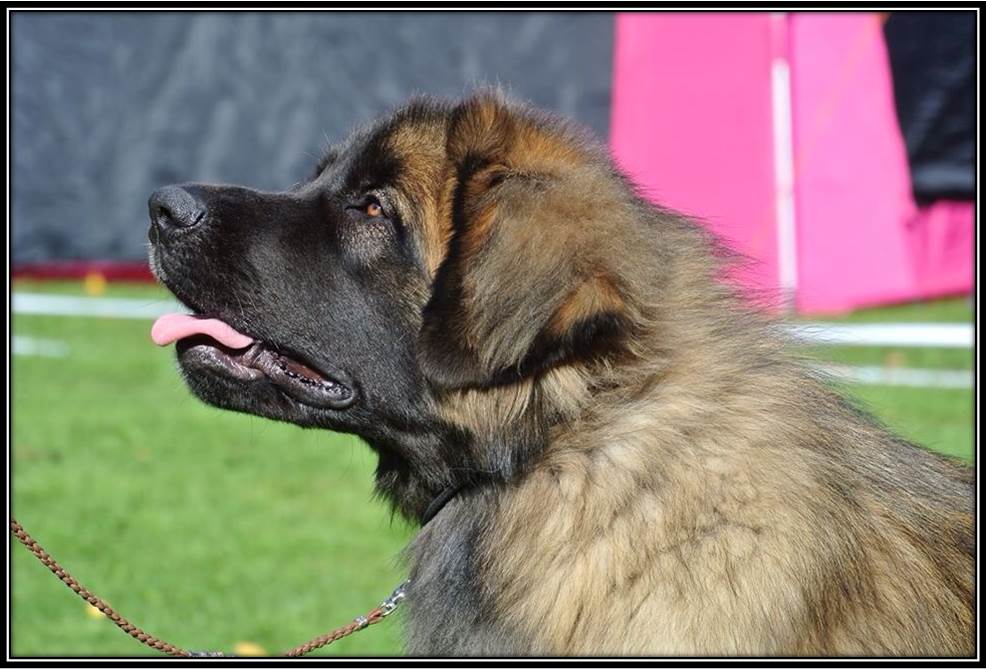 10 månader gammal/10 months old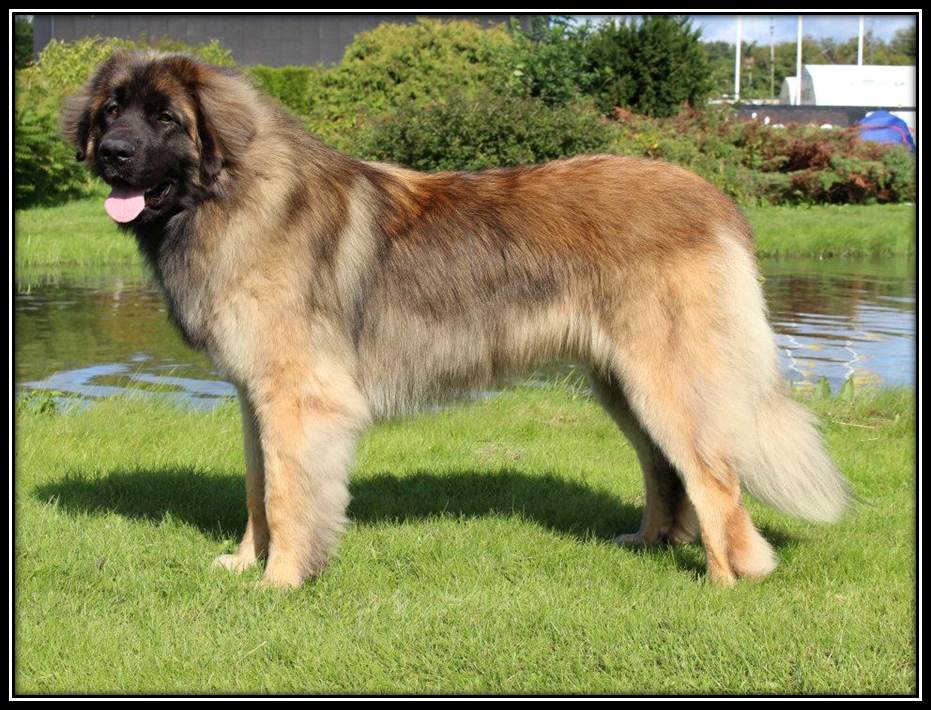 10 månader gammal/10 months old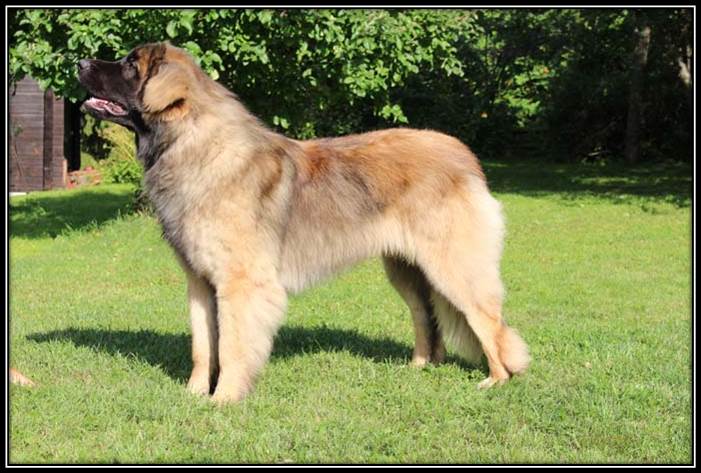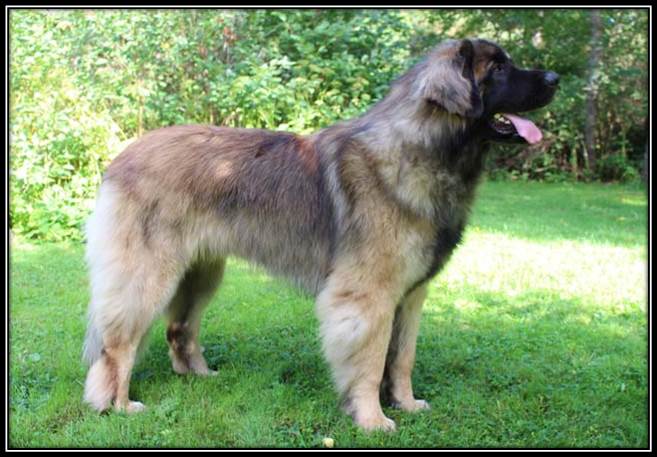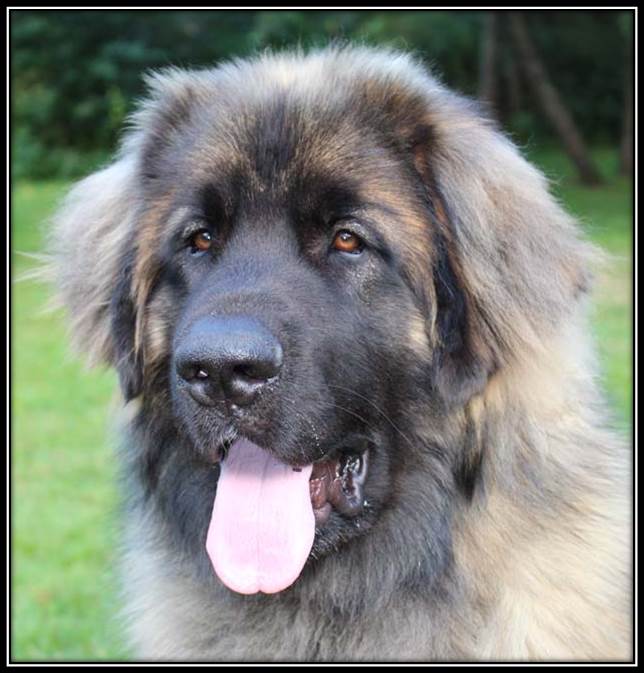 En naken Marwin i sin "fula period", 9 månader gammal/A naked Marwin in his "ugly period" as 9 months old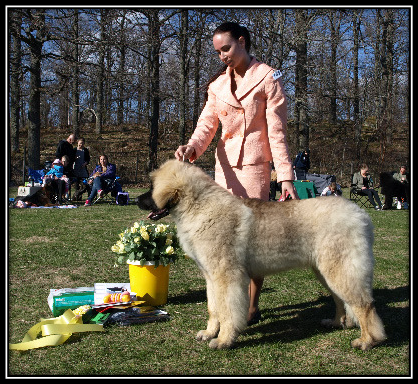 Helgen efter gjorde han det igen! BIR- och Best In Show-3 4-9 månader!/Next weekend he did it again! BOB- and Best In Show-3 4-9 months!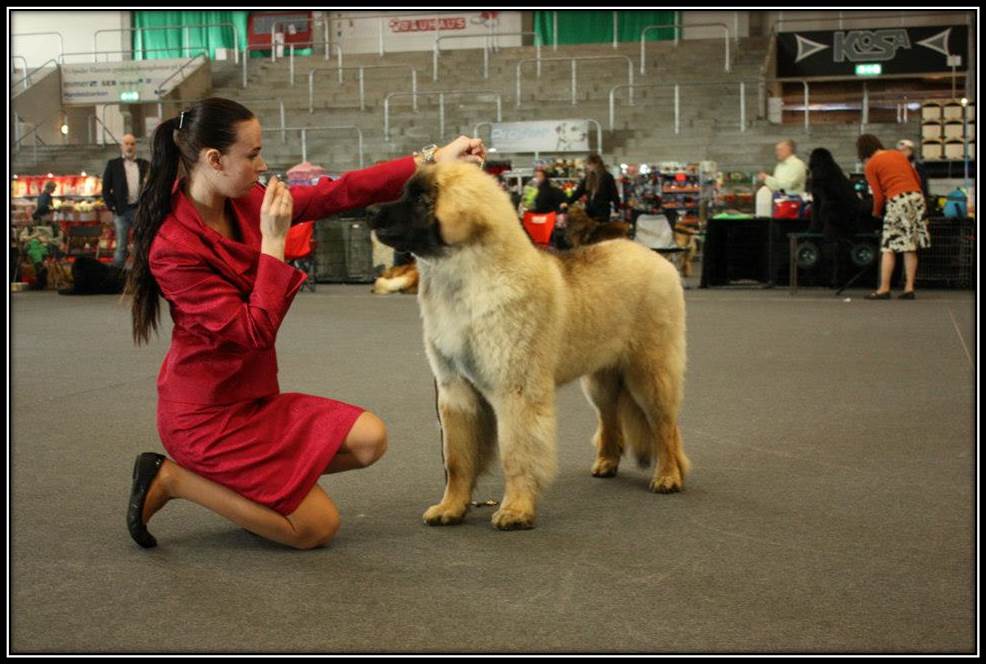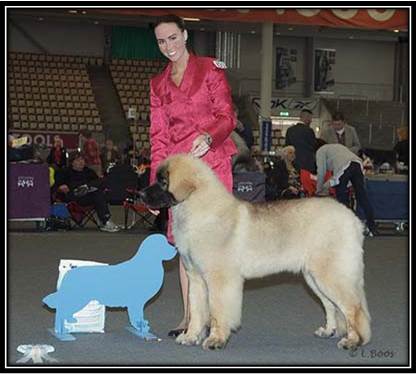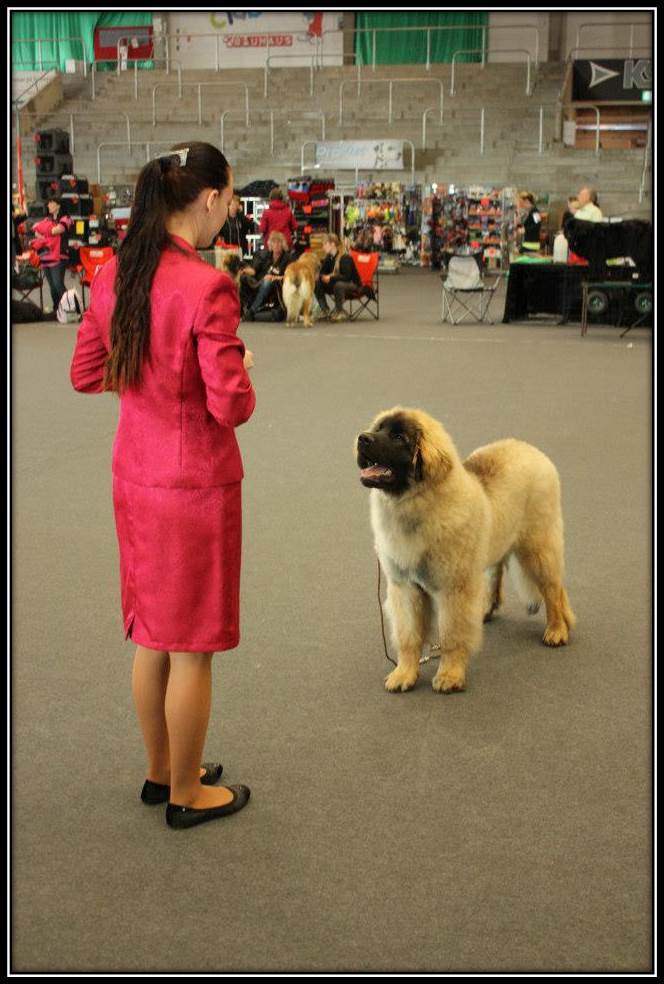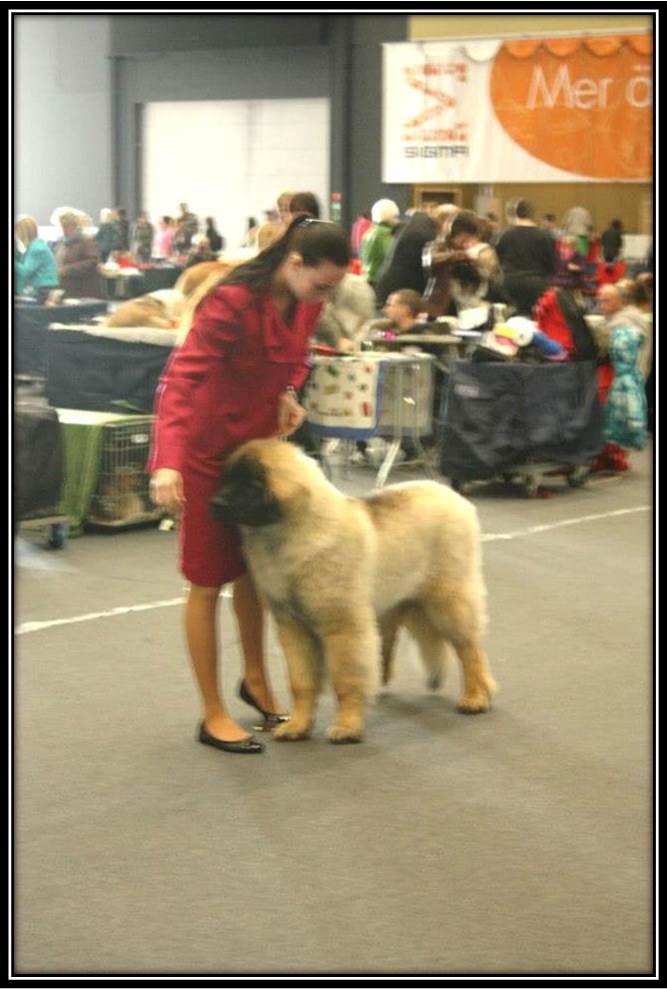 Marwin på sin första utställning. BIR- och Best In Show 2-valp över 105 valpar!!!/Pictures of Marwin at his first show ever. BOB- and RunnerUp Best In Show-puppy!!! +100 puppies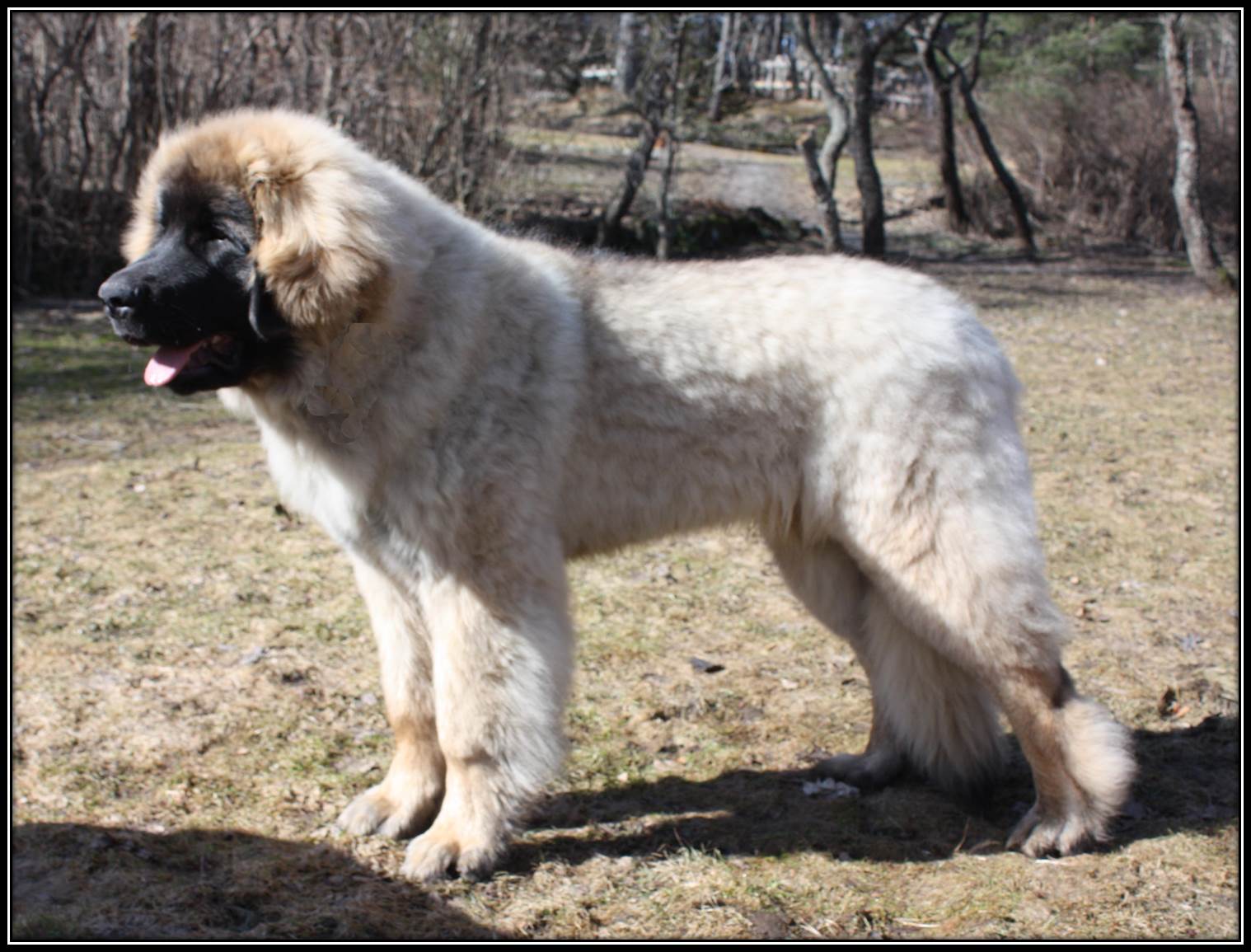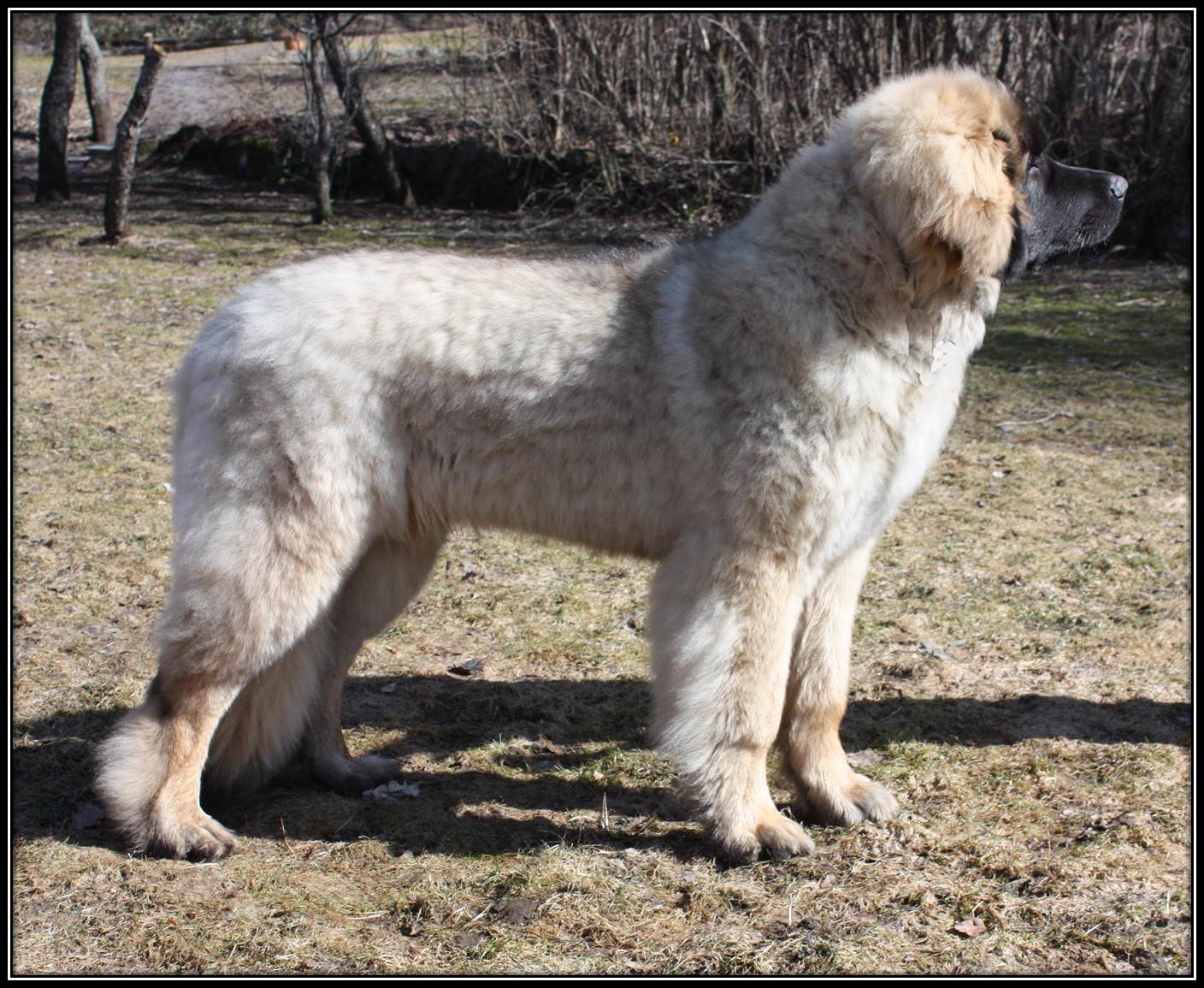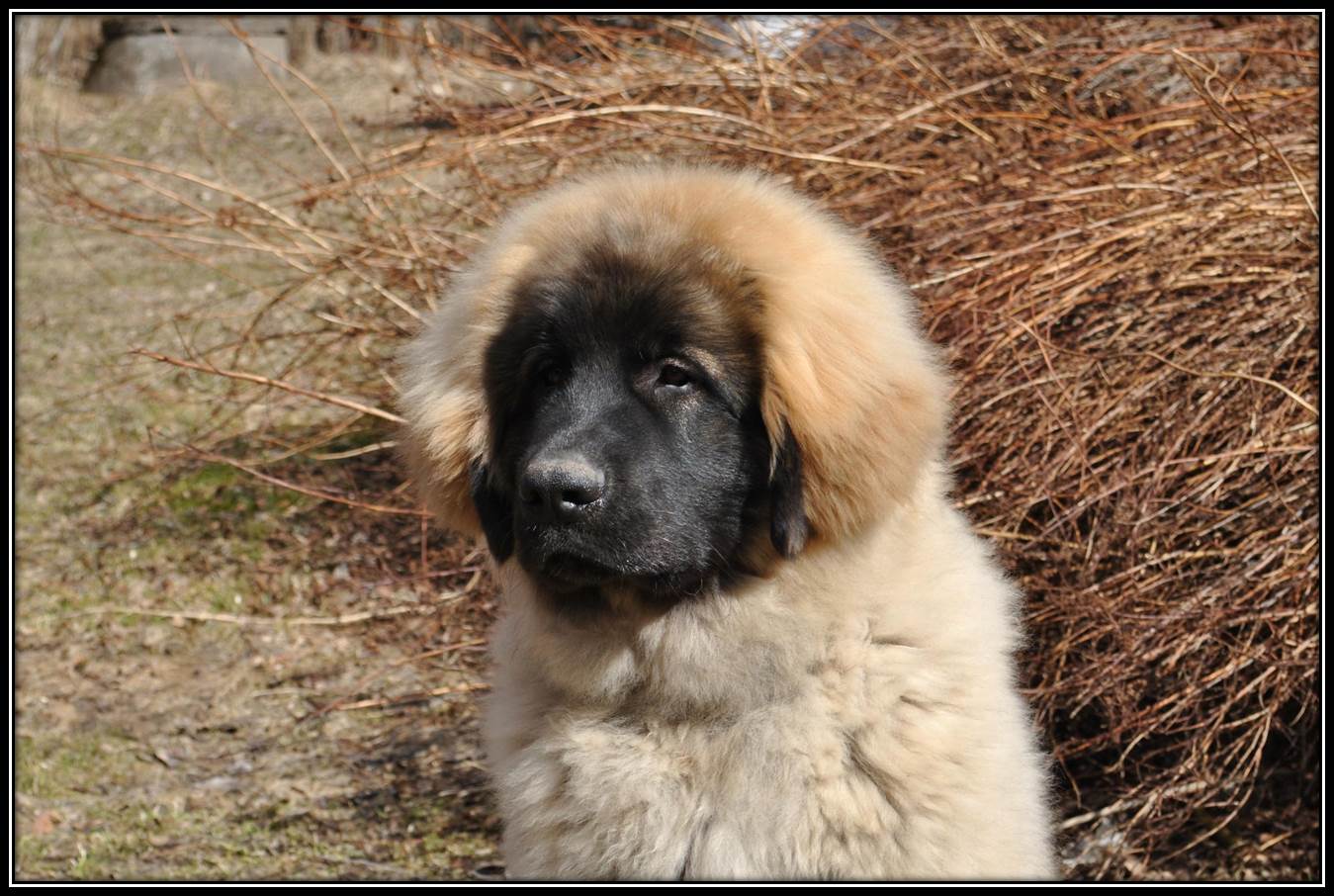 6 månader gammal/6 months old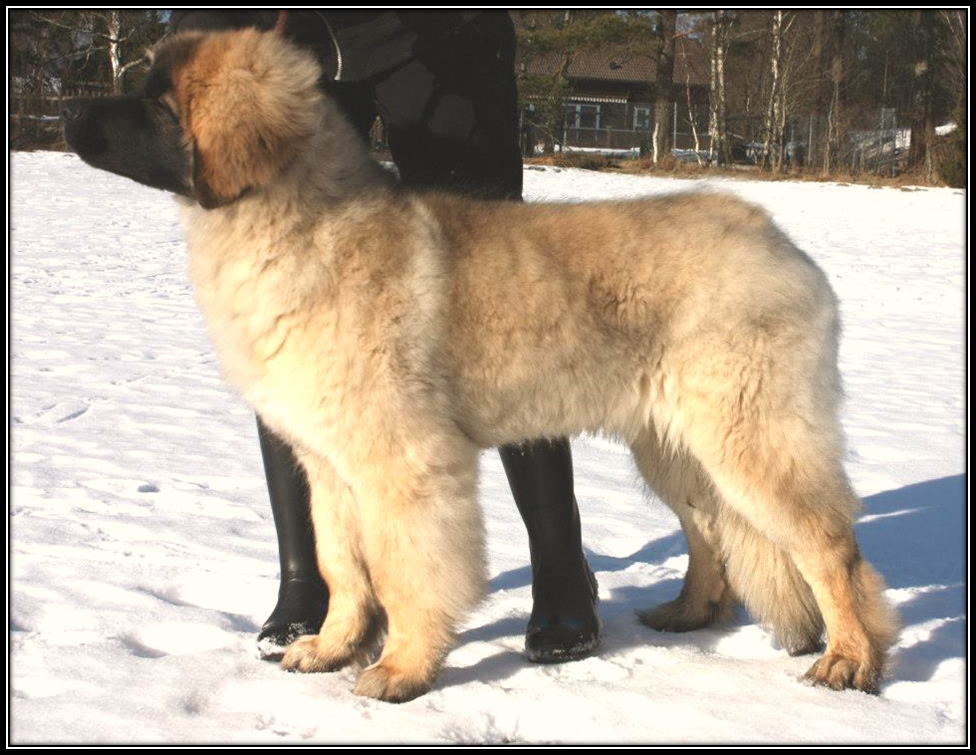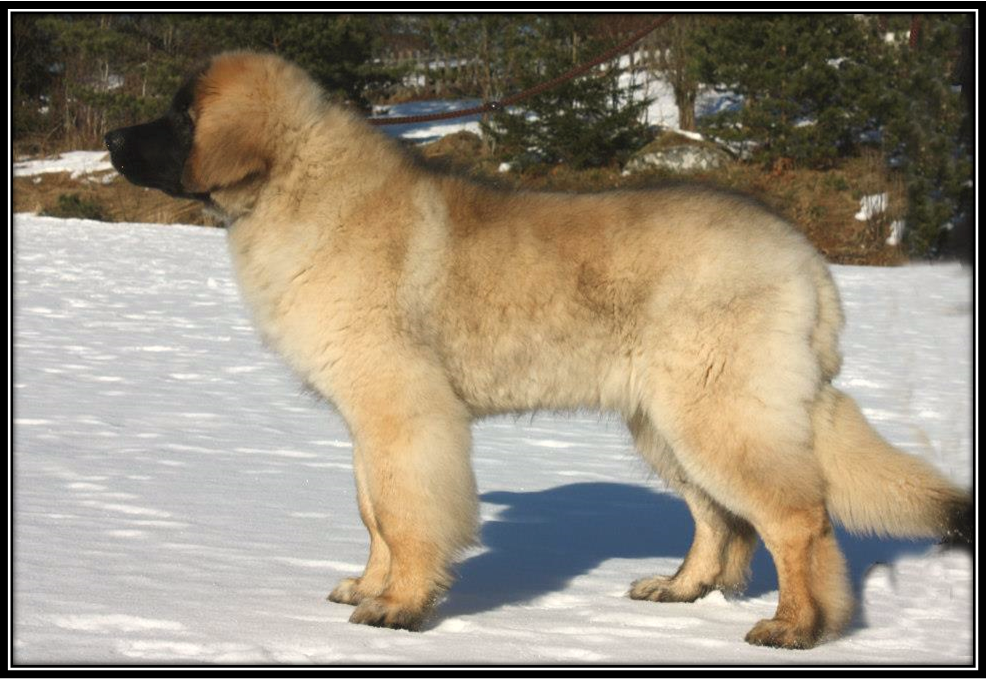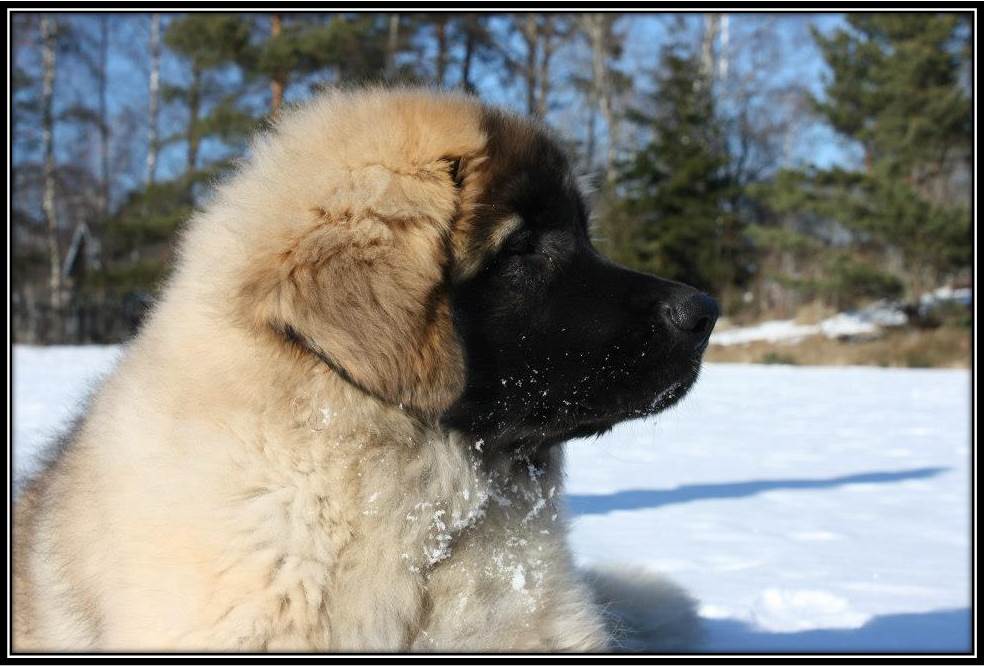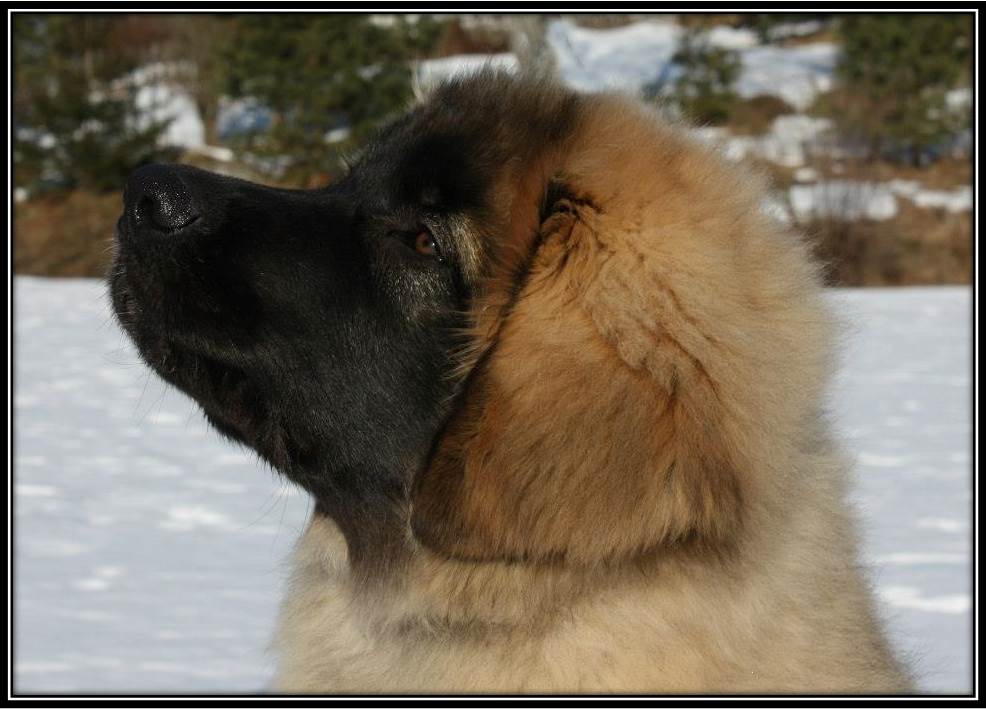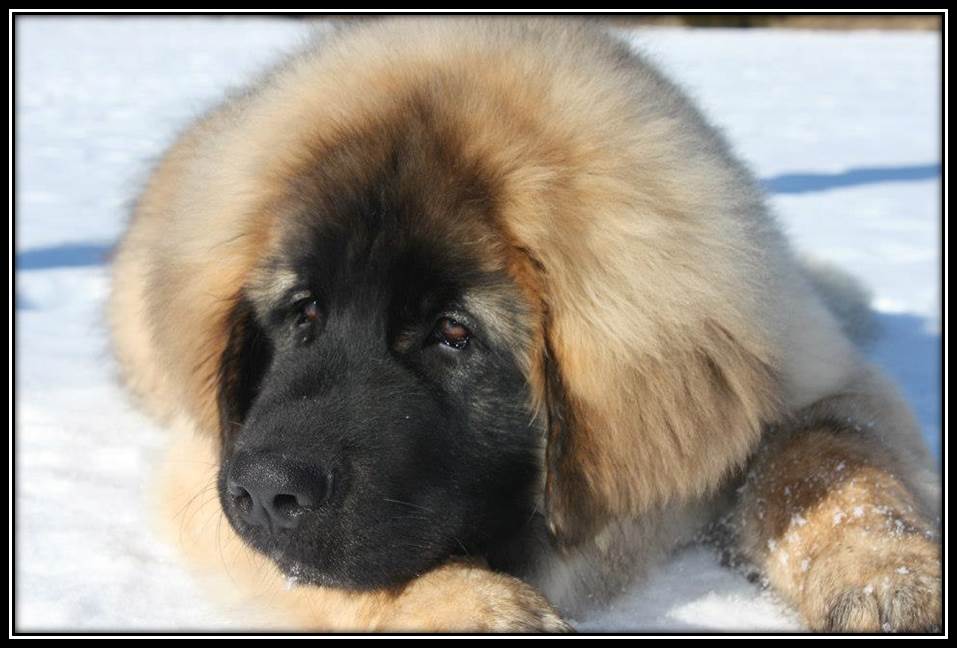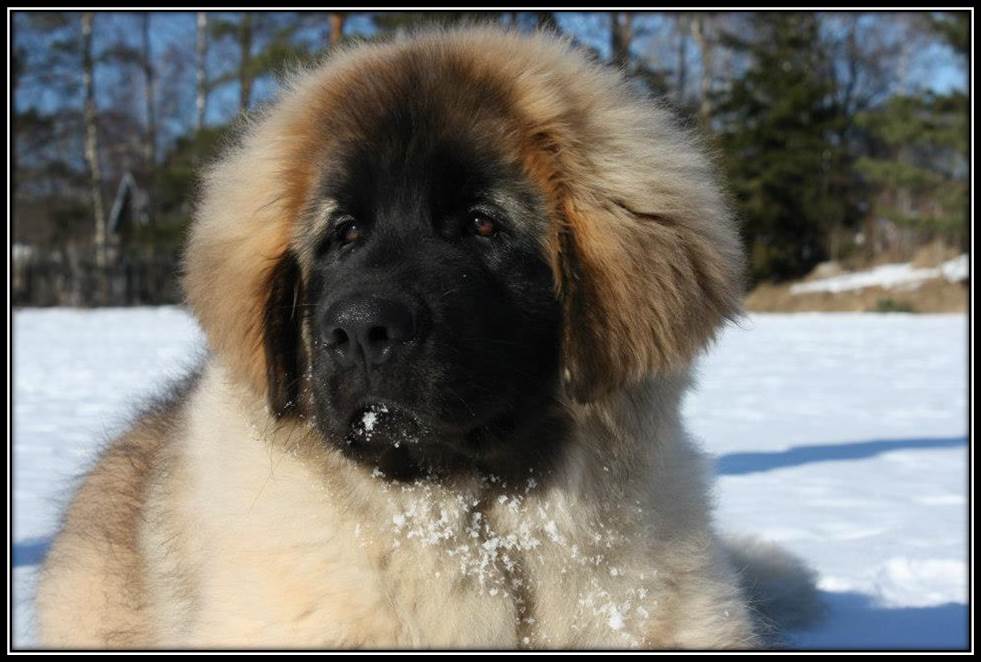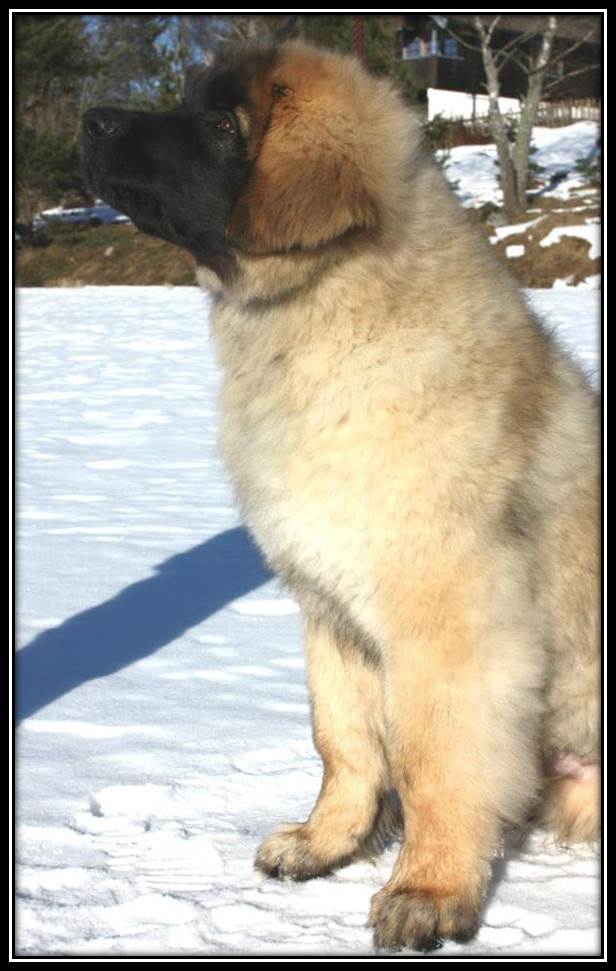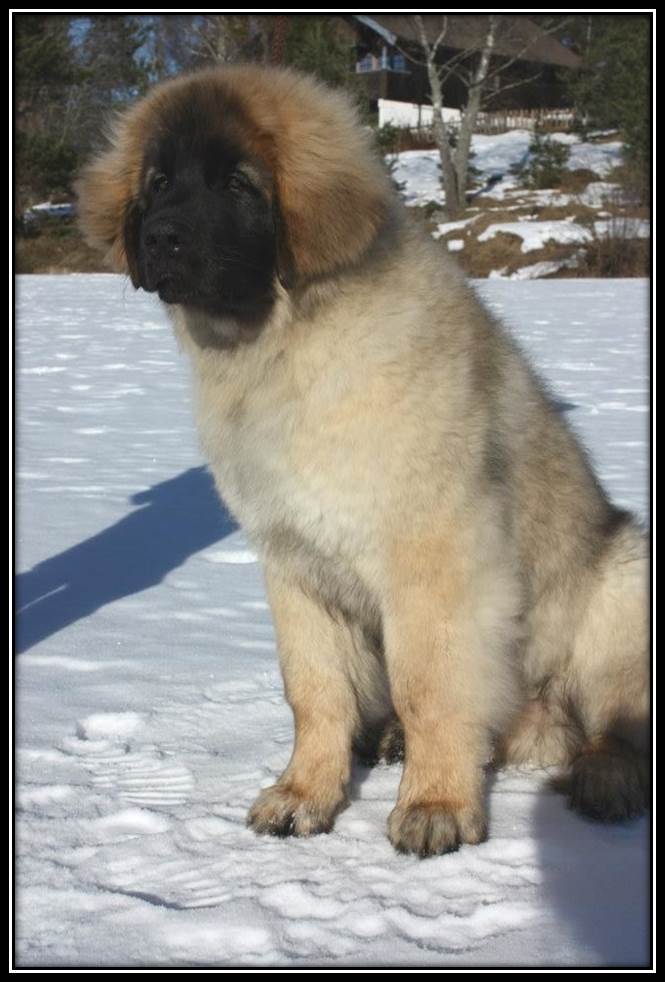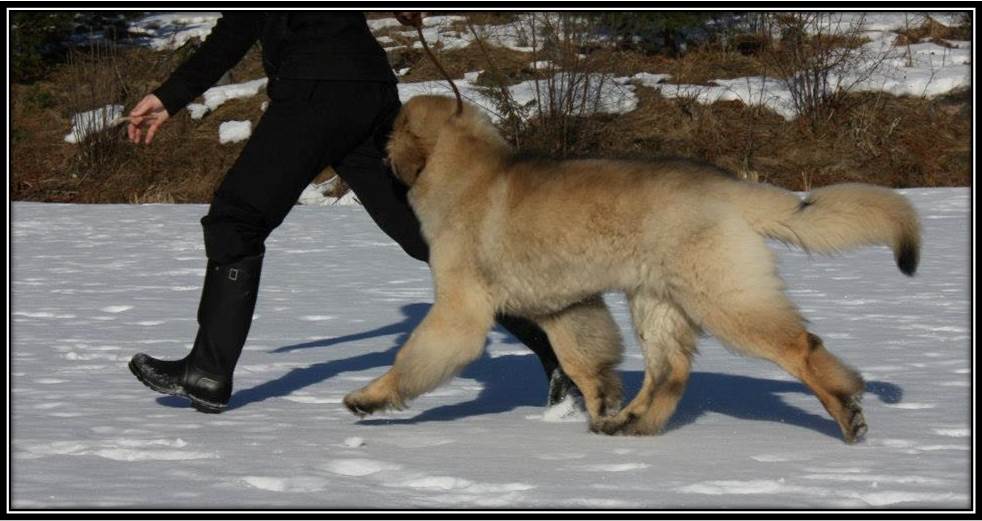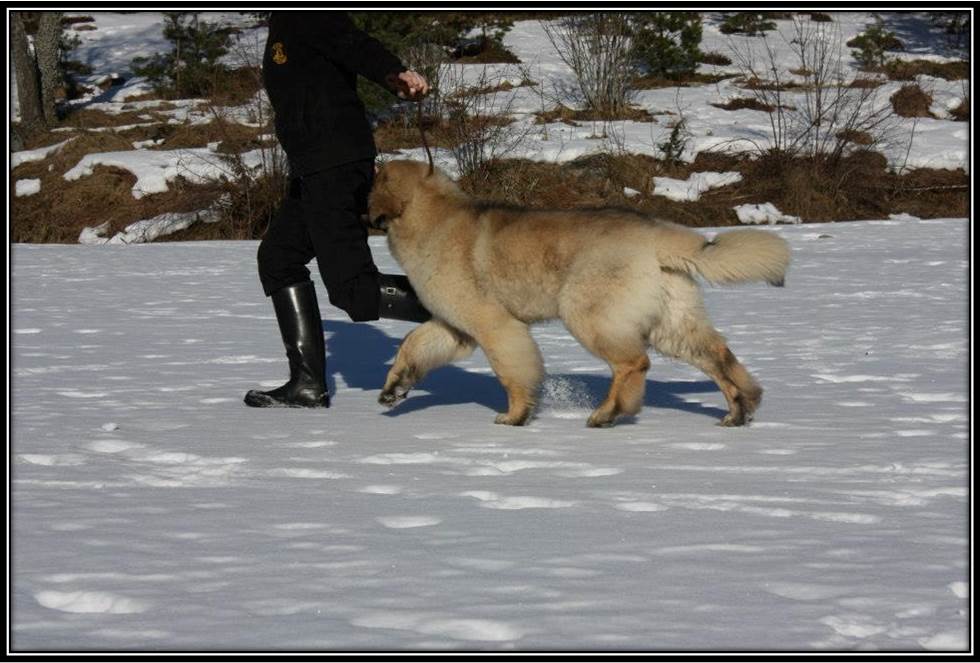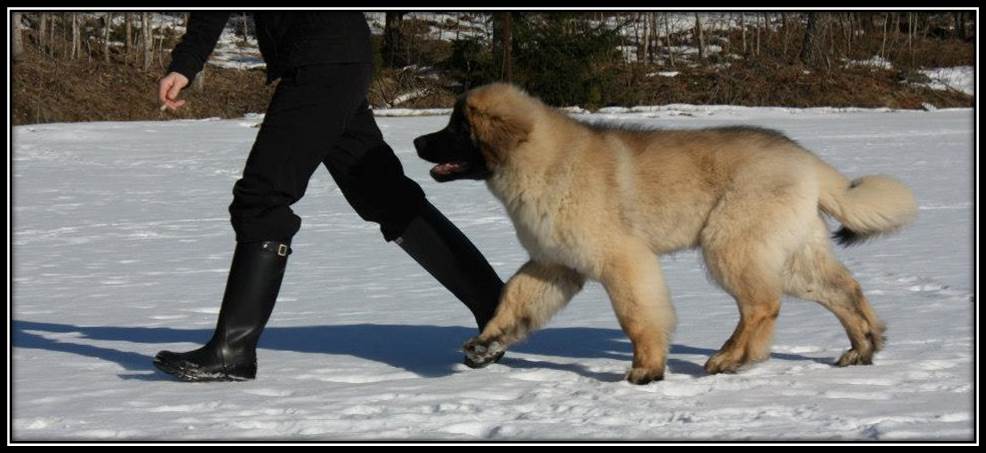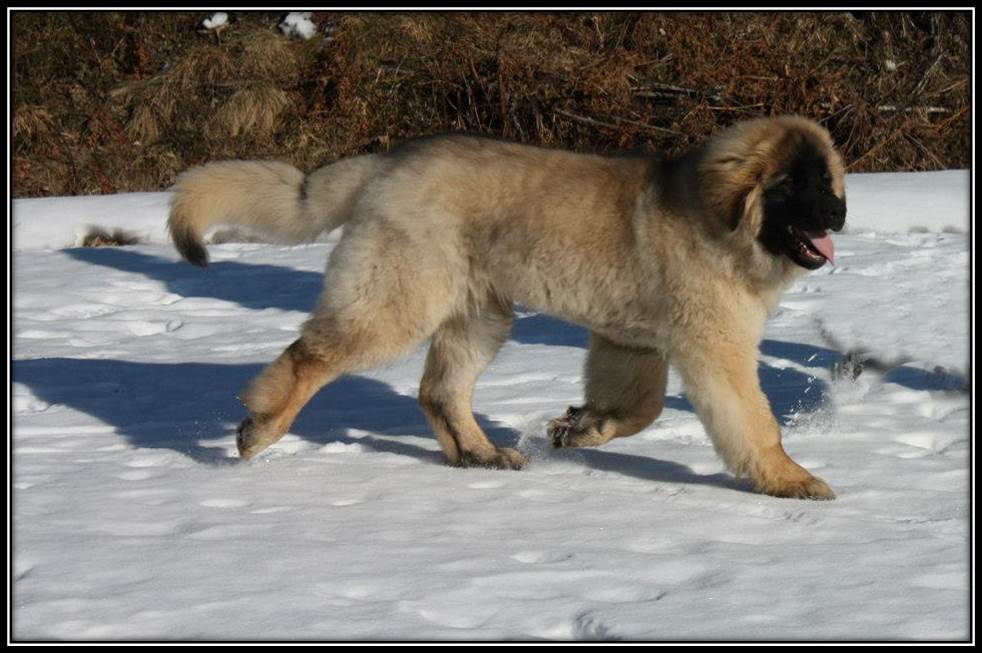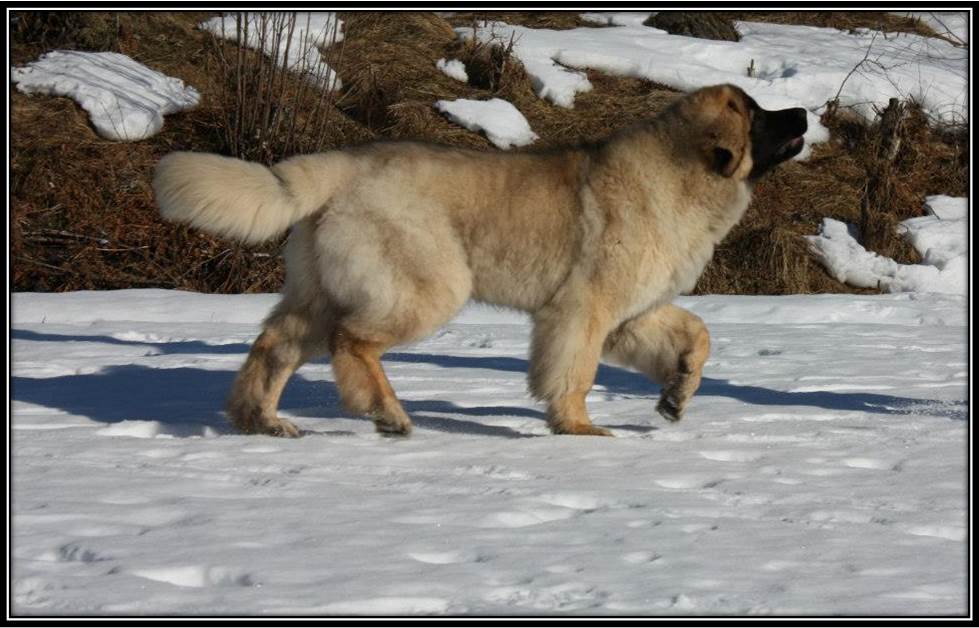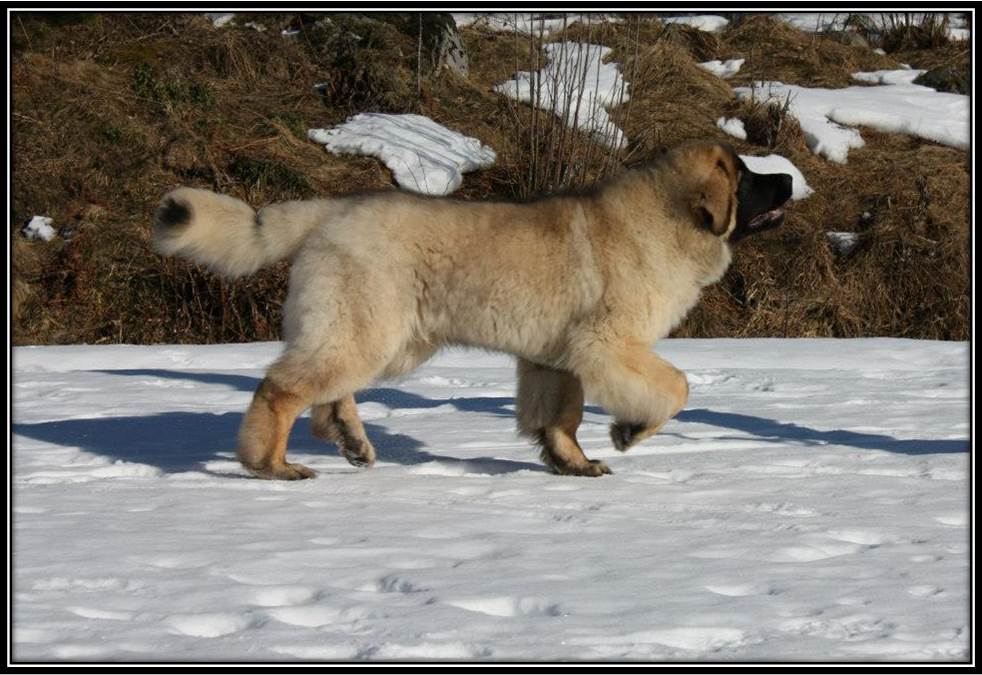 5 månader gammal/5 months old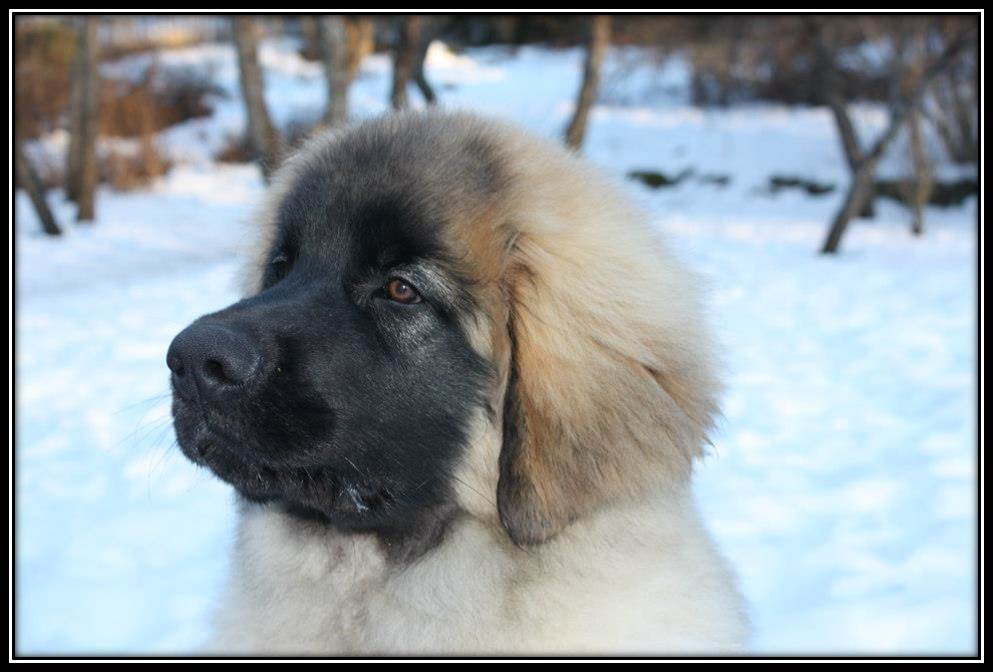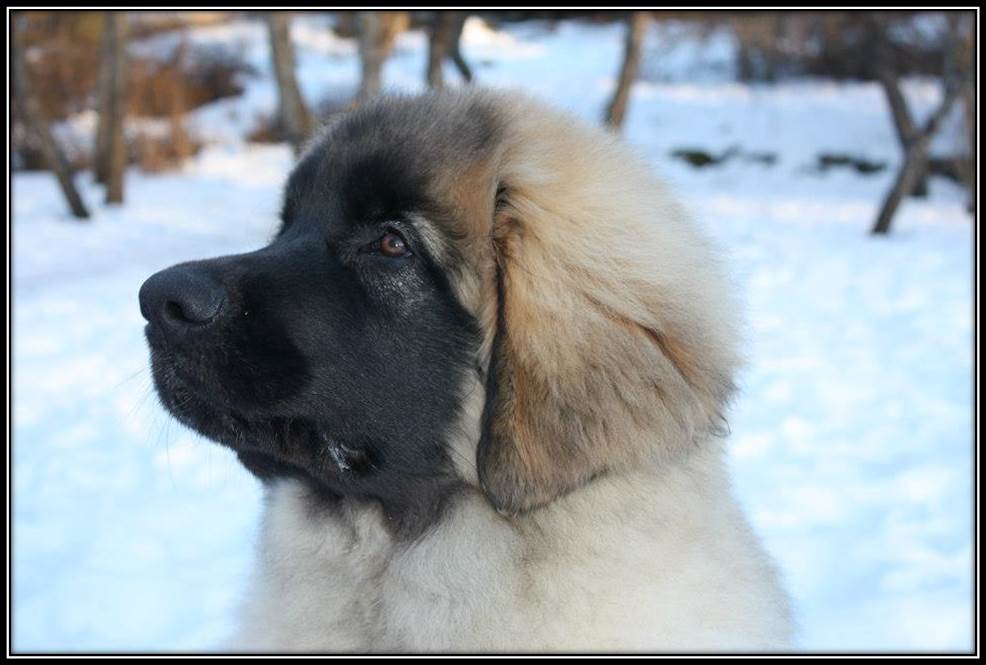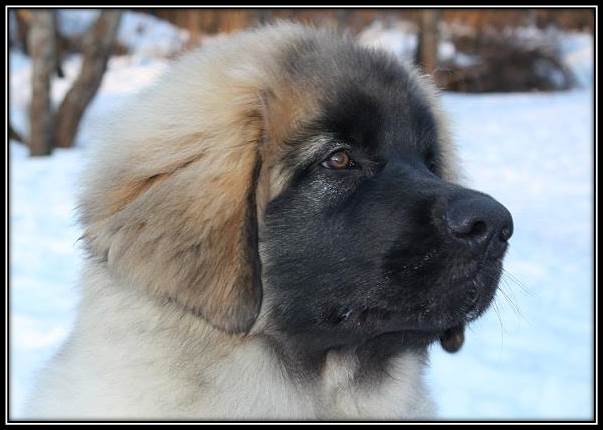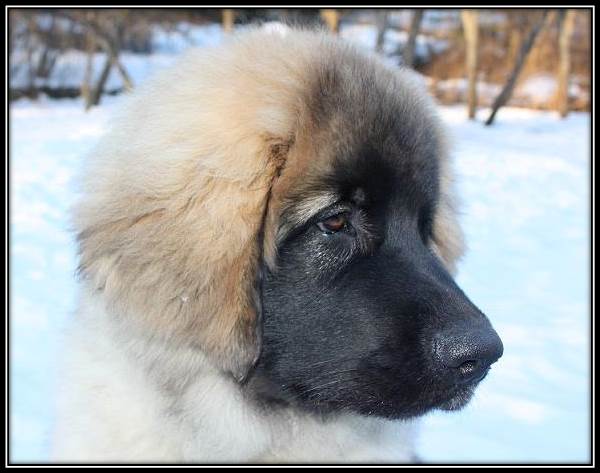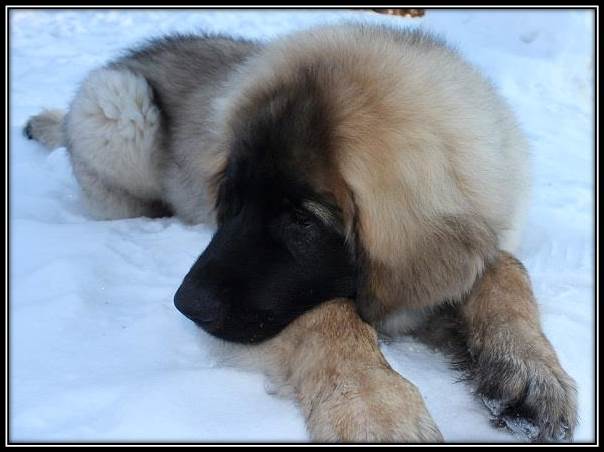 5 månader gammal/5 months old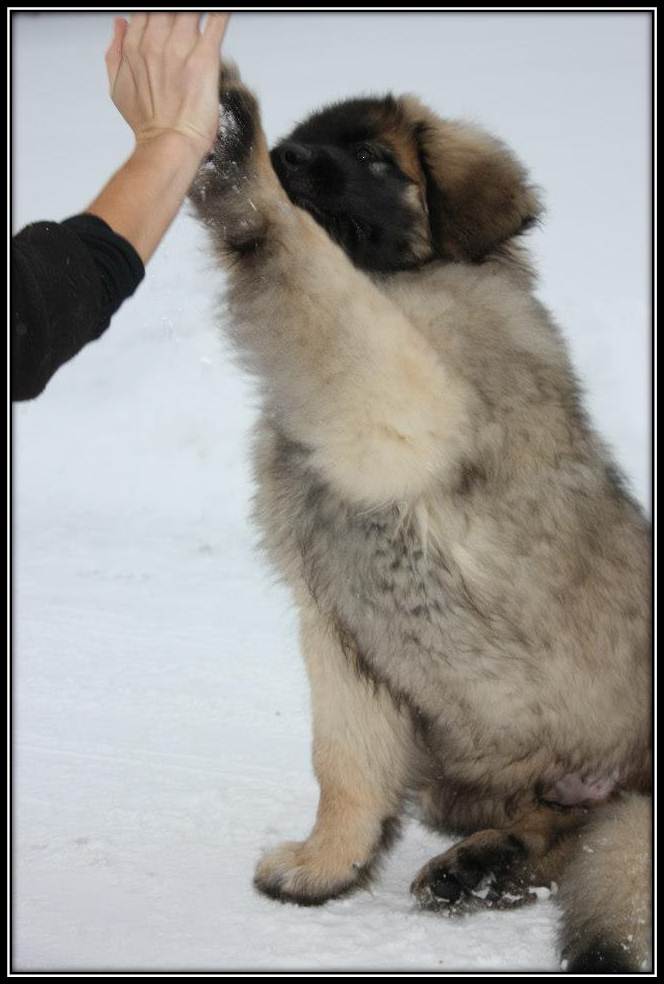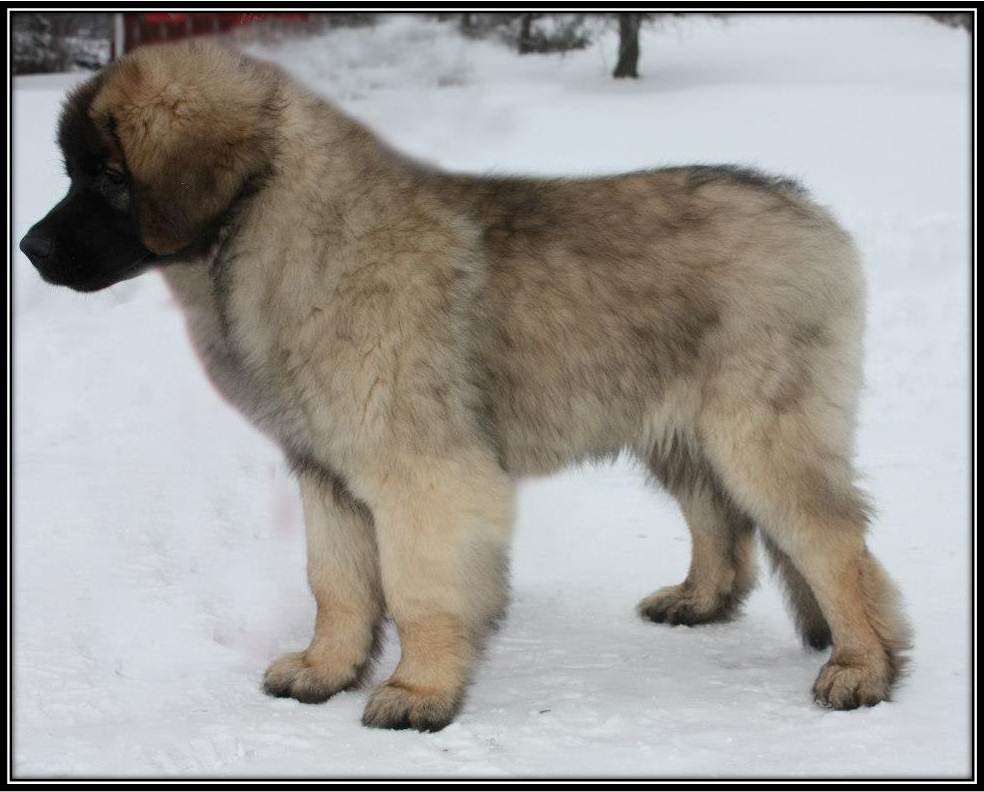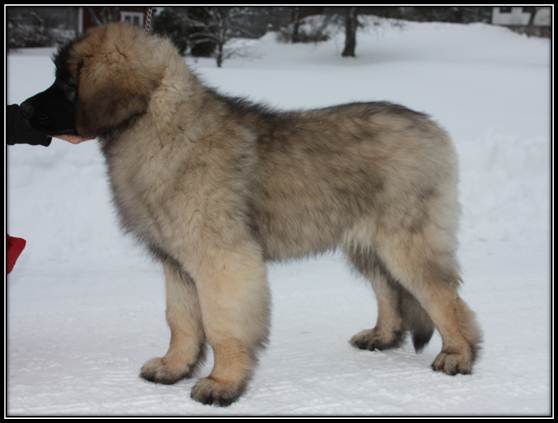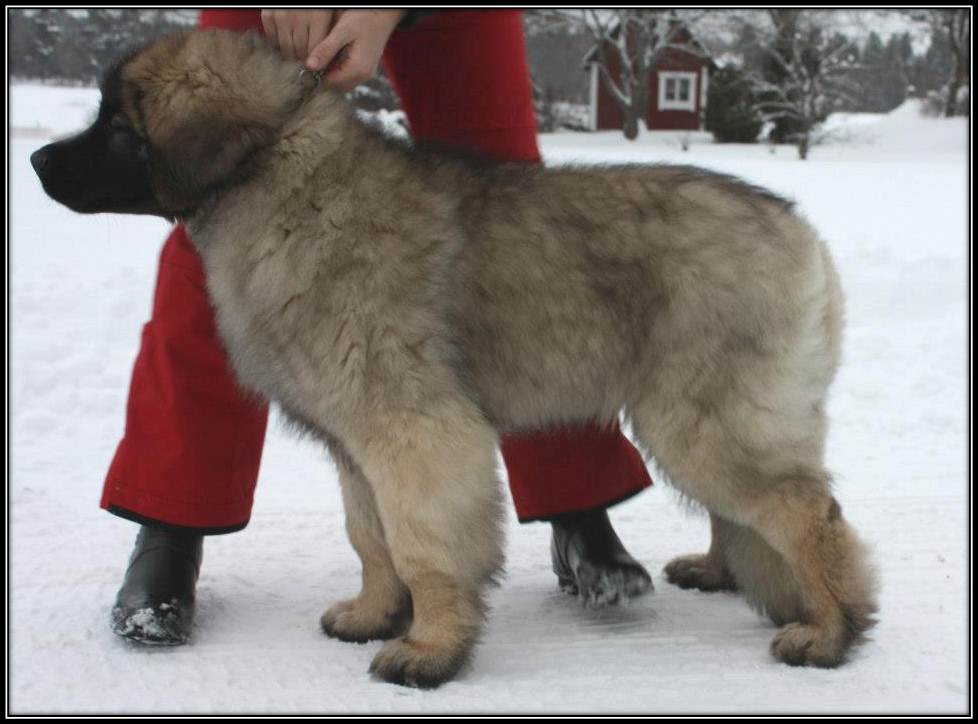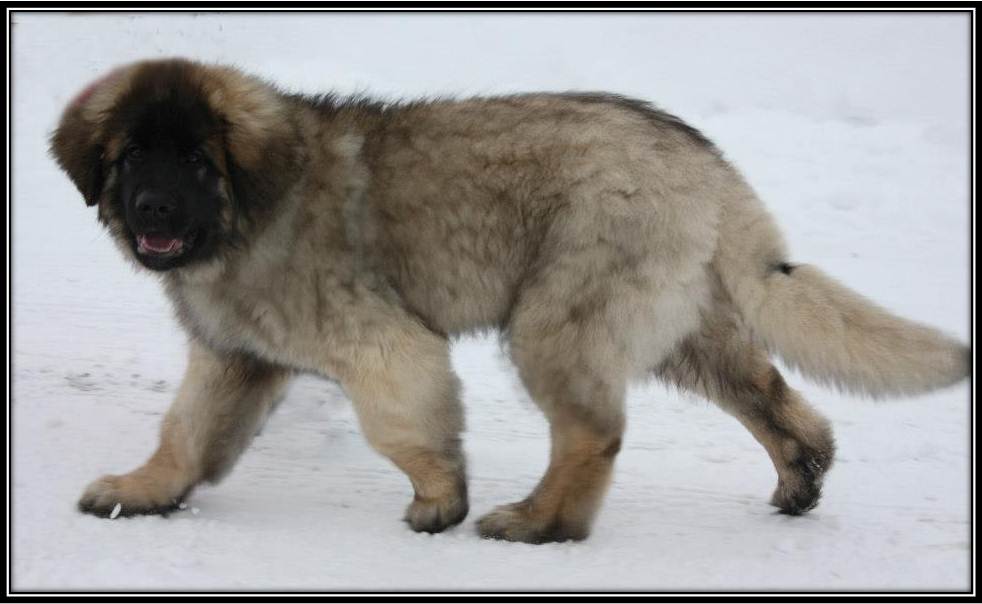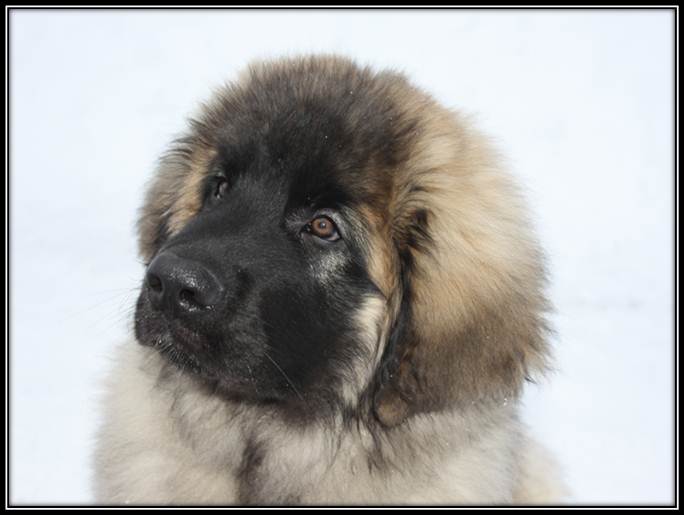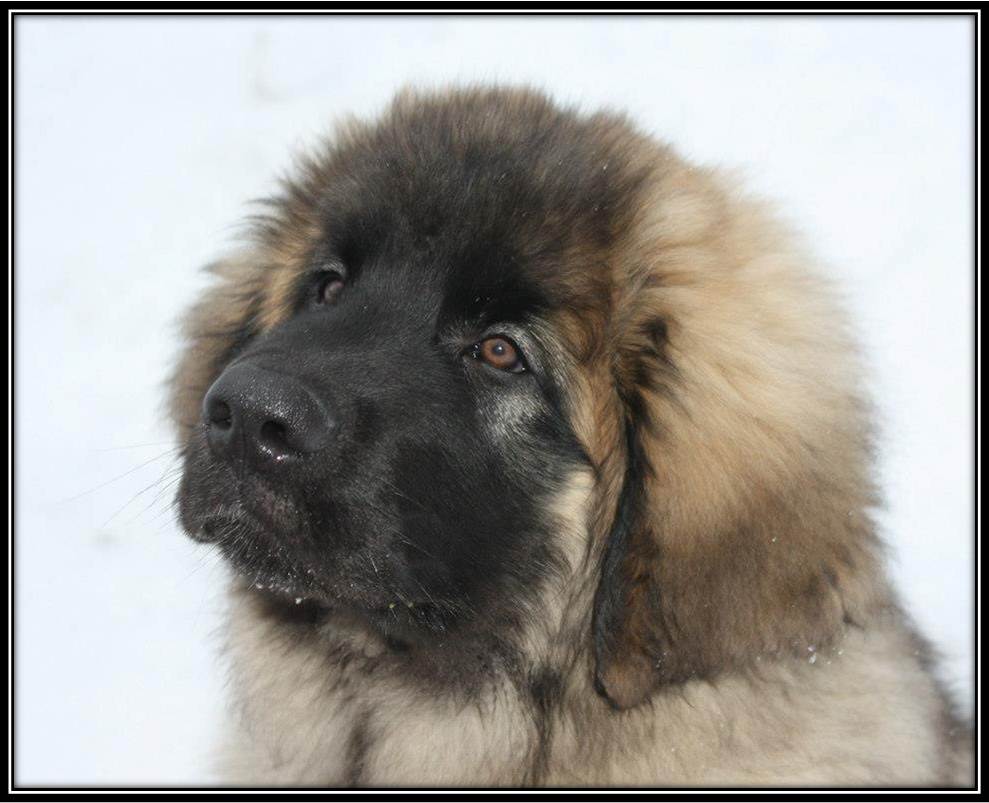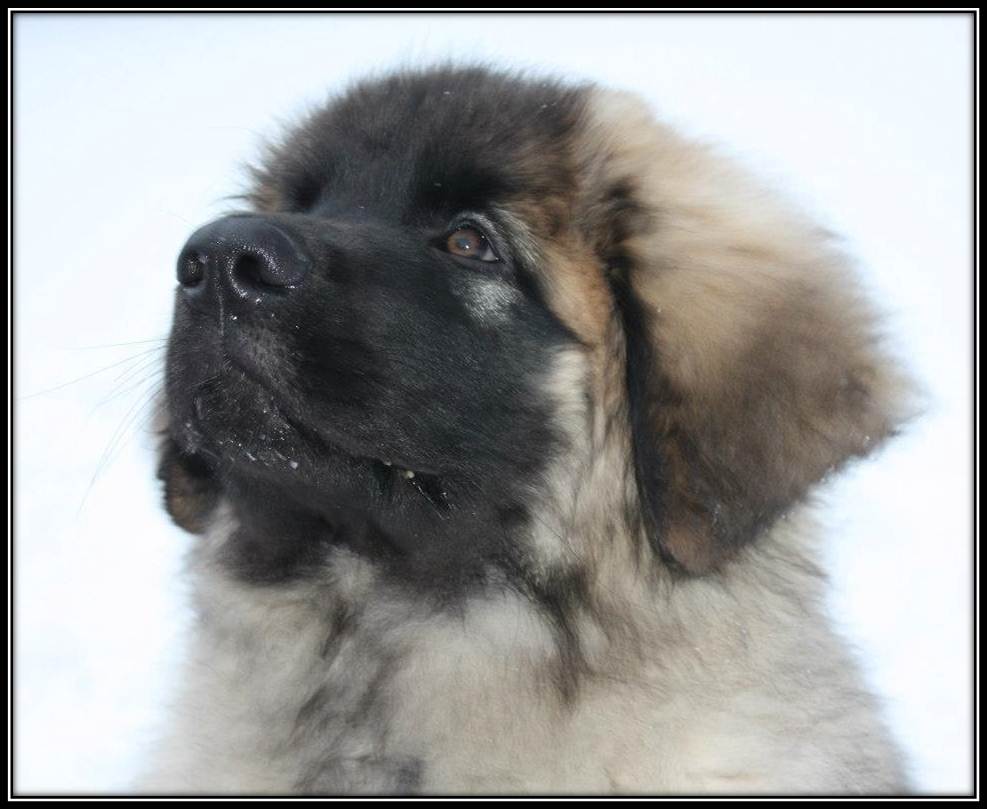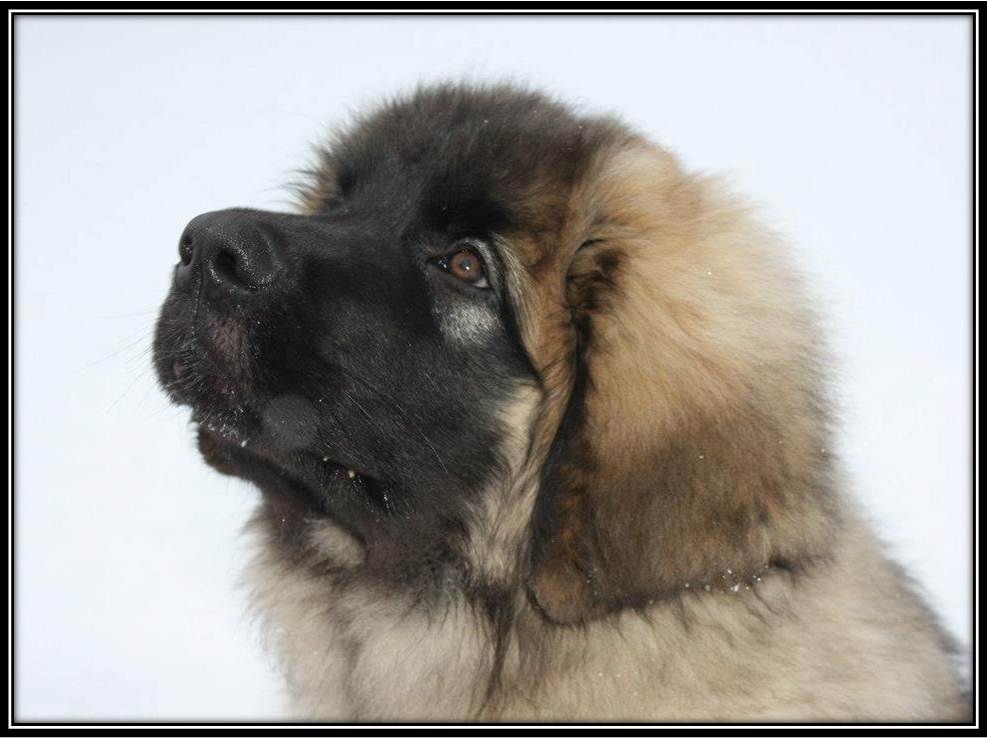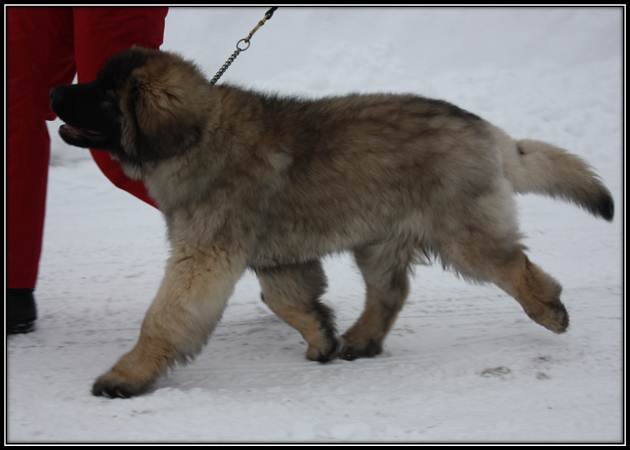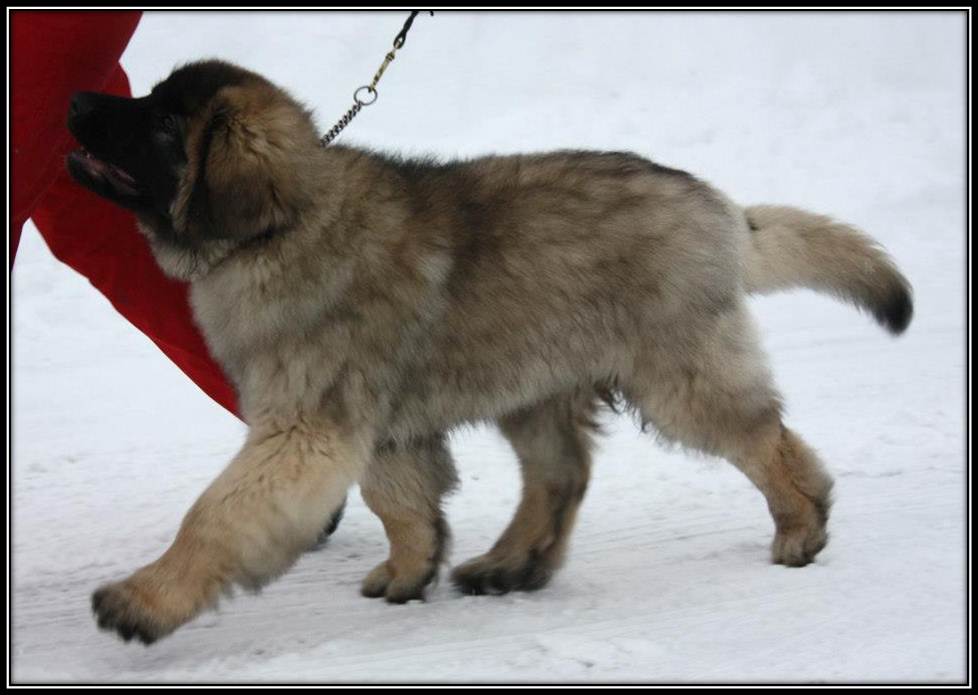 16 veckor gammal/16 weeks old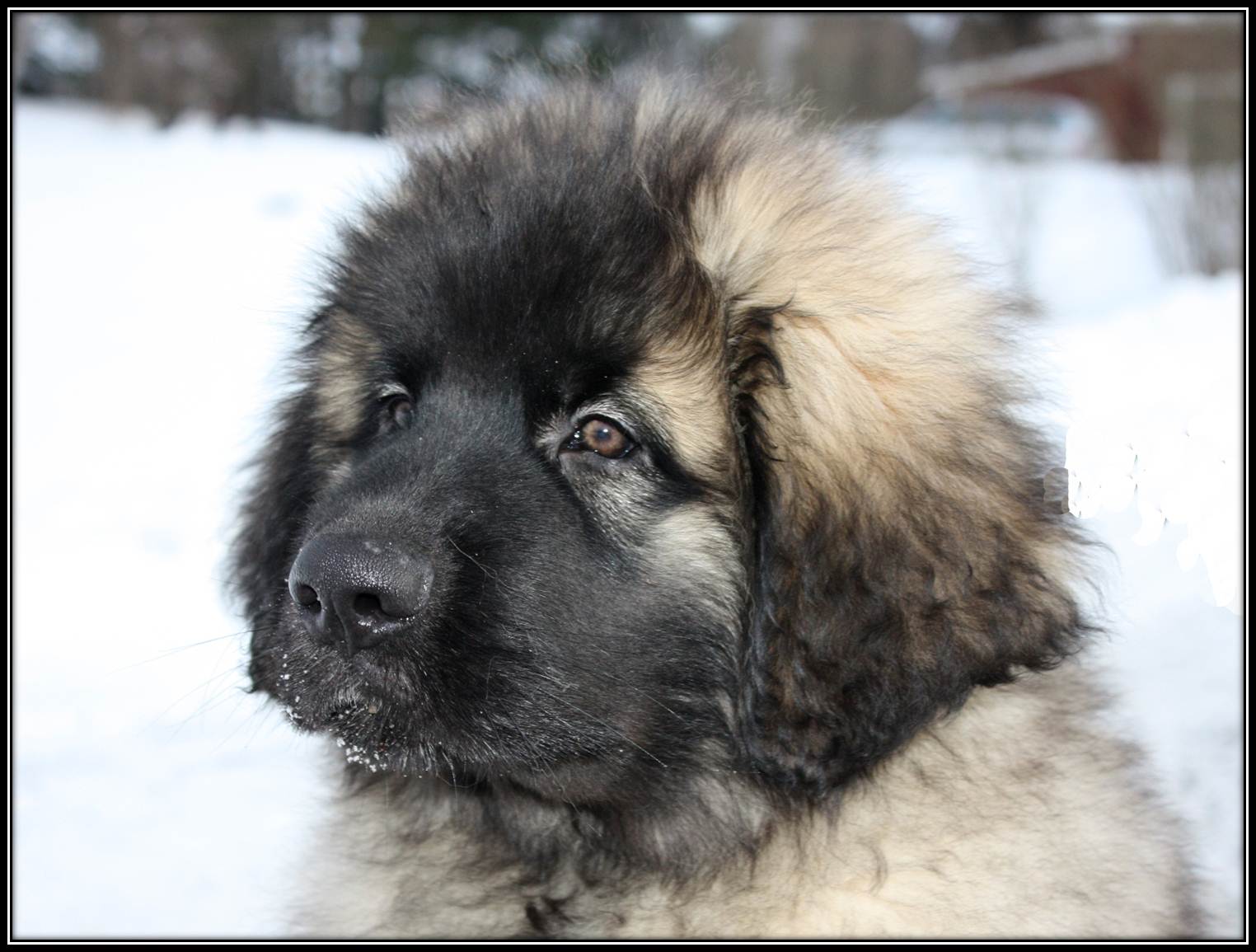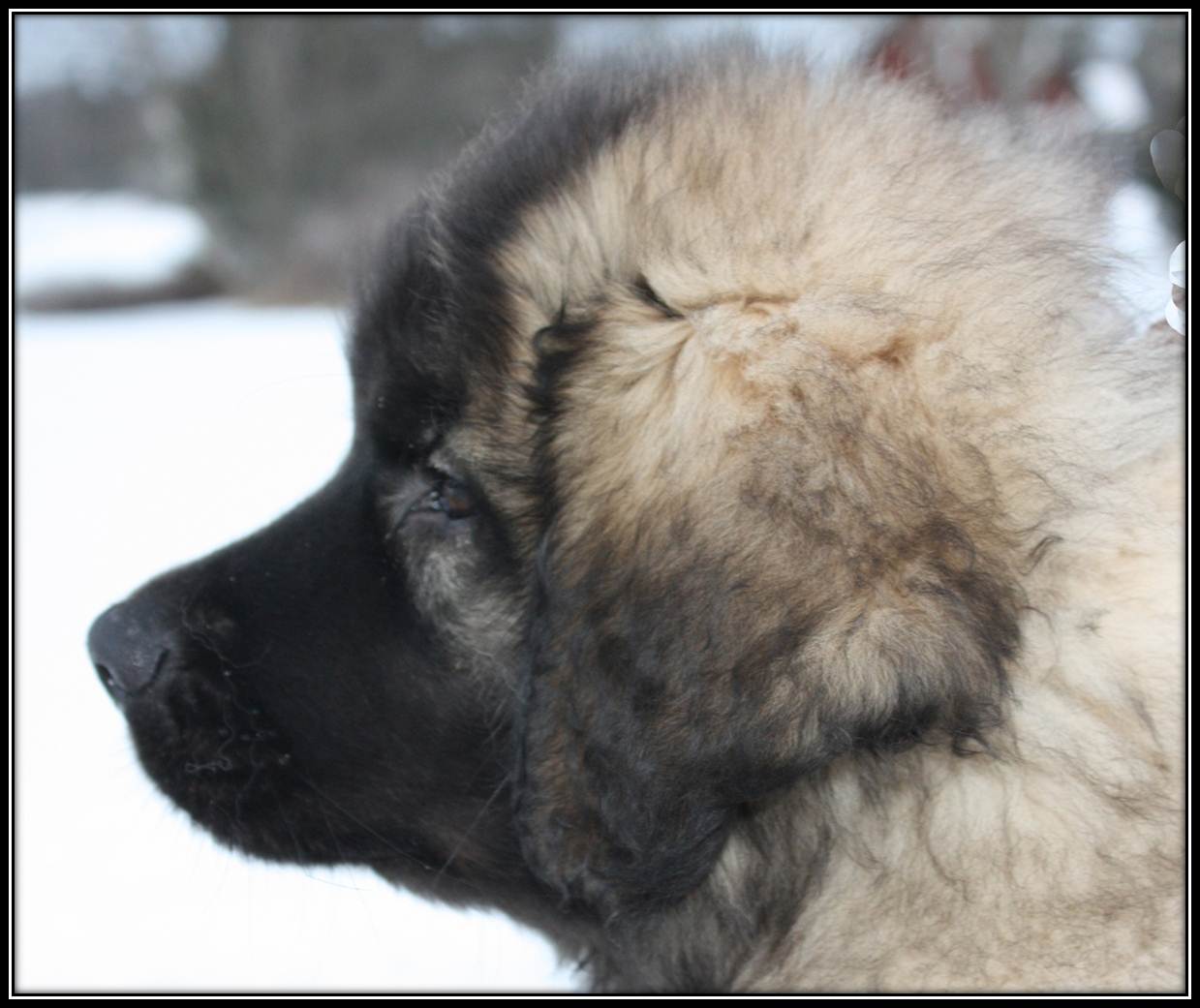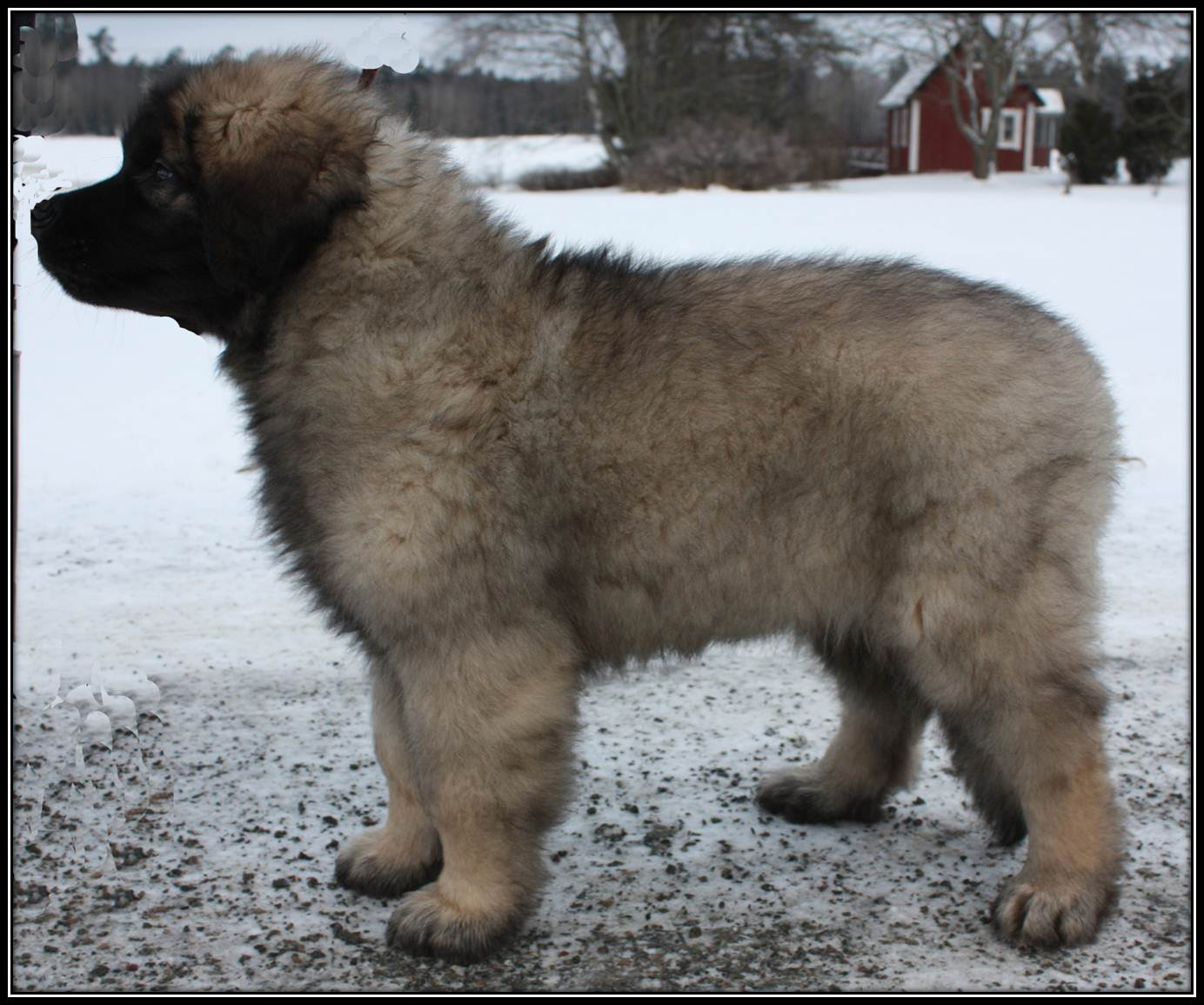 11 veckor gammal/11 weeks old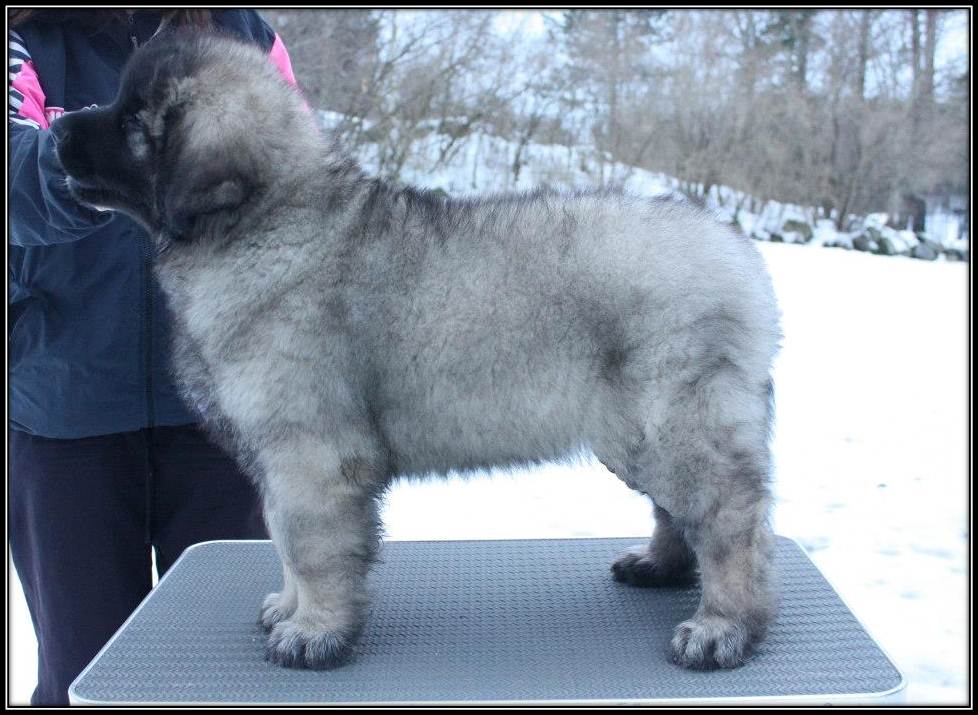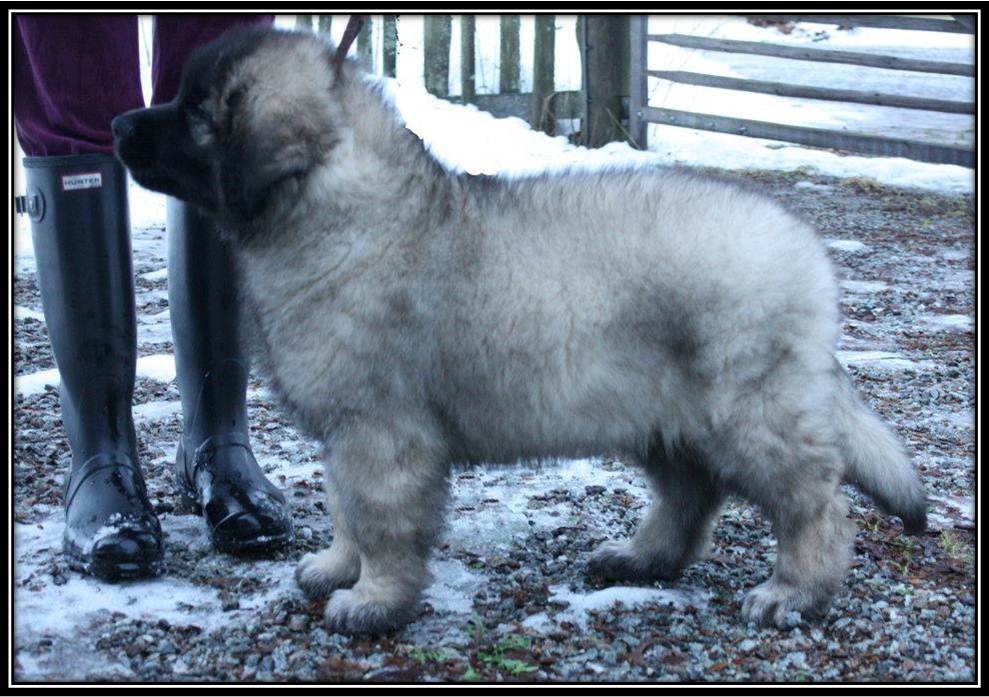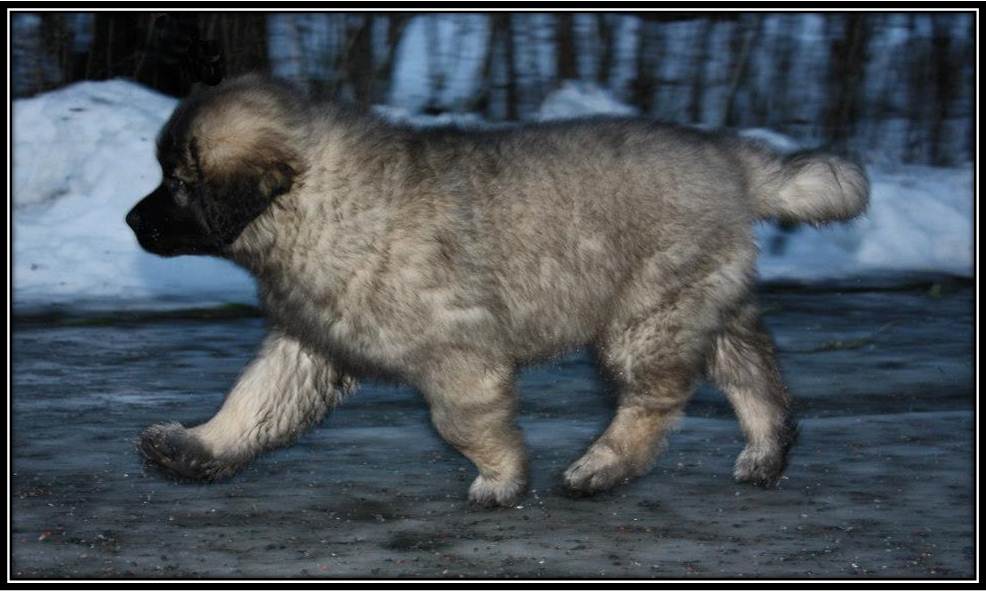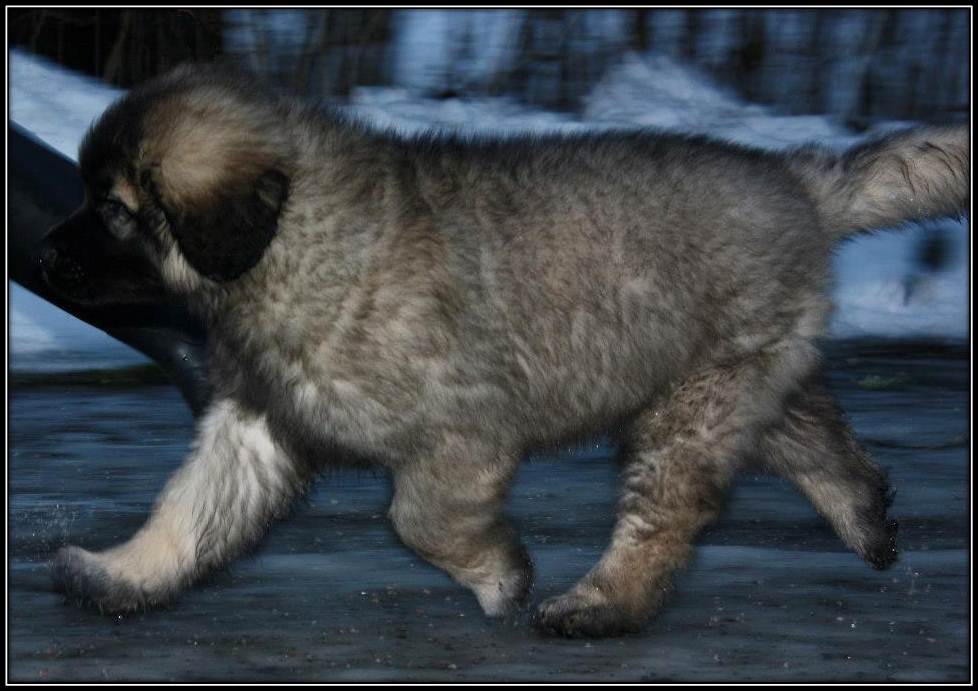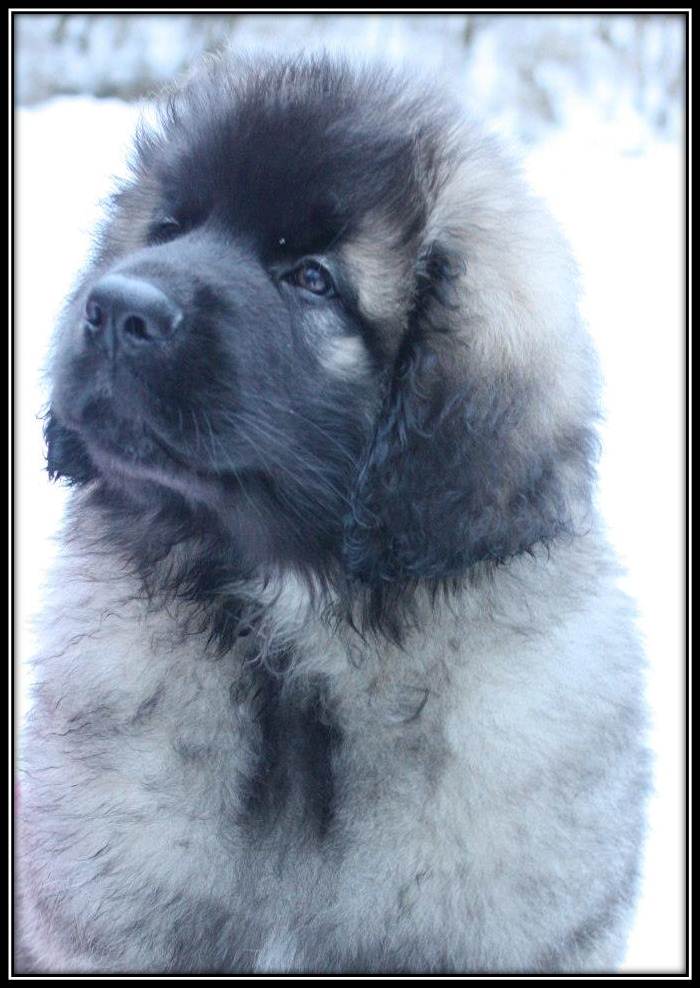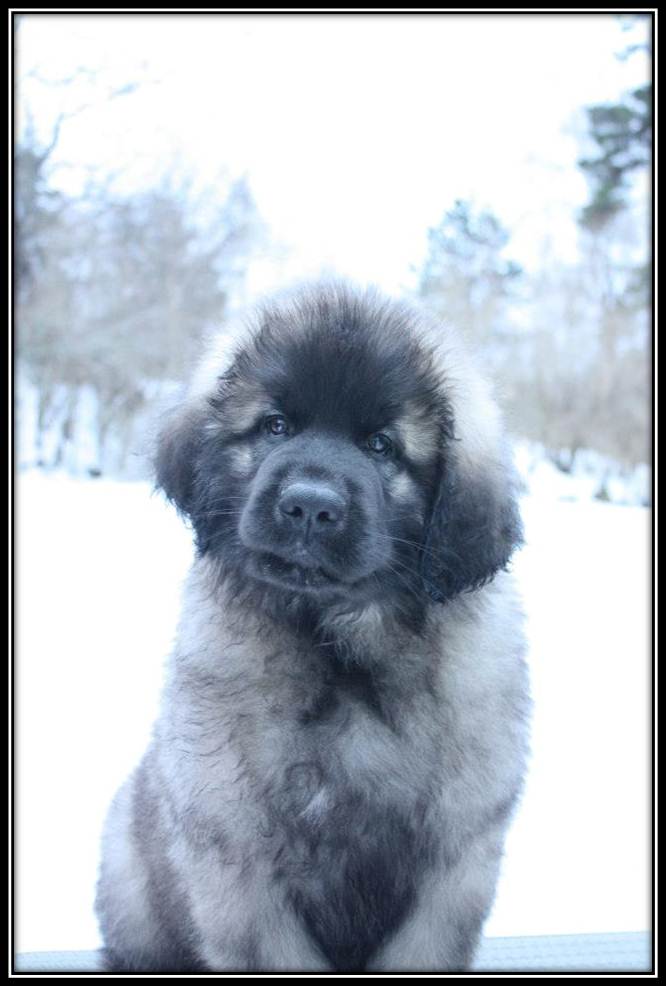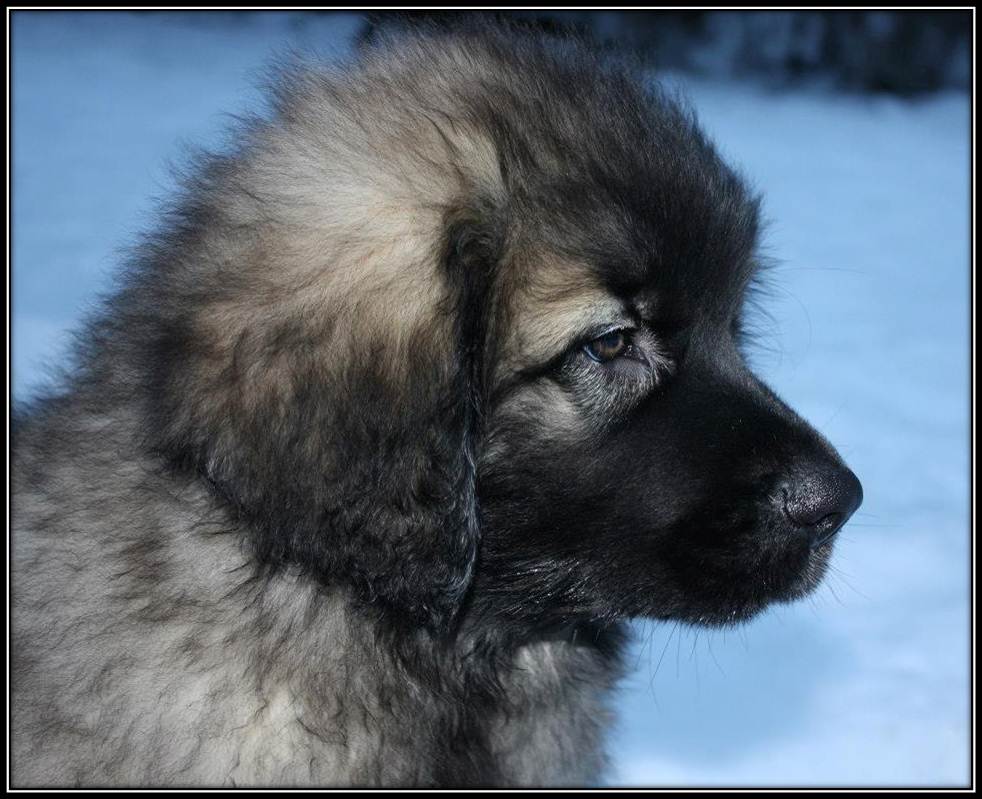 9,5 veckor gammal/9,5 weeks old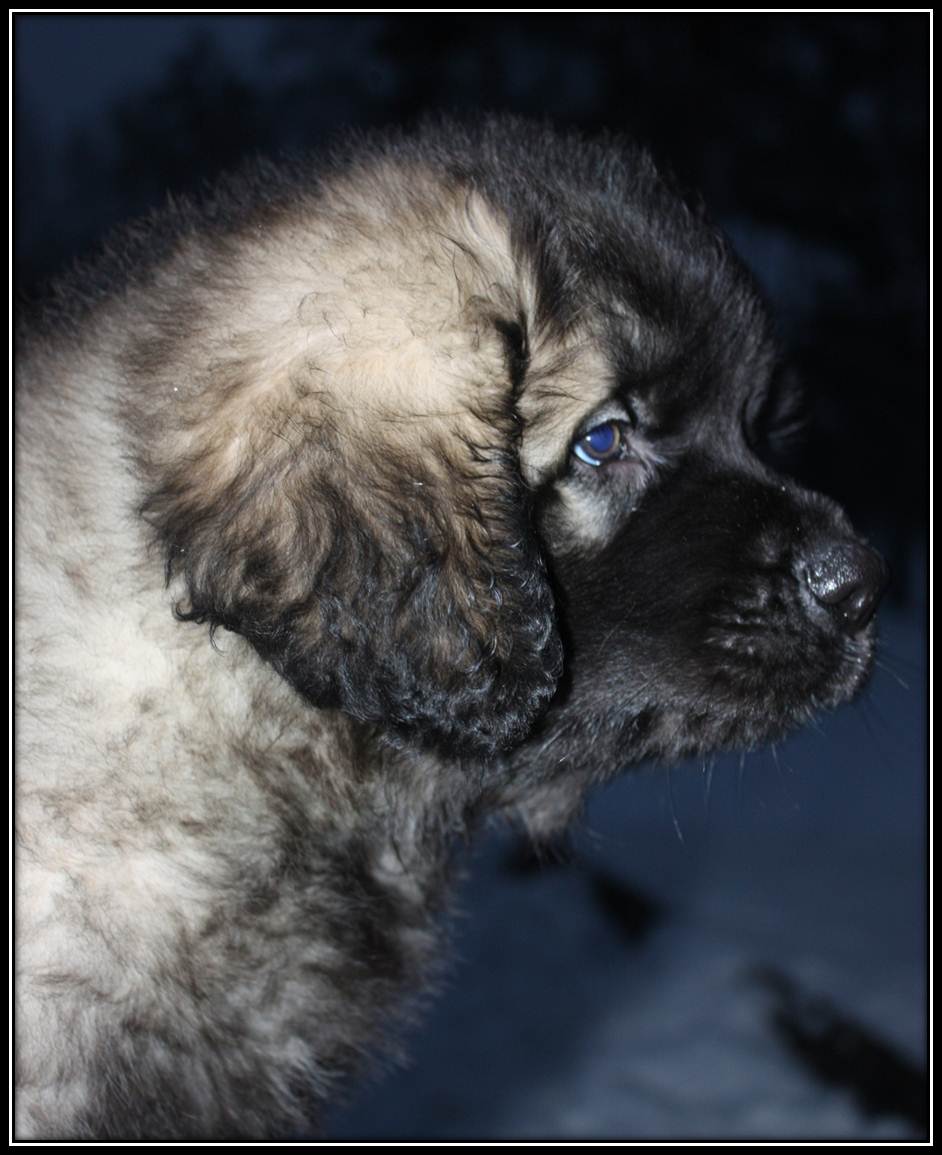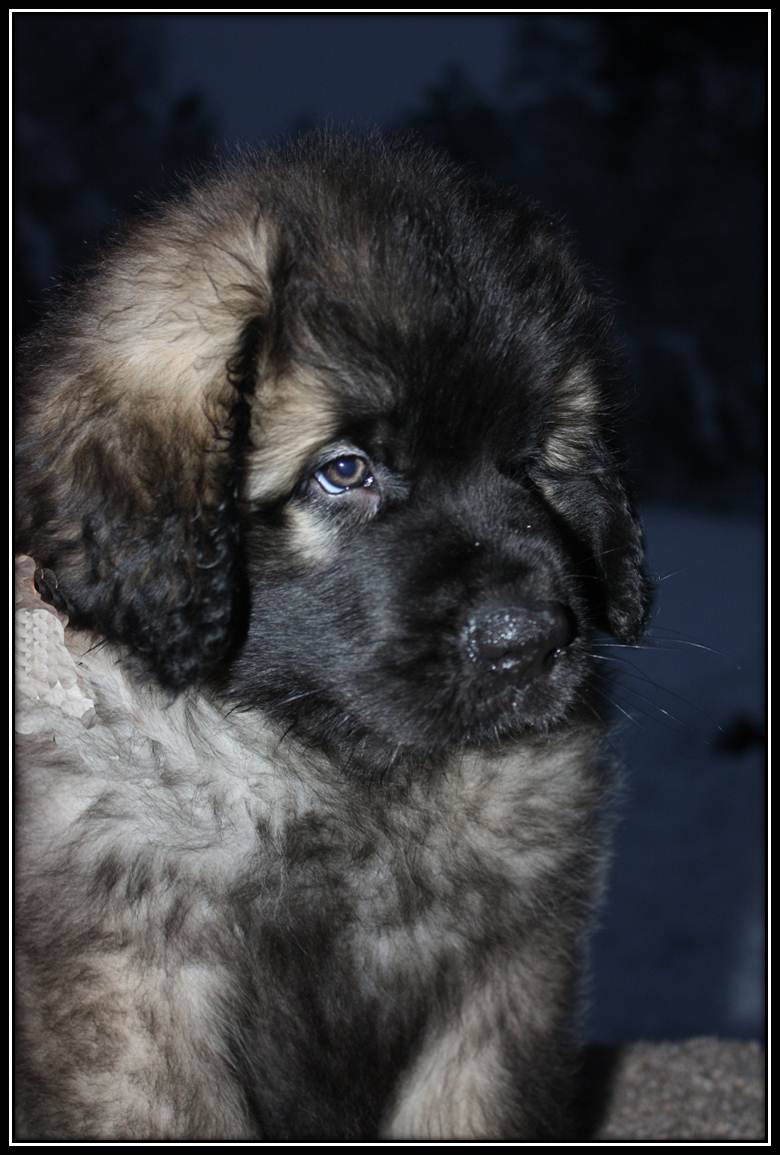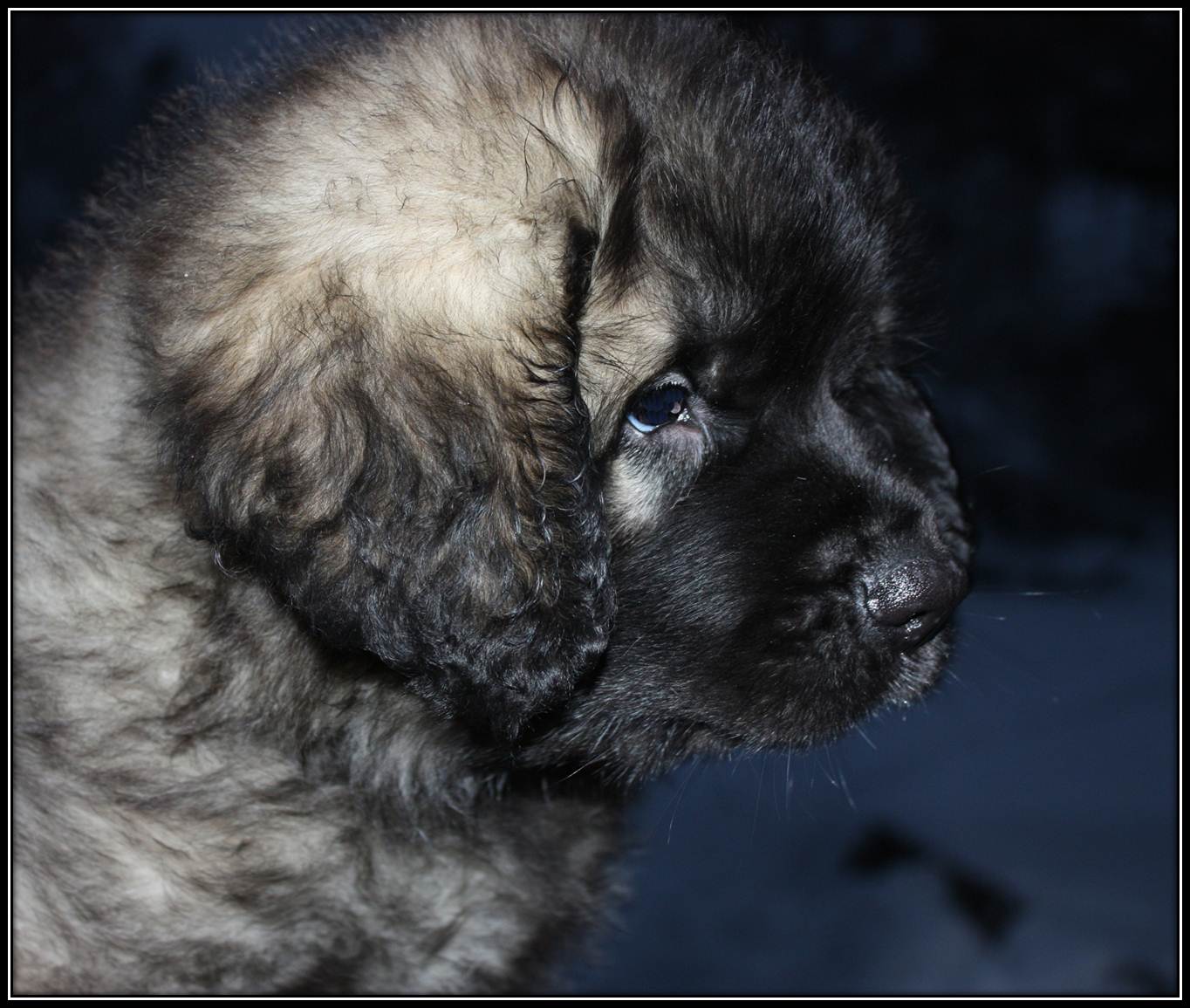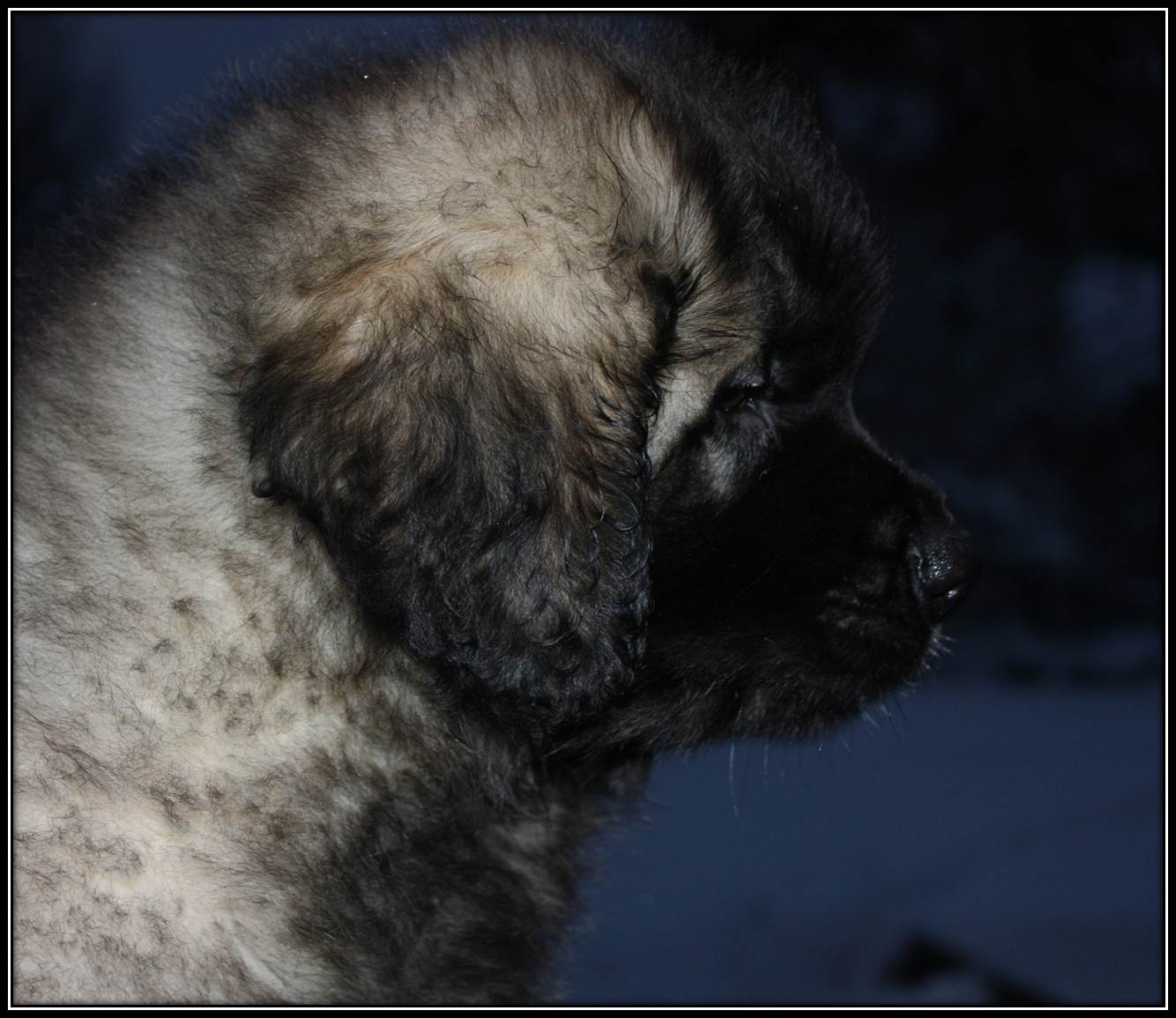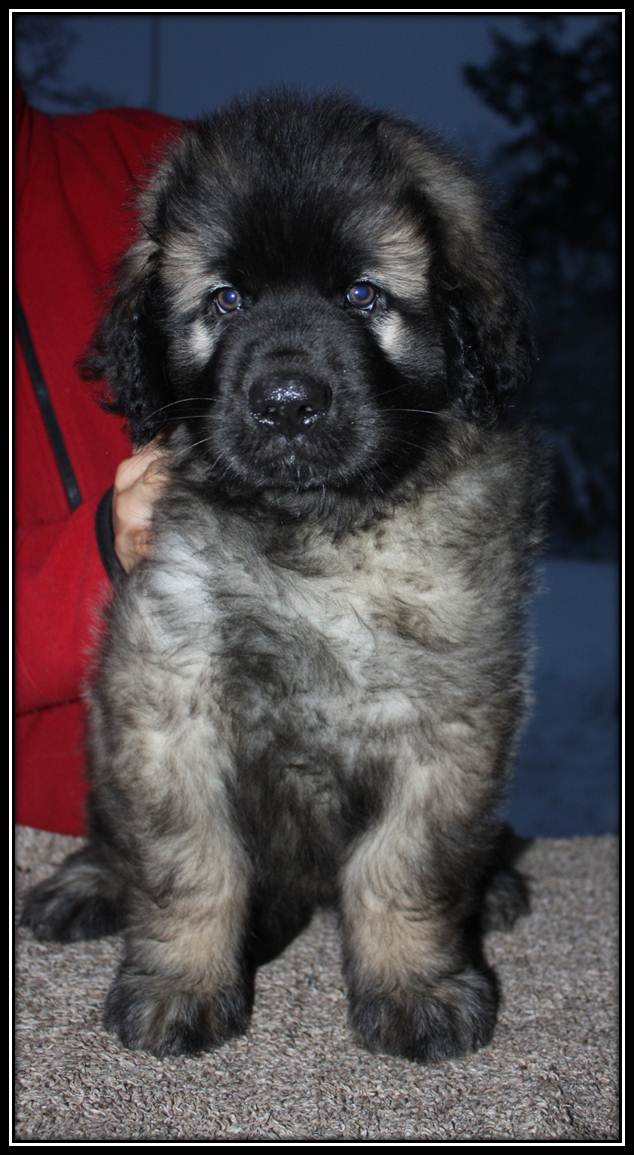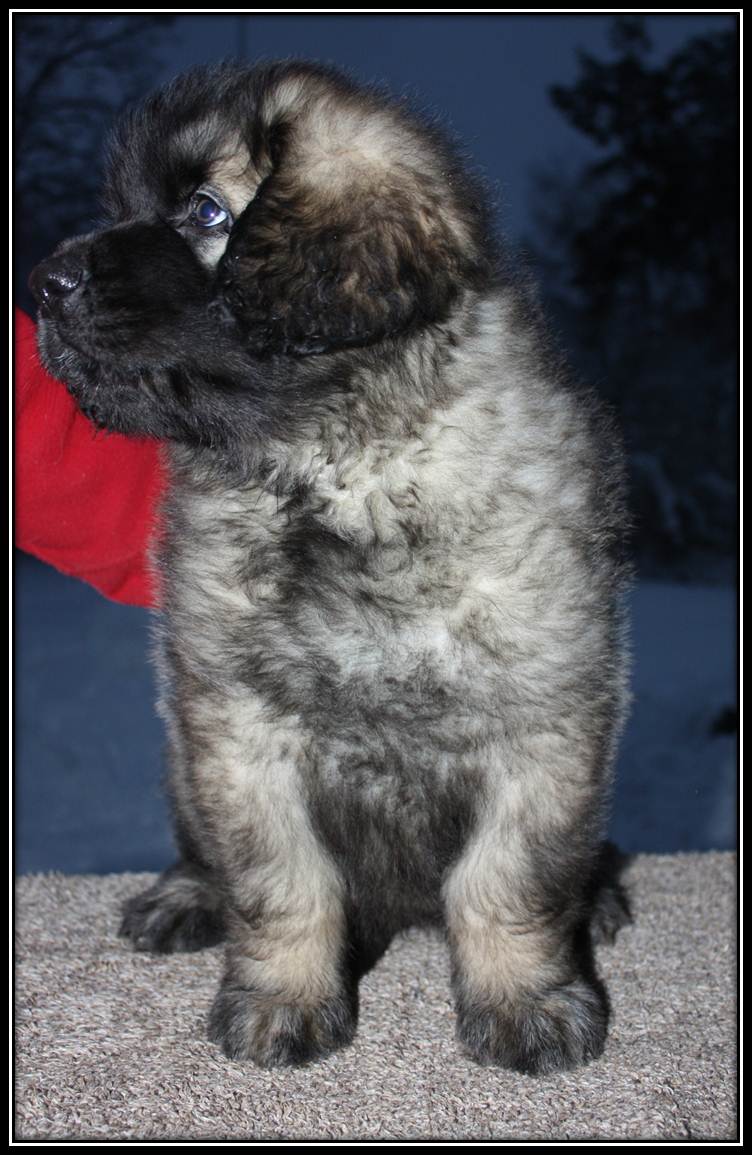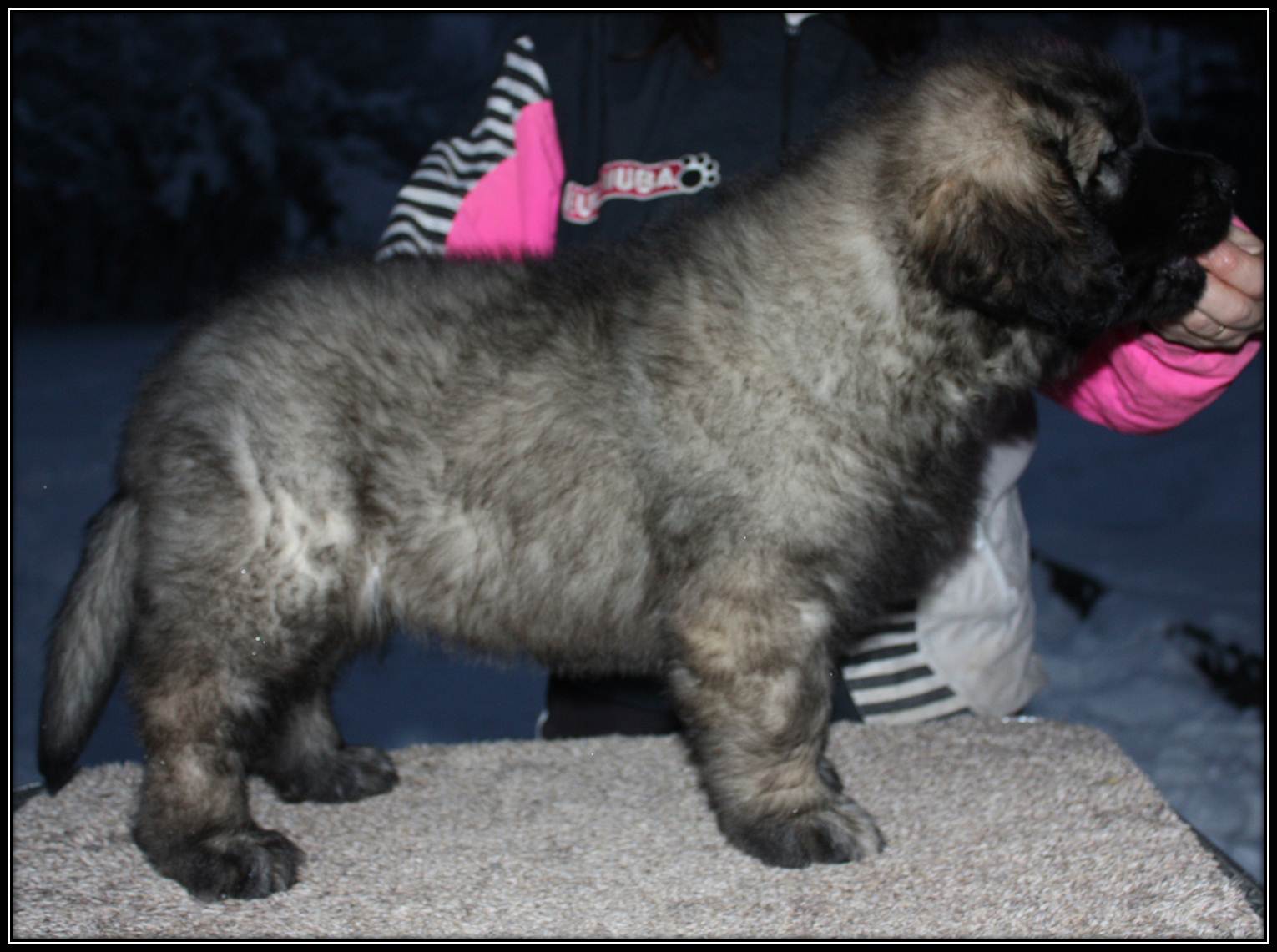 7,5 veckor gammal/7,5 weeks old